Twenty-two students, faculty, and staf traveled to Havana, Cuba, over April vacation.
By all accounts, the trip went smoothly until its return to the U.S. border at Highgate Springs, Vt., where all items brought back from Cuba were seized by customs officials despite the legality of the trip and clear exemption of original artwork, books, and music from embargo restrictions.
The trip counted as a three-credit course, titled "The Art and Culture of Cuba," and was taught by Fine Arts professors Ken Leslie and John Miller. Other faculty included Professor of Fine Arts Susan Calza; Assistant Professor of Writing and Literature and trip coordinator Tyrone Shaw; Marie LaPré Grabon, part-time instructor of Fine Arts and Director of Media Services Paul Bloomhardt.
Jeanne Desrochers provided medical support.
Students included Sydney Arczynski, Holly Bahnsen, Jordan Billings, Matt Carroll, Nicholas Cooper, Stephanie Girard, Casey Hockman, Lisa Korth, Malina Leslie, John McDonough, Kyle Myers, Amanda VanAmburg, Nance Shaw, Mark Horowitz, Ruby Leslie and Malina Leslie.
The syllabus described the course as a "three-credit extended classroom course based in Havana, Cuba, and will essentially offer students an experiential course in cultural immersion and aesthetics." Students spent the week observing historical, contemporary and popular art and architecture, and were exposed to music, food, local rituals and traditions.
Any and all types of majors were encouraged to apply. "We had visual artists as well as writers and musicians,"said Leslie. "We were really emphasizing cultural experience and what the world was really like down there." Upon returning, students must complete a final project based on their experiences and utilizing the media they are most comfortable with, be that writing, photography, painting, or video.
Getting there, however, wasn't exactly easy. "This is a different kind of trip in that it is not readily accessible because of a 50 year-old abomination, an assault against both the American and Cuban people, the so-called embargo that effectively makes [most] travel to Cuba illegal," said Tyrone Shaw. However, changes in the law initiated by President Obama in 2011 has made academic travel much more accessible than it was under the Bush administration. For many of the travelers, this would be their first time to Cuba, but Shaw has been to Havana multiple times since he traveled there for a magazine article he was writing in 1991.
Once in Cuba, there was a loose itinerary with scheduled trips and events. These included a wide variety of experiences, anything from visiting contemporary art galleries, to The Museum of the Revolution, to flying down a zipline in the mountains about 80 miles outside of Havana. "A major part of the course is just to be experiential," said Miller. "You're somewhat shooting from the hip, and that makes it much more interesting. To be too organized and in control would be highly unrealistic because that's not how the people live there."
"They also had quite a bit of free time down there to explore," said Leslie. "For example, some students were really interested in baseball, so they went to a lot of baseball games."
The students had the added bonus that they were not staying in a hotel. Instead, students stayed with Cuban families and lived with them for the week. Lisa Korth, an English and Secondary Ed. major, shared her room with another student, Stephanie Girard, and stayed with a family that included a great-grandmother and tiny children.
"They made breakfast every morning with fresh fruit," said Korth. "They just wanted to know more and more about us and about America. Any time they could talk to us, they would." Communication was facilitated through notebooks and handheld translator devices. Korth found the experience of living with a Cuban family deeply enriching. "Whenever I told anyone that we didn't stay in a hotel, they said, 'Great! You're getting a real Cuban experience then.'"
Matt Carrol, a Visual Arts BFA student, was inspired greatly by the dichotomy of the urban decay and the spirit of the inhabitants. "They knew their city was rotting, but they were still vibrant," he said, gesturing at the half-finished canvas stretched on the wall behind him. "That's what I'm trying to portray in my piece."
For Shaw, Cuba remains fascinating and perplexing. "The reality of Cuba defies easy labels: it is surreal, complex, amusing, and heartbreaking at the same time," Shaw said. "Ay, Cuba! You'd be hard-pressed to find anyone under 40 who favors the present situation. People understand that things have to change, and will change one way or the other. Of course, our government has done all it could to hobble this country for the last 50 years. Cubans are among the kindest, most generous poeple on this planet."
Nick Cooper, another BFA candidate in the Visual Arts, found inspiration elsewhere. "The weather was great because the clouds were really expressive for HDR photography," he said. "But if you really wanted to get a feel for what Cuba was like, you would walk right by the capitol building. There you'd get the feeling that you really weren't safe."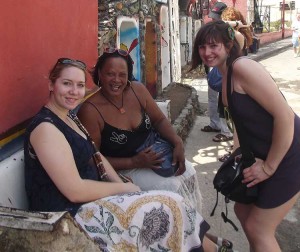 Returning to the United States through the Highgate Springs border on Good Friday might have been just as harrowing an experience. The group waited for an hour and half in traffic that was backed up for almost two miles on the Quebec side of the border, and then spent the next two hours having every item they had brought home from Cuba confiscated. "My experience at the border was very smooth because I only had four items, a bracelet, a CD, and a piece of art I was really bummed to lose," said Sydney Arczynski.
"While we were in Cuba, the Cuban and American people got along so amazingly well, probably because of their mutual discontent with their governments and the embargo," Korth said. "In Cuba, people were really friendly to us, but back in the US, we were treated like criminals."
Many of the items that were confiscated were legal to bring back into the United States, such as original artwork, handcrafted items, posters, books, and CDs. Leslie was frustrated because many of these items were materials that students were hoping to use as resources in their final projects.
"In a way I'm glad it happened because it gave everyone a concrete example of the irrationality of the embargo,"said Leslie. "It was very obvious that the people in charge at the border did not know the law. They repeatedly told us that it was illegal to go to Cuba, that is blatantly not true. They repeatedly told us that it was illegal to bring anything back: we had the printed government statutes that told you exactly what you can and cannot bring back. Books, CDs, artifacts and art are all listed as legal to bring back, but they didn't want to bother going through it, so they took everything."
The professors immediately got in touch with Vermont Senators Bernie Sanders and Patrick Leahy, who agreed to help return the wrongly confiscated items.
Despite difficulties at the border, Miller agreed with the overall sentiment that the trip was a great success, and expressed plans that the course could be repeated as early as next spring. Shaw, while currently not listed as the professor of record, is still greatly interested in cementing the "Art and Culture of Cuba" as a permanent course. "Cuba is at such an interesting moment of transition, it is an invaluable laboratory and resource," he said.
The final exam for this course will be held May 9 and will consist of students presenting their final projects.
Anyone who is interested in seeing these presentations is welcome to attend. More details will be announced at a later date.