Witte-Townsend retires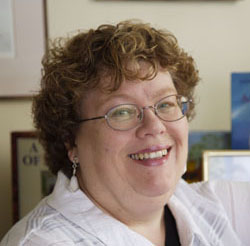 Teaching teachers to teach is what Professor of Education Darlene Witte-Townsend does and has done for much of her life, but after 38 years in teaching, 19 of which have been at JSC, she has decided to retire.
By any standard, Witte-Townsend has been very busy. New articles are being published and she has been working with the Teacher Learning Community, mentoring in the Active Democracy Project, all in addition to running the graduate independent studies program and sponsoring most of the theses that have come out of the graduate Education Department over the last couple of years.
"She has brought true graduate-level study to our department and to the students that work with her within teacher education and in the independent design area that has produced life changing experiences for the students and results that the institution can be proud of," said Associate Professor of Education David McGough. "This is work that's little recognized because of the nature of our college being primarily under-graduate."
Bringing a very strong background in narrative inquiry and phonological studies, she has studied with some of the top researchers in the field in Toronto. "She has brought that in so that the projects that she works on with students are really rich," McGough said. "Another part of the strength that she brings early literacy is the work that she has been doing in teacher education. Elementary education by far is driven by research and theory in early language development and early literacy development.
"Everything depends upon that and that's Darlene's area of specialty within teacher education. Our students are known for their background in literacy, primarily because of the kind of strength that Darlene brings to that program."
One of her newest publications,
"Necessary Muddles: Children's Language Learning in the Classroom," is in the new edition of a textbook on educational philosophy and an article on semiotics is under peer review right now. "We make ourselves as we're making language," Witte-Townsend said. "I believe that teachers need to take this into consideration when they are working with children."
Witte-Townsend has also worked hard helping restructure the Education Department curriculum according to Assistant Professor of Education Kathleen Brinegar. "We have had an intense couple of years as an education faculty as we have worked to revamp all of our education programs," she said. "Darlene has been a centering presence for all of us throughout this entire process. She will be missed."
Associate Professor of Education Perry LaRoque agrees. "Darlene is an essential piece in the advancement of our culture, as she gives voice to those who lead others and her legacy will endure in the framework of the Education Department for years to come," he said.
According to McGough, Witte-Townsend has a unique ability to find the gifts that students possess even when they don't know what those gifts are. She helps them find their strengths and crafts learning experiences for students. "She revels in one-on-one tutoring sessions with her students and puts a tremendous amount of energy into making those relationships rich and meaningful," he said. "And by far the students who engage with her end up finding new pathways both for their professional preparation and for their life. She has created and maintained connections all around the state with students that have gone through her programs."
According to LaRoque, Witte-Townsend's focus has always been on the students. "She considers the whole student, how they learn, who they are, and what they love, and uses this to give them the skills and knowledge to empower them to use their talents to serve children and create people who endorse the same values," he said.
Education student Amy Wan believes Witte-Townsend is a strong, caring, soft-spoken person who treats every student individually based on their needs and wants. "She pushes you to become a stronger, better teacher," she said. "Through her class I was able to realize how much I truly enjoy teaching, and I was given the strength to become a better educator. Her class although tough, made me realize the work ethic that is needed to become an effective teacher."
Witte-Townsend will return next fall to work as a part-time instructor helping to run the graduate and early literacy courses. Although she loves her work at the college, she said the time has come to revise her focus. "I just want to be able to cut back a little bit. I will still be teaching classes, just not full-time anymore," Witte said.
About the Contributor
Leisa Kelsey, Staff Reporter
Leisa Kelsey joined the Basement Medicine staff in spring 2011, serving as a staff reporter specializing in features.  She graduated from Johnson State...