Two new full-time professors join faculty
Two new full-time faculty members—associate professors David Plazek and Amy Welch—join JSC this year. The professors specialize in political science and health sciences, respectively.
Raised in Pennsylvania, Plazek earned his doctorate at West Virginia University. In 2006 he moved to Vermont to teach as an assistant professor of political science at Lyndon State College. When Plazek learned of the job opportunity at JSC, he took advantage of the chance to work within a larger program. "At Lyndon State I was the only political scientist, and there were limits as to how far they were going to support political science," said Plazek. "Here I'm not alone, there's more support for my field."
According to Academic Dean Dan Regan, what impressed him was the range of Plazek's teaching ability. "His style of political science encompasses both theory as well as empirical research," Regan said. "So we thought he would be a good guide for beginning student researchers in political science."
Plazek hopes to expand the political science program at JSC by introducing an emphasis on studying the politics of Canada. "We are so close, and there are so many resources available," he said. "I'm fascinated by Canadian politics, and I want to bring speakers down. I want to create potential studying opportunities for Johnson students."
Professor Paul Silver, Chair of the Humanaties department, expressed his respect for Plazek's teaching style. "He doesn't treat students as if they're little children, he treats them as if they're fellow researchers," said Silver. "He's confident in his knowledge and his abilities, and he has justified that confidence so far."
Plazek believes that the current social action in Canada provides a perfect opportunity for students to see what they are learning about in real life. "I was attending a conference [in Montreal] with some Lyndon State students when riots broke out against the increases in student tuition," said Plazek. "And I thought that was about the most fantastic learning experience for these students to witness such political action before their eyes."
He plans to introduce a Canadian Politics course next fall.
Silver supports increasing studies of Canada, recalling how he once went to a meeting at a school that was looking to hire someone knowledgeable about both Canadian and American history. "I went to the interview just for curiosity, and [the interviewer] said, 'I guess I'll have to go back to Canada and find a Canadian who is confident and comfortable in American history rather than the other way around'," he said.
Before Plazek dives into foreign political studies (he is also considering forming a model U.N. group on campus), he plans to settle into the new environment. He said he wants to get the lay of the land and find out what is possible. So far, he has felt welcomed by the faculty, staff, and students. "I like my students," he said. "They have a pulse. It's good to know that people are engaged and interested in what you're trying to do."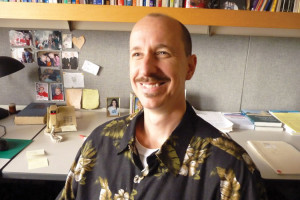 Welch shares Plazek's enthusiasm. "Everything I thought that the college might be, the students might be, the faculty might be, has come to fruition," she said. "And that's a good thing, because I had pretty high hopes."
Welch spent the last six years working at Iowa State University, where she was an assistant professor in exercise and sport psychology. Earning her undergraduate and master's degrees at Sheffield Hallam University in her native England, Welch also discovered her passion for research.
While working at Iowa State provided the opportunity for her to pursue her research, she wanted to also do more teaching. "You don't get to know the students as well [in a large University]," said Welch. "One thing I appreciated when I was an undergraduate was really being able to get to know my professors well, to get involved in research."
Environmental and Health Sciences Co-Chair Hans Haverkamp is thrilled with Welch's addition to the faculty at JSC. "The committee in general had a set of characteristics that we hoped to find," he said. "Amy is just about a perfect fit. We're really fortunate."
Havercamp and his colleagues were looking for someone who had a realistic and interesting research program, who also could provide more of a focus on the psychological aspect of health sciences.
According to Regan, that is exactly what they found in Welch. "What struck [the hiring committee] in Amy's research and teaching presentations was how serious and solid she was," said Regan. "There was no fluff, no façade, there was no posturing…through her research and teaching presentations [she] gave off this sense of seriousness and solidity and depth."
Given the college's increased focus on fostering a culture of undergraduate research, Haverkamp said Welch's arrival is particularly timely. "We are very excited about her getting a research program up and running that involves undergraduate students," said Haverkamp. "She'll have undergraduate students working in her lab doing original research on the psychological responses to exercise."
Haverkamp specializes in the physiological side of health sciences, while Welch focuses on the psychological side. Both are excited by how well they complement each other. "I envisage that between the two of us we could have a really good degree program, with expertise in those two major areas, and complementary research programs that students could get involved in," said Welch. "Being here at Johnson with a good health sciences program, and a good wellness and alternative medicine program, we have a whole bunch of students who are interested in those sorts of things."
Before she sets up her research, Welch is getting a handle on managing her classes, some of which are on subjects she has not studied for several years. "One of things with coming to a smaller school [is that] sometimes you have to teach slightly outside your expertise," she said. "The challenge there is having to reteach myself before I can teach my students." Welch doesn't think that is a particularly bad thing, however; as it allows her to see the subject the way her students do. "I have to figure out simple ways to deliver concepts, or good activities to help reinforce concepts. And it's easier to do that when you're not as familiar with the material because you naturally find ways to try to understand."