Minter to speak at commencement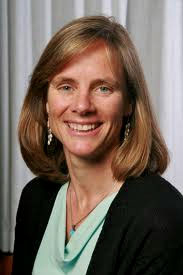 Vermont Deputy Secretary of Transportation Sue Minter has been chosen to be Johnson State College's 2013 Commencement speaker.
According to Johnson State College President Barbara Murphy, Minter was chosen following a strong recommendation by JSC Professor of Behavioral Sciences Gina Mireault. "Minter is really intelligent, a lively speaker, a frequent public speaker and [she] cares a lot about people and the environment," said Murphy. "I also was very interested in the idea that Sue has led our post-Irene recovery efforts."
Minter, a Waterbury, Vt., resident for the past 20 years, was elected to the Vermont House of Representatives in 2004. During her first four years in the House, she served on the House Transportation Committee, before moving on to the House Appropriations Committee.
She was appointed deputy secretary of transportation by Vermont Governor Peter Shumlin in 2010.
Minter received a BA from Harvard University (1984) and a MA in City Planning from the Massachusetts Institute of Technology (1990).
Mireault, who is both a neighbor and a friend of Minter, feels the deputy secretary would be an ideal graduation speaker and did not hesitate to recommend her to Murphy. Her intelligence, drive and compassion, says Mireault, has defined a distinguished record of public service that should inspire those about to graduate.
"With only a couple of terms under her belt in the Legislature, Sue was a visible and well-respected presence there," noted Mireault. "She was soon appointed deputy secretary of transportation (her MIT graduate degree is in Urban Planning). Soon after, Hurricane Irene decimated Vermont's roadways and bridges and Sue's energy and expertise were tested to the max, but she rose gracefully and doggedly to the challenge – fortunately for Vermonters. Her grace-under-pressure style and sheer competence in those trying conditions earned her the post of Irene Recovery Officer. She is someone who I know can speak to the hearts of our graduates and energize them towards optimism as they face the future."