New HAs for Arthur and Martinetti
Two new Hall Advisors have joined JSC this semester, replacing Alexis King and Dominic Foti after they stepped down to focus on academics.
Allie O'Hara and Aleda Boomhower respectively supervise Arthur Hall and Martinetti.
A graduate student studying counseling, O'Hara earned her undergraduate degree at the University of New Hampshire, graduating in 2010. Having been a resident assistant (RA) during her time at UNH, O'Hara hoped to be able to continue helping other students at Johnson. "I really believe in the Res Life department and what it can do for students; just making it a home and a safe place for everyone," she said. "Even though we go to college for an education, there's so much more that happens in school and it's a big transition-time in everyone's life."
She contacted Assistant Dean of Students Michele Whitmore over the summer to apply for a position as an HA in Governor's Hall, where a position was open.
According to Whitmore, the decision of whom to hire was so tough that when another position opened up last semester, she called O'Hara to ask if she was still interested in the job. "Quite honestly, it was a no-brainer," said Whitmore. "Allie really advocated herself well and we knew that she'd be a great success here. That was certainly a win-win for both of us."
Boomhower is also pursuing a graduate degree in counseling. Coming to JSC after living for three years off-campus while attending the University of Vermont, she made sure to get familiar with the job when she decided to apply.
"When I became interested in the job, I went over and really spent some time talking with [Martinetti's previous HA Alexis King] and Michele Whitmore to see if it was a good fit," she said. "I think what surprised me the most was how easy it was to transition into [being an HA]. The RAs are phenomenal…and then coming in with Allie has been really cool, just having someone to work off of and to figure things out with."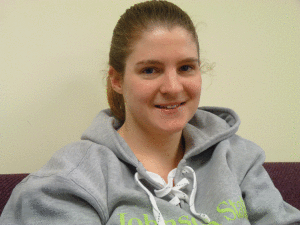 According to Boomhower, her biggest challenge in being an HA is learning how to balance classwork and an off-campus internship with the responsibilities of her new job. That's not to say she's unhappy—quite the opposite. "The reason that I like counseling and the reason that I'm so far enjoying this is that it's a very unexpected job—you don't know what you're going to do when you get up every morning," she said. "I think [being an HA] is just a really good opportunity to work on those skills of working with people, helping people, being there for people, that are so crucial to counseling."
 Aleda Boomhower (Photo by Mariah Howland) 
Whitmore explained the role of an HA more thoroughly: "Their responsibility is overall to maintain a safe, healthy living and learning environment for our students." While an RA is in charge of one or two floors in a residence hall, HAs are responsible for the entire building. "They supervise the building, everything from maintaining the building to programming educational social programs for our students," said Whitmore. "In addition to that, they supervise [the] Resident Assistants."
Apart from being available to their own dorm around the clock, when HAs are on duty they are responsible for the whole residential campus.
"In general, the Hall Advisor contract is a two-year position, with the second year based on positive performance from the first year," Whitmore said. It is a stressful job—not only are they responsible for the safety and well-being of their own hall around the clock, HAs are also full time graduate students with heavy course loads. Whitmore explained that the previous HAs for Arthurs and Martinetti stepped down from the position when they needed to be able to devote more time to their studies.
"They were in their third year of their graduate program, and it was a combination of balancing their time completing their internship in addition to finishing their coursework, and then put on top of that the expectations and responsibilities of a Hall Advisor—it became challenging," she said.
Along with free room and board, HAs receive up to 18 free credits per academic year and a paycheck that varies depending on how many years one has been in the position. For the first year, the pay is $6000.