Northeast Kingdom development project: is there a role for JSC?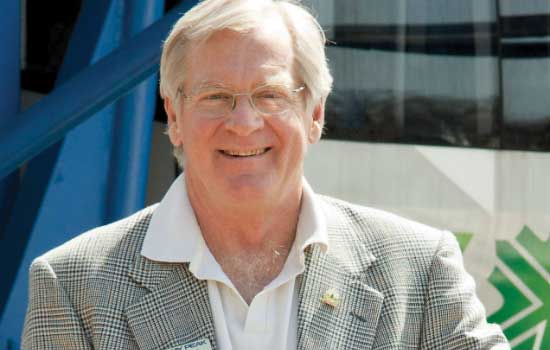 It is not often that the president of a ski resort has a profound impact on higher education, however just the opposite is the case of Bill Stenger and Jay Peak Resort.
Stenger has been leading a widespread economic overhaul in the Northeast Kingdom, with planned development not only including the rejuvenation of existing economic and residential infrastructure, but the introduction of new businesses into the region as well.
In the context of such an extensive project, Stenger has recently highlighted the role of higher education in his planned development.
According to Stenger, the hoped-for influx of modern industry in this economically depressed part of Vermont, will require educated workers, and he feels the Vermont State Colleges can play a constructive role regarding workforce development.
As part of those efforts to ensure a sustainable workforce, Lyndon State College has signed a memorandum of understanding with Burke Mountain Resort that outlines a collaborative relationship between the two organizations.
Burke, a partner of Stenger and Jay Peak, has agreed to develop a partnership with LSC that outlines an internship placement program at the mountain.
A significant part of the memorandum is the $200,000 set aside by Q Burke to fund student internships at the resort.
Despite the longer drive to the mountain, JSC is close enough to the NEK to be affected by the upcoming changes in the region.
When asked what JSC is doing to capitalize on this development, JSC Professor of Business and Economics Jim Black noted, "There are a couple of big things we are doing."
Black, who is also president of the Lamoille Economic Development Corporation, said that his department is in the middle of a major program changes.
"We are revising our curriculum in the business program to make it more adaptive and flexible for the changing business environment," he said, adding that increased "flexibility" in the curriculum will translate to a more successful program in the fluctuating employment market.
With the proposed changes to the curriculum, business students would take many of same core classes required by the existing majors, but then focus their education on a specific concentration.
These concentrations are likely to include hospitality and tourism management, accounting, marketing and management.
By keeping the program flexible, Black hopes that the new curriculum will allow for professors to best focus department resources where they are needed.
Identifying opportunity to capitalize on the regional development isn't just happening in the business department.
Dave Bergh, dean of student life and college relations at JSC, has been working on it as well.
"My interest in it is, how can this benefit our student?" Bergh said, later identifying "additional internship opportunities, or career and job opportunities" as one of the ways to do so.
With the recent expansion of career services offered on campus, Bergh is optimistic that these services will "ensure our students are aware of and connected to these…opportunities."
JSC has long-standing relationships with many local businesses, sending students from various departments to intern in places ranging from the local ski resorts, to the Vermont State House.
Providing funding to these students is often not possible, and while there are presently no $200,000 partnerships on the college's radar, Bergh insists that JSC is "prepared and ready for when those opportunities arise."

Mr. Santee is presently serving on the Vermont State Colleges Board of Trustees as the Student Trustee.