Bone-chilling water, heart-warming cause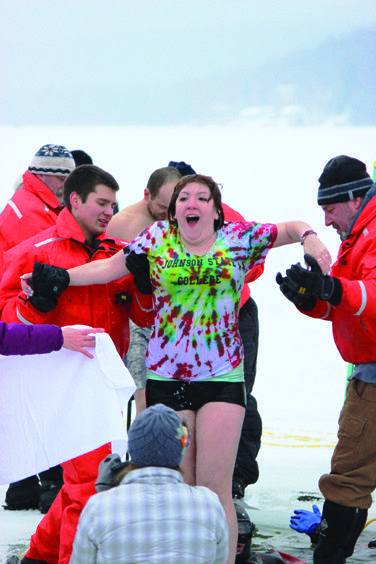 Hang on for a minute...we're trying to find some more stories you might like.
The frigid February temperatures of Lake Elmore are far from suitable for swimming at only 35 degrees, but nonetheless, 89 people took the plunge through the ice on Saturday, Feb. 15, raising $23,579 to be split between the Morrisville Rotary Club and Lamoille Home Health and Hospice.
The annual Polar Splash, hosted by the Morrisville Rotary Club since 2009, benefits a different local non-profit organization every year.
Snow was cleared from the ice and crews used chainsaws to cut a triangular hole for the jumpers to plunge through. This year's weather presented problems as the top layer of ice had begun to melt, and water and slush topped the surface, but the fundraiser went on, with ambulances and rescue crews standing by.
Rescue personnel in dry suits, which are similar to wet suits, but you are fully clothed underneath, were also poised in the water to help people out for the one-hour duration of the event.
"The event was great. High spirits for everyone," said Johnson State College student Harris Shapiro, who jumped with the Outing Club team. "The water was freezing; it put your body into instant shock. I would do it again in a heartbeat. It was tons of fun, and everyone came out of the freezing water with a smile on as they ran to the warming hut."
At its inception, the fundraising event drew in 51 participants and put $7,000 into the United Way of Lamoille County's transitional housing fund, which provides temporary housing and budget education for people in need.
Since 2009, the Morrisville Rotary Club has also raised money for Habitat for Humanity (2010), Laraway Youth and Family Services (2011), Lamoille Family Center (2012), Lamoille Food Shares (2013), and this year, Lamoille Home Health and Hospice.
"I did the polar splash to give back. My father needs a lot of home health care in his late life," said JSC student Amanda Rae Bolduc at the end of the event. "The water took my breath away; it was the most fantastic feeling. It was so refreshing. I'm already recruiting a team for next year. I am participating next year for sure."
The goal this year was $20,000, and together, participants exceeded that goal by 18 percent.
Participants raised money for the Lake Elmore Polar Splash by asking friends and family to sponsor them. It was recommended that each participant raise $150 or each team raise $500 to benefit the cause. Net proceeds were split 50/50 between the chosen non-profit and the Morrisville Rotary Club.
Bolduc received two pledges toward her individual goal, which totaled $40, while team Wolf Pack Pupsicles, which included JSC student Dalton Gomez, raised $20 in pledges and members of the JSC Outing Club who participated in the event raised a total of $110 toward their team goal.
"I wanted to participate, because I think it's important to participate in local benefits," said Outing Club President Jess Simon. "Part of the drive to do it is that we're a group of mostly guys who like to be outside, and think we can be tough and be extreme. So, we should go jump into a frozen lake to raise money. Why not?"
Simon said that asking for money was hard for him, because he's used to providing a service for donations, but he took it upon himself to contact possible donors for his team.
The top individual fundraiser at this year's event was Johnson State College Alumnus and State Senator Rich Westman, who raised $2,809.

About the Contributor
Kayla Friedrich, Editor in Chief
Kayla served as a general assignment reporter and photographer for the spring 2013 semester.  She returned for the Fall 2013 and spring 2014 semesters...