Slovenian chef wows JSC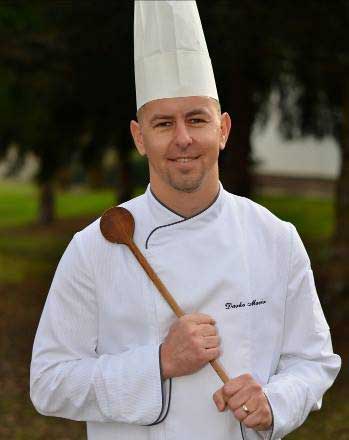 "This is fantastic," said JSC student Richard Davis, as he shoveled yet another plateful into his mouth. "I would pay money, real money, for this."
The afternoon began with Chef Bozidar Marin throwing open the door to the Stearns Performance Space with a smile on his face.
"Welcome," he said, "to Slovenia."
Soon, classical music began to pump softly through the loud speakers as more and more hungry students entered the Performance Space. One student wandered past muttering "oh my gosh" under her breath over and over as she surveyed the round table in the center of the room.
Along the table's circumference sat sliver trays balanced above heaters, each almost overflowing with foods from recipes that Johnson State College had never before seen, such as sautéd chicken breast stuffed with a liver filling or a crispy sea bass with lemon mashed potatoes.
Chef Marin visited JSC to bring a taste of his homeland for dinner on Friday, Feb. 21, as part of Sodexo's Global Chef Program. JSC was one of three Vermont schools selected for this round of the program, along with St. Michael's College and the University of Vermont.
The Global Chef came to JSC thanks to last year's win at the Localvore competition in October, which pitched 20 campuses against each other. Sodexo General Manager Tom Fondakowski got to choose a prize for the campus, and decided on the Global Chef.
Executive Chef Paul Bento and Fondakowski went to Boston over Super Bowl weekend to meet with Marin, who presented them with a book of traditional Slovenian recipes. It was then a matter of choosing which meals would be a good fit for the Johnson campus.
"We have already tested the food, and we are actually prepping the meal now," said Fondakowski on Wednesday, Feb. 19. "This takes five to six days to prepare, because it is so technical. It's not just food, the units of measurements are different, and so there is a lot of converting. They also use different products than ours, so we have to do some sourcing."
Some Slovenian recipes were changed to cater to the vegan and vegetarian population at JSC, such as the vegetable dumplings with risotto.
"He thought it was interesting that we had a large vegan population," said Fondakowski.
Chef Marin was born in Ptuj, Slovenia, and has been working with Sodexo since 2003, where he started at the Kuhinja Hnkel Sodexo Maribor. He is now the district manager of Restavracija Sodexo Slovenska Bistrica, as well as the Head Chef for Sodexo Maribor.
Before Marin began his work with Sodexo, he worked as an assistant chef right out of high school and became a chef at Gostilna pri posti, an upscale restaurant in Ptuj, within 10 years.