Sodexo eyes new changes and challenges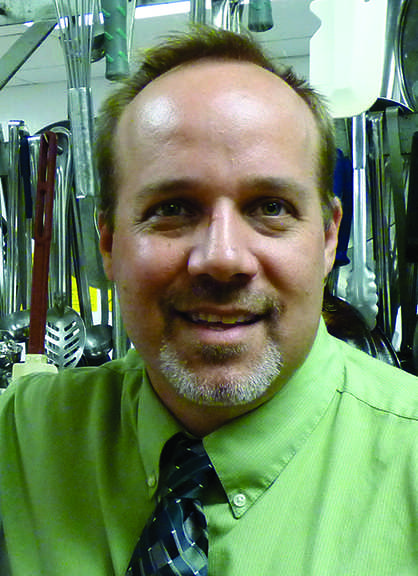 One of the biggest changes for Sodexo going into the New Year is the expansion of the community meal program to a weekly event. Previously, the meal was served at the United Church of Johnson every other Wednesday.
Sodexo has a plan and the resources to provide food every week, but is currently lacking in manpower, according to General Manager Tom Fondakowski.
"We would love to have students assist with volunteering to help serve and transport these meals," he said. "It's a struggle, because it seems to be always coming down to Sodexo and the SERVE office to do all the work, and we are actively looking for volunteers."
The program has reached the point where Sodexo is concerned about its ability to provide these meals, especially over breaks and during the summer.
"It's a great community thing for Johnson," said Fondakowski. "It's a great program, but it needs to be a campus program in order to sustain it weekly. You're helping feed kids that go to this meal because they need to eat. There are students here, who go to this meal to save money on their meal plan, and there are local community members who do not have enough money for food."
Many others who attend the meal donate money, which in turn is given to the food shelf.
Fondakowski urges those who are interested to contact Krista Swann or Smantha Flint at the SERVE office.
Starting at the beginning of March, Chef Peggy Edwards will host "Go Vegan for a Week." This event will have Edwards helping the Sodexo team create a healthier breakfast, along with the lunch she already provides. An afternoon snack will also be offered every day.
"We are pledging to get off sugar and to go meatless," said Fondakowski. "[Peggy] says that it is going to improve our energy and our relationships with ourselves."
"Vegan for a Week" will serve as Sodexo's part in the upcoming "Healthy Relationships Week." So far, 30 students have signed up for the event and 75 percent of the dining services team has pledged to eliminate sugar and eat healthier that week.
The other upcoming event for Sodexo is Casino Night, which will take place sometime in mid-March. Sodexo provides some of the service for the night, and contributes to various prizes.
One of Sodexo's biggest goals this year is to support student programming, something they have started on immediately.
"I think we have a great system worked out on campus now," said Fondakowski.
Sodexo has worked with hall advisors and student life to create a process that allows them to provide food for events sponsored by student programs, such as pizza or ice cream parties.
Students propose an event to their hall advisor, who checks the legitimacy of the request, and then present the event to Sodexo.
"That is one of our big pushes this year; we are about the students. We gear our dining towards that," said Fondakowski.
Sodexo will continue to hold special events at dinner, in the same vain as last semester's holiday buffet and the cupcake decorations last Valentine's Day.
"We want people to be able to enjoy the special events, because at lunch everyone is in a hurry to get to class," said Fondakowski.
Sodexo's Late Night program has been setting JSC records for sales and attendance, according to Fondakowski, and the convenience store has been pushing for local products, as shown in this year's compliancy report.
"We have one of the largest local purchasing percentages in Vermont and New England," said Fondakowski.
Since last August, 48 percent of all purchases have been through local companies or products.