Students survive bed bug onslaught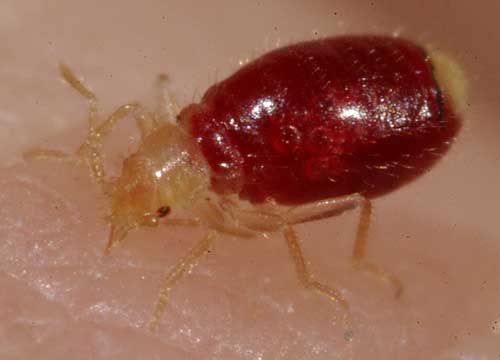 Hang on for a minute...we're trying to find some more stories you might like.
Martinetti Hall residents haven't been sleeping tight. They've felt the bed bug's bite.
Bed bugs have made Martinetti home over the past two semesters, snacking on multiple JSC students.
Chelsea Carter has suffered repeated bed bug attacks. The bugs introduced themselves to Carter her first night back during the fall 2013 semester.
"After the first night, I woke up with a ton of bite marks," she said, in an e-mail interview. "I brought it to some friends' attention, and a couple faculty [members]. They told me that it's definitely not bug bites, probably a spider bite. But once it started happening every night . . . I couldn't believe it."
"I figured they'd just go away, so I ignored the bites…which went away for about a week, then continued. I didn't speak up until my roommate started getting the bugs by mid- October. We captured a bug or two, brought it to the Dean of Students, and had communicated with the H.A. of Martinetti, Aleda [Boomhower]. Within a day or two, they had [communicated] with an exterminator. We were told to pack up any clothing, bedding, etc. that needed to be washed. Any books had to be cleared out and checked. We had done so, and met with the exterminator, who sprayed our room out while we did our laundry. [They said to] tell them how much we spent on laundry, and we'd get reimbursed, which was good."
But the invaders weren't so easily defeated.
"By mid-November, the biting had started again," Carter said. "So, yet again, the exterminator came."
This time, the bugs were prepared.
"A week after that, the biting hadn't ended, and my roommate found another bug," Carter said.
Carter decided to seek help from Jeff Bickford, the assistant director of Residential Life.
"This time, we [asked] Jeff if we could simply get our mattresses replaced. This request was denied…which confused us. Because wouldn't it make sense that BED bugs would be in the MATTRESS?"
The exterminator returned to Carter's room at the end of fall semester. He seems to have been victorious: according to Carter, she hasn't seen any signs of bed bugs in her room during this semester.
Carter said the exterminator and Res Life always acted in a timely manner.
"I felt that the exterminators were always immediate," said Carter, "usually within 24 hours. It was a little inconvenient for me, however, because I was doing my Practicum II [test], and [had] to leave school early a lot to meet with the exterminator."
Carter believes more action is required to combat the bed bug threat.
"Last year, I had heard of others having to go through the same process," Carter said. "If this [has been] going on for two years, something extreme needs to happen to prevent this."
Assistant Dean of Students Michele Whitmore said an urgent response is the best response to bed bugs.
"Students need to immediately contact their Building Hall Advisor or the Residence Life Office," said Whitmore in an e-mail interview.
Jeff Bickford also had advice for bug victims.
"It is particularly helpful if they have seen or captured a bug—or if they have bites, we may have them go to the health center to have those looked at," Bickford said.
Whitmore said that bug presence must be confirmed before calling an exterminator.
"If a bug is captured, we will have our physical plant department confirm that it is a bed bug," Whitmore said. "If there are visible bites on a person, we will require the student to visit the Health Center for a consultation. Once confirmed, or [once proven] that it is highly likely that there are bed bugs in the room, the residence life office will contact the exterminator."
Bickford said the bugs' presence is also signaled by blood.
"Sometimes [there are] husks or bloodspots around the bedding, because bed bugs tend to suck your blood, then they go back to their hiding holes," he said.
Whitmore commented that students who bring in outside furniture are more likely to experience bed bug problems.
"One of the causes of pest infestation is used or reconditioned furniture," she said. "Students are encouraged to fully inspect and pre-treat any items prior to bringing these items into the residence halls (bedding, blankets, book cases, trunks or storage cabinets). Students are also encouraged to vacuum their room on a regular basis. Each residence life office has vacuums for students to sign out."
Bickford elaborated, "Bed bugs can lay eggs on the fabric . . . even with hard-sided furniture, they can nest in a crevasse. The bugs themselves don't discriminate between clean and dirty. It's not a cleanliness issue . . . the bugs lay eggs on clothing and other soft surfaces, so laundering regularly will definitely help."
Kemal Cross is another Martinetti student bugged by these invaders. For Cross, the infestation began last semester, and was not resolved until March of the current semester.
"We had the infestation from late November . . . and we had the infestation all through January and all See through February, so it took, like, three months of having this
infestation until it was actually taken care of," Cross said.
Cross and his roommate regularly woke with itchy bites. They found no bugs even after placing sticky traps supplied by Res Life.
"They ended up giving us little traps, because apparently we have to bring them the actual bug," Cross said. "We set up the traps all over the room, couldn't catch anything, but we were still experiencing all of these bites… [we'd] wake up and be itchy, scratching our arms off. The whole process was ridiculous."
Cross and his roommate suffered bug attacks for so long they considered suing the school.
"We were at the point of… taking photo evidence and saying, 'This is what's going on and the school's not doing anything about it.'
"My roommate has a friend who used to work for Orkin and he came up. Took him less than two minutes. Found a bug, brought it to the RA, they brought it to Res Life . . . [then] they started fumigating.
"I didn't feel comfortable being in my room after the whole thing. They said 'You can totally go back and sleep in your room if you want,' but I'm not really feeling that, that's not really giving me any sense of security."
Bickford commented on the quality of JSC's go-to exterminator.
"The chemicals they use are pretty rigorously tested, and [have] a very high approval standard for human health," said Bickford. "Given that this is a really annoying thing to have to deal with, generally I believe that students have been satisfied with the timeline that we have been able to work with."
Bickford is willing to come to the dorms and help look for bug signs if any student suspects bed bugs are present.
"If someone is complaining of bites, I'll go in, if they're willing for me to go in and take a look," he said. "I can show them what to look for and where to look—in fact, I actually did that pretty recently."