O'Brien's "Hungry Heart" highlights scourge of opiate addiction in Vermont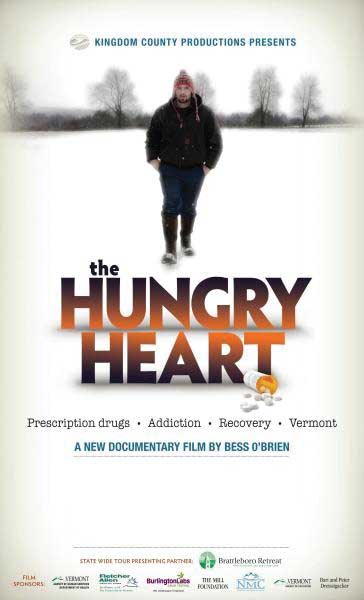 At the beginning of the 2014 legislative session, Governor Peter Shumlin focused his entire State of the State address on opiate addiction in Vermont. In his speech he talked of the movie "The Hungry Heart," a film about opiate addiction in St. Albans.
Monday March 10, Johnson State College students and the surrounding community had the opportunity to watch the film, and afterwards have a conversation with director Bess O'Brien as well as with some of people featured in the movie.
The film was shot from 2011 to the spring of 2013 and has now been shown in 34 towns across Vermont. The film starts with scenes of Vermont and St. Albans before taking us into the practice of pediatrician Fred Holmes.
The film follows the story of Holmes' method in treating the adults who came to his office as children who now struggle with opiate addiction. Viewers are led through the lives of the patients who describe how they got involved with opiates and their struggle to stay off of them.
Throughout, Holmes helps addicts by prescribing them the drug Suboxone, which is similar to methadone in providing a step off the addicting opiates. But, as we learn later in the film, Suboxone can also be abused.
Addicts in the film said that they have been introduced to the drug through friends, parents, and sometimes through doctors' prescriptions of heavy pain killers when the individuals do not need the full amount yet continue to take them.
One user said, "[The drugs] made me feel like I'm somebody." Other users said that the drugs made the pain of their life go away temporarily, and many said that the drugs filled a hole in their life.
In order to get Suboxone, Holmes requires patients to come into his clinic with a clean drug test and seek counseling. He said he currently has 80 people on his waiting list for treatment and help.
However, the doctor does much more than provide treatment to users. The film shows users who have been with Holmes for years battling addiction. They said that he has been a father figure to them, and part of the reason that they're able to stay off drugs is because of him.
Many of the individuals in the film have horrible histories that increased their dependence on drugs. Holmes provided for them a support that they had never had in their life before.
Some of the users in the film go to schools and tell students about their addiction. One former user said that it consumed his life and it can happen to absolutely anybody.
The film was harrowing. It showed users whose lives had been completely ruined by drugs and individuals who were out of options now and completely abandoned. The audience in the room responded audibly to stories of death and loss from addiction. The film was gripping, and it was a lesson on how opiates can turn your life completely upside-down.
The film made the point that opiate addiction can occur anywhere, including St. Albans. However, I felt that it could have shown the issue more widespread around the state to bring home how drastic this issue is and it affects every community in Vermont. After the film, the audience engaged in a question and answer session with individuals from the film, including Fred Holmes and Bess O'Brien.
Holmes, who is now retired, joked that now he's out of a job. "I'm Fred Holmes and I'm currently unemployed," he said. He also touched upon the issue of over prescription of drugs. "It's interesting because there's a lot of chatter about weed and gateway drugs. The gateway drugs are the prescriptions written by other physicians."
When asked about what needs to be done further, O'Brien said change is needed in the perception of drug addiction. "The most important thing the [Vermont] government did was say that this is a health issue and not a criminal issue," O'Brien said. "That's a huge shift in how we look at addiction. If we can start changing people's perceptions of people who are addicted and looking into recovery, that is going to make a huge step forward."
O'Brien said that we need to get people who need treatment into treatment centers rather than jail, but the state needs to spend more money on creating treatment centers for people who are already in the waiting line.
Jesse, an addict who after two years being clean relapsed and is now starting over, said he's seen how difficult it is to get into treatment centers. "I've heard a lot of people leading up to a month to get in [to treatment]," Jesse said.
Many of the members of the panel, when asked about the legalization of marijuana, said that it would be an excellent form of revenue for the state, and it is safer than alcohol. So they didn't see many reasons not to legalize it.
At the end of the discussion, many of the people who had formally used drugs said that Holmes' support is what changed their lives, and that they were "Fred's kids."