Perry LaRoque resigns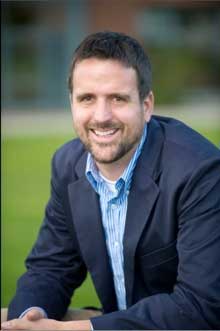 After four years at Johnson State College, Associate Professor of Education Perry LaRoque will resign from his position to run Mansfield Hall, a program he created to help students with disabilities earn a college degree. LaRoque, who also serves as the Special Education Program Director at JSC, helped create a similar program for the college, dubbed Think College or TC.
"Bringing the Think College program here has been one of my most positive experiences on campus," he said.
Think College launched at JSC in 2011, and is a two-year program of study that also allows intellectually disabled students to earn a certificate of higher education. In the program, students work with trained staff and master-level clinicians to help students identify their long term goals, according to the JSC website. All students are accompanied by peer mentors throughout their time in TC, and the program is the largest employer of undergraduates on campus.
They are tuition paying students sit who in on classes. Since it is a certificate program, the class selection for these students has a wider variety than a traditional degree program. The program focuses on social, vocational, and independent-living skills for these students. To that end, a variety of residential and support services are available to these students.
There are currently eight students in the program, four of whom will finish this year and four more will come in this Septmeber. Associate Professor of Education David McGough, who also serves as the department chair, describes TC as a social justice movement to remove the barriers these students face.
"This is really, really important. This is an opportunity to take a closed environment, like a college campus, and open it up to a population which wouldn't normally see this as an opportunity," McGough said. "It is very good for the campus because it shines out as a national model. The Think College model has been picked up by other colleges and other organizations."
Think College started with a federal government bid for organizations who wanted to apply for funding to run the program. The University of Vermont was very quick to apply for the funding and soon became the lead on the grant. LaRoque wrote the grant that brought TC to campus and advocated that JSC partner with UVM to take advantage of the funding. Johnson soon became a sub awardee.
"He has made so many connections in such a short period of time all around the state…and helped the reputation of Johnson around the state," said McGough.
LaRoque used his experience with Think College to create Mansfield Hall, a residential support program based in Burlington, which he currently serves as president.
"[It] was an extension of my work here, and I really want to get back to working with families and students again," said LaRoque.
At Mansfield Hall, teams of professionals work with students and families to create "a person-centered Life and Career Plan (LCP) that emphasizes and promotes self-determination," according to its website. The program runs on four guiding principles: "learning at local colleges, living in a supported and integrated environment, giving to others, and engaging in the community." LaRoque says students who are interested in internships or employment can find more at www.mansfieldhall.org.
In his position as founder and president, LaRoque will be managing day-to-day operations, overseeing a staff of 18 people, marketing, and working on community outreach. Currently, Mansfield Hall is expanding the program to Madison, Wis., a process that LaRoque is overseeing as well.
"The list could go on. [I'll be doing] everything from sweeping the floors to the expansion," he said.
Before beginning at JSC, LaRoque spent time as a special education teacher, and eventually became a professor at University of Wisconsin-Whitewater. From there, he taught at SUNY Postdam before his job at JSC. LaRoque says that when he began his career, he knew he wanted to work with kids.
"I grew up at a summer camp and I found that I really enjoyed working with kids who had unique learning characteristics, which led me down the path to work with kids who had behavioral and emotional disabilities," he said.
JSC is one of the few inclusive education programs in Vermont, meaning that students can get licenses in both regular and special education, and LaRoque hopes that Johnson will continue to innovate across campus after his departure.
"I've had a great experience at Johnson," he said. "The education department has really been innovative, and it's been a pleasure to be a part of the program…I think we have one of the best education programs in the country at Johnson."
McGough referred to LaRoque as an activist in his field who seeks ways to make opportunities available for people with disabilities.
"He's been remarkable to have as a colleague. His spirit, his generosity, and brilliance in creating programs…are phenomenal," he said.
In his time at JSC, LaRoque rewrote the entire master's degree in special education, a process which took him four months of work.
"[It's something] we needed to have happen: new courses, new syllabi, new experiences, new connections, and new partnerships," said McGough.
Students in the elementary education program can get a special education endorsement thanks to LaRoque, who also worked to blend the courses within the two programs.
"Students get everything they need to be the highest capacity teachers in schools," he said. "Perry's right on top of that…He's really helped pull that together," McGough said. "Students who are in his courses find him to be a remarkable teacher and really are excited to go out and work in the field. Special education has a reputation of being a difficult field to work in, but if you take classes with Perry, you will get very excited about it."
This year also marks the last year of the Think College program's original grant. LaRoque hopes that the program is revitalized in the years to come, and becomes a fully integrated part of the Johnson community. Recently, UVM has asked Johnson to take the lead in directing research, program, and curricular work.
"As the grant funding fades out next year, it will become a more self-sustaining project," said McGough.
LaRoque firmly believes the education department needs to continue receiving adequate funds and resources to continue the growth of the program and to add to the tuition pool.
"I think it's a great thing that we've set up here at Johnson. My hope is that the campus continues to support this because I really feel like there's going to be a huge opportunity for growth in the education department."