Common Book author explains how she stays afloat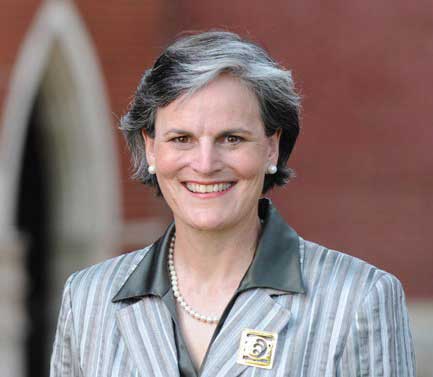 Confined to the cramped glass cabin of a rowboat in the middle of the ocean, a hurricane churning and tossing you about in the water, your boat constantly being submerged beneath the monstrous waves. It's a situation few of us will ever experience, but for
Tori Murden McClure, it was a reality.
McClure's book, "A Pearl in the Storm," is the story of this journey and the lessons and realizations that McClure took away from her experiences.
As McClure stood on the Dibden stage Wednesday night, Sept. 24, in front of a crowd that filled nearly every seat, she recounted the tale for us. "The morning hurricane Danielle arrived was the morning of September the 5th," McClure said. "My boat capsized five or six times that morning."
McClure turned the miniature model of her boat, the Pearl, over and over in her hands to demonstrate the capsizing. Due to the dangerous circumstances, McClure explains, she didn't deem it wise to use her emergency beacon to call for help. "I could not ask another human being to come out into that storm to get me," McClure said. "I chose to go out into the North Atlantic ocean in a rowboat, and I had to take responsibility for that."
McClure got a brief reprieve from the churning waters before another storm happened to cross her path. "The next day, the sun came up. It was a beautiful, sunny day," McClure said. "That night, a hurricane named Earl passed well north of my position, it triggered a number of rogue waves. My boat capsized four more times."
According to McClure, it was at this point she felt it was safe enough to call for help. "I looked out, I thought 'the waves aren't nearly as big, the waves aren't nearly as strong, it's safe enough to ask for help.' At that point, I triggered my distress beacon."
After weathering two hurricanes, McClure was rescued by a container ship, The Independent Spirit, the irony not lost on her. "You can't make that stuff up," McClure said as the audience laughed.
McClure went on to explain that she didn't know how high the waves assaulting her actually reached until after the trip. "During research for my book, I learned I was hit by both eye walls of hurricane Danielle," McClure said. "At the eye wall, the average wave height was seventy feet. The maximum theoretical wave height was 126 feet."
Having failed her goal of crossing the entire Atlantic in a rowboat, McClure was convinced to try again by none other than Muhammad Ali. "He reminded me, 'a person who falls isn't a failure. A failure is a person who doesn't get back up,'" McClure said. "He said, 'Tori, you don't want to go through life as the woman who almost rowed across the ocean.'"
Using excerpts from her book to supplement her points (with the audience erupting in applause after every passage), she explains how her Atlantic adventure impacted her life and understanding of her situation. "In the end of the book, I'm married. At the beginning of the book, I have no experience with romance," McClure said. "In the middle, there's a lot of rowing, and rowing, and rowing alone in the middle of the ocean."
An audience member asked how McClure's adventure affected the development of her relationship status. "I had to row a boat across the Atlantic ocean because I was stupid," McClure said. "Most women do not need to row a boat 3,000 miles to figure out that love and friendship are good things. The villain in the book is my own sense of helplessness."
McClure went on to elaborate that, growing up, she felt as though she needed to become bigger and stronger to stop the bad things that were happening to the people around her. "There are parts of me that don't really like this world, because I see what we call 'civilization' and I see the messed up parts, and I'm like 'we could fix that.'" McClure said. "So I fight and I fight, and I work and I work, and then I gotta go climb a mountain so I don't feel helpless anymore. And eventually, I realized I was trying to make myself bigger than human. I was trying to defeat my own humanity, and the only thing that makes humanity bearable is love and friendship."
An audience member asked, "What did it feel like when you resigned?"
"There was a point when I had to give in to the helplessness," McClure said. "There was a point when I had to resign to that sense of injustice, that sense of 'I can't control the universe.'
She explained that on her second trip, when she went east to west across the Atlantic after leaving the coast of Africa, she was informed that a hurricane would be crossing her path. "No hurricane in recorded history had ever traveled west to east at the latitude of the Caribbean, because the trade winds blow east to west. Hurricane Lenny was the first hurricane in recorded history to travel 1,000 miles west to east and came directly over my boat."
Reading from a passage of her book, McClure explained the helplessness she felt at the brink of being defeated a second time. "In my rage, I thought of my brother Lamar… I remembered with searing vividness the times I failed to safeguard my brother, and the times I failed to protect the many others who had come after him," she said. "It was then that I realized the sublime truth of what I had been missing… Helplessness was a part of me. I am a human being. It is our helplessness, our brokenness,that makes us human."
McClure was asked by multiple audience members if she thinks she'll have any more record-breaking adventures, or if she'll ever go back to the Atlantic. Those hoping for an affirmative answer were probably disappointed. She was, she said, happy in her life. "I have a job that I really, really love: being the president of Spalding University in Louisville, Kentucky," McClure said. "I'm very happily married… and with those two things, I have too much to lose… I don't think I would go back to the Atlantic. I think I've learned everything that particular piece of ocean has to teach me."