Finn's life celebrated in Sunday ceremony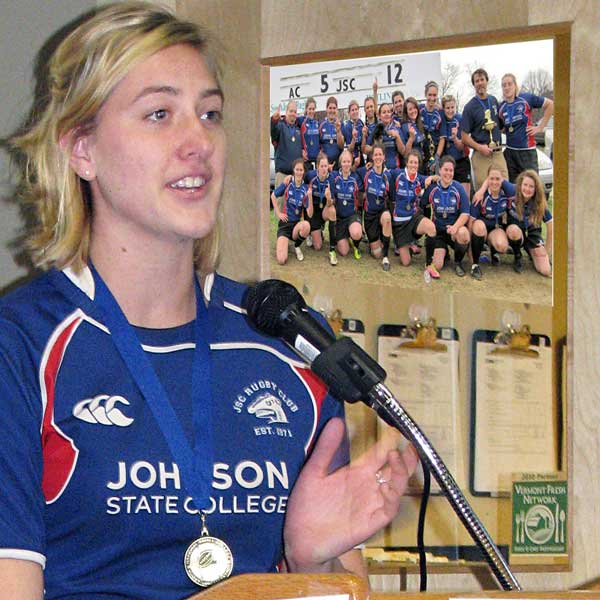 JSC alumni, students, administration, staff, friends and family gathered on Sunday, Oct. 26 at the JSC rugby field for a memorial service for Alyson Finn, a 2013 JSC graduate who passed away as the result of a car accident on Oct. 14.
Soothing Celtic music accompanied a slideshow put together by former JSC student Tiana Cross, which helped to give a small glimpse into the adventurous lifestyle that Finn led. Under a tent lay framed photographs, including one of her and the rest of the JSC women's rugby club, which she had successfully helped to start, and led to the 2011 national championship as captain.
Finn's impact on those that she knew was extremely apparent by the additional tent full of people left without seating. Those who had come to celebrate her memory shared stories of her taking advantage of every opportunity, creating fun and always maintaining a positive attitude and a smile on her face.
Plans of a scholarship in Finn's honor for rugby players who demonstrate determination and spirit were announced by Ashley Carrington, 2013 JSC graduate and former women's rugby club president. Carrington also said that a tree would be planted for Finn in the spring.
Bagpipe player Jim McKenzie opened and closed the service, with additional music provided by the JSC Chamber Singers ("Amazing Grace") and soloist Devynn Maclure ("In My Life" by The Beatles).
A rugby scrimmage in Finn's memory was held afterwards between JSC alumni and current players and Lyndon State College. The persistent rain and cold weather served only as a reminder of one of Finn's most firm beliefs: "We will be okay."
​