Dempsey "leads by wandering"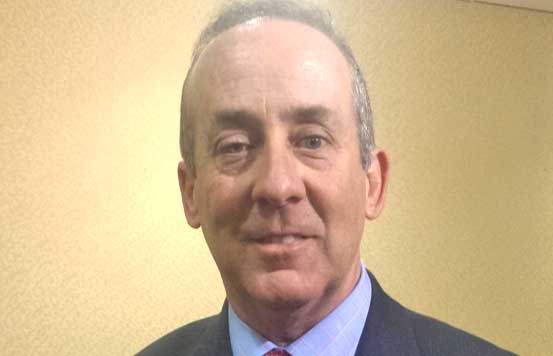 "If the trustees of the institution choose me to be the president, it's very clear they want me for the main thing that I'm known for, and that's raising money," Dr. Ron Dempsey said during his colloquium presentation, winding up his visit to the JSC campus Jan. 27. "I have been a development officer, a fundraiser, an external relations person, for 15-plus years. If I have an expertise, that's it."
Stressing his fundraising background, Dempsey explained in various forums what he would do as the college's next president.
Dempsey visited the campus, along with three other semi-finalists for the position of JSC's next president during the week of Jan. 26-30.
Dempsey has received multiple degrees in the areas of sociology, psychology, history, and education from schools in Kentucky, Georgia, and North Carolina. He has held numerous positions at various colleges, ranging from professor to vice president of development to associate dean. He is currently the vice president for university advancement at Southern Polytechnic State University.
About 15 students showed up to learn more about Dempsey during his meeting with students. Before the event began, he walked around the room and greeted each student with a handshake, asking them what their major was.
Students began with possibly the most obvious question: what makes Dempsey want to come to a small, public liberal arts institution like Johnson State College?
"I've always wanted to be at a small liberal arts college. I like the size, and I like the structure," he said. "The fact that it's in Vermont is great. I love being outdoors, I love hiking, I love kayaking… I'm used to, and most comfortable in, a liberal arts college."
He also addressed this in his colloquium presentation, elaborating on why he likes JSC as a college.
"You have all the attributes I look for when I think about becoming a college president," he said. "You're small, you have a liberal arts focus… you have this very traditional on-campus, face-to-face community… but at the same time you have this very non-traditional external degree program… Southern Poly is structured that way… Why Vermont? My response has been, 'why not'?"
Dempsey agreed with the students that enrollment rates desperately need to be improved. According to his application letter, enrollment rates at Southern Polytechnic have risen 90 percent because it "adopted a model similar to private institutions of higher education." Its enrollment rates reportedly grew because of "a significant branding campaign, significant increases in strategic scholarships, new marketable degree programs, extensive retention efforts, the addition of key facilities (mainly new housing), an emphasis on athletics, and recruitment penetration into new prospective student markets"
During the community colloquium, he focused on his experiences with attacking the same kinds of revenue problems JSC is facing, emphasizing the need to boost both enrollment and outside funding.
Dempsey said that he would aim to launch a branding campaign here to attract prospective students and show them what JSC is all about. When asked what kind of branding campaign he would use, he stated that he would need to get a feel for JSC's environment before he could decide that.
"The branding campaign [at Southern Polytechnic] was very geared toward the type of student we wanted to attract… I'd have to go in and get the sense of what kind of branding campaign we need here," he said.
During his meeting with students, Dempsey addressed them directly and maintained eye contact while answering questions, walking around the front of the room with his microphone.
The most frequently asked questions pertained to financial aid. This is a huge concern for many students, and Dempsey addressed this, saying that he would want to help students more financially than is possible for the college to do now.
"The key to that, I think, is going to be increasing the amount of student scholarships," he said. "You've got to be competitive when it comes to cost… We've got to be able to offer students some scholarships to help them make the cost come to a break point where they can come here and stay here."
Throughout the Q&A session, Dempsey emphasized his belief in the importance of scholarships to not only help students stay until graduation, but also to improve recruitment numbers. According to Dempsey, he will try to get support from people outside the college in the form of annual scholarships, among other forms of scholarships.
"I'm a big believer in annual scholarships," he said. "We need some quick income of scholarship dollars to help with recruitment and retention."
One student expressed concern about state funding, to which Dempsey replied that, while he would love to say that state funding for Vermont State Colleges would increase, he believes that as a tuition-driven institution, the college needs to focus on private fundraising, which, he pointed out, would help more students come and stay here, and thus would earn the college more money.
"I don't think we can sit here and plan on [state funding] as a budget increase," he said. "If it comes, that's great… but I really think we have to look at tuition revenue and philanthropic support."
Dempsey told the students that he would be involved in our campus life as much as possible if he were to become the president of JSC, and that he would even like to teach a class once in a while.
During the colloquium he was asked to describe his leadership style. "I think of it as leading by wandering," he replied. "I don't like to spend a lot of time in my office… I'll be at the games, and I'll be at the concerts, I'll be at the dance recitals, and I will be on campus as much as I possibly can. I love being involved in the life of the college… you'll see me a lot, I'll be wearing my badger stuff."
A couple of students brought up something that some students here feel deeply: a lack of pride in the school they attend, due to a low graduation rate and criticism of the quality of its academics. Dempsey said that he would aim to restore that pride for the student body.
"I think we need to do a better job of demonstrating that Johnson State students do graduate, they do get good jobs, and I think that's going to be part of the branding effort."