It's official: Search narrows to Collins and Kelly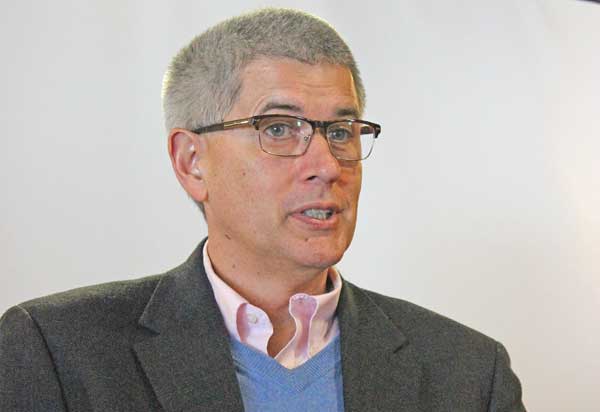 It's now official: the JSC presidential search committee has narrowed the field of candidates down to two, and Monday, Feb. 2, it forwarded those recommendations to the entire VSC board of trustees.
The announcement came just days after a week-long series of visits to the campus Jan. 26 – Jan. 30 by all the four semi-finalists: Dr. Ronald Dempsey, Dr. Eric Becher, Dr. T. Mills Kelly, and Dr. Elaine Collins. (See separate articles on pages 3-5 for other detailed accounts of the candidates' visits.)
During the week, candidates met with all campus constituencies – students, faculty, and staff – and presented their vision for Johnson at a series of daily colloquiums.
In a Feb. 2 letter to the JSC community, search committee chair M. Jerome Diamond noted the following: "Last week was a busy and productive one for all those involved with the search for the next president of Johnson State College. There was a palpable sense of excitement and enthusiasm on campus as the semi-final candidates were put through their paces.
"Consistent with the input received through the web portal, I am very pleased to announce that the Johnson Presidential Search Committee has unanimously chosen two candidates for finalist interviews. Both have accepted our invitation: Dr. Elaine Collins, Dean of the College of Education at Grand Valley State University (Grand Rapids, MI); and Dr. Mills Kelly, Presidential Fellow and Professor in the Department of History and Art History at George Mason University (Fairfax, VA)
The next step involves a Feb. 9 meeting of the full VSC board of trustees, during which the two finalists will be interviewed.
According to Diamond, the trustees' decision will be communicated to the college community as soon a determination is certain. "Chairwoman O'Connor, Chancellor Spaulding, and I feel strongly that the JSC community should be informed about who will be your new president before that news becomes public and will do our best to make sure that happens," Diamond said.
Diamond also said the search committee would now be disbanded, its work having been completed. The committee consisted of Jerry Diamond, trustee and chair of the search committee; Lynn Dickinson, trustee and vice-chair of the search committee; Shayna Bennett, JSC student; Kathleen Brinegar, associate professor of education; Sara Kinerson, director of advising; Ken Leslie, professor of fine arts; Gary Moore, trustee; Martha O'Connor, trustee;
David Silverman, president/CEO of Union Bank and JSC Alumnus; Alyssa Slaimen, student trustee; Jamey Ventura, director of athletics; David Wolk, president, Castleton State College; and Jeb Spaulding, VSC Chancellor.
_______________________
Dr. T. Mills Kelly
Demographics. State funding levels. Level of competition from other colleges. Global climate: These are all problems that Johnson State College presidential candidate Dr. T. Mills Kelly acknowledges that he cannot change if he were to be hired.
"There's some things that aren't going to get better," Kelly said during the community colloquium, "and you aren't supposed to lead talks like this with bad news. This isn't really bad news; it's just a reality check. There's some things that aren't going to get better, and we have to know that and we have to face that, and we have to work with that. We have to work with the world we've been given, and the world that we live in."
Kelly said that the demographics of JSC logistically cannot change much, especially with the 18 year-old population declining. This is especially true as it will cause competition from other institutions, such as the University of Vermont, to intensify and they will begin to reach deeper into their admissions pool.
The environment and global climate change are also things that Kelly knows he cannot change, but believes should have an influence on the way JSC students are educated.
"I'm a big picture guy and I think we have to recognize that the global environment is changing," he said, "What does our academic program look like to prepare students for that world? Lots of people don't want to talk about that. I do."
As a person with a decade of experience as an enrollment consultant, Kelly pointed out that concerns regarding resource issues are tightly aligned with enrollment.
"For an institution like Johnson State, resource issues are enrollment issues," Kelly said. "Fundraising is crucial. You can expect me to be out there asking a lot of people to give us lots of money, but really the budget issues that Johnson and lots of institutions face are enrollment driven."
For Kelly, access to higher education – and moving on to graduation – is fundamental to a healthy and just society. He noted that were it not for a small-town radio DJ, his poverty-stricken father would never have had a chance to attend college; but thanks to that man, who provided crucial financial help, he was able to change the trajectory of his life. Kelly said he wants to be president because he believes the statistic that only 1 in 17 people coming from households with incomes of less than $35,000 will obtain a Bachelors degree by age 24 is a "national disgrace," especially considering that for those coming from households with incomes of $60-90,000, that figure is 1 in 4. Chances continue to double for those with household incomes over $90,000 – 1 in 2.
Kelly plans to compete in the higher education marketplace by solidifying quality academic programs at JSC. He believes that students should attend an institution based on whether or not the school will be able to help the particular student achieve his or her specific goals, not just based on location. "Creating learning opportunities for students that appeal to them," Kelly said, on how he plans to increase enrollment. "…Learning of consequence. That's how you create value. Learning that matters. It prepares them well. It's something that they are proud of. It gives them tangible products that they can go out and show future employers, it gives them the opportunities to be successful. So success in enrollment begins with quality academic programs."
These quality academic programs will provide students with the opportunity to make a difference, and help them to solidify their career aspirations.
"I would like every single student to have had an experiential learning opportunity, whether it is an internship, or a research opportunity with a faculty member, or a study abroad, or however we want to describe that," Kelly said, regarding his goals for JSC students, "I think that's really crucial because those experiences are transformative."
Kelly also wants to make sure that JSC students are doing work that matters and makes an impact on the community.
"We have to give students the opportunity to make a difference because a, it's the right thing to do; b, it makes you feel good about yourself; c, it makes the community feel good about us; d, it gives students the kind of transformative experiences that carry them through their lives."
Kelly also acknowledges that JSC is an access-oriented institution, and that in trying to increase access, students' needs are going to become even more diverse. Academic support will therefore continue to be strongly sustained, as well as the possibility of making the Career and Internship Center a resource available to JSC graduates.
Kelly also wants to make sure that he takes advantage of his own local resources, and immediately begin building connections with the town of Johnson.
"I think the first principle of leadership is to show up," he said, "That means being really visible as the president. That means involving myself in various boards around the area. For sure if I start in July, by sometime in the fall I will have met every business owner in Johnson and start expanding outward from there."
Aside from being present in the community, Kelly expressed no doubt about his first priority. "Safety is really the number one job of the president," he said. "That trumps everything. If there's an issue of safety, I don't care what else I'm supposed to be working on, I'm on that."
Assuming that campus safety maintains secure, Kelly already has his first steps as president in mind. He believes that "institutions aren't what you can read, they're who the people are." His first move will therefore be listening to the community.
"My first priority, without a doubt, is to do an awful lot of listening, because you can learn a lot about a college from what's available online and what people tell you," he said, "To me, what's really important are people's aspirations. What is it your aspirations are for your future? What are the college's aspirations for its future? What are people really proud of? What are people disappointed about and willing to see differently?"
"The first priority is to really get to know the place," Kelly said.
Kelly acknowledges that with the competing demands that would inevitably face him as the next president, balance will be crucial. "My biggest challenge, I think, is going to be finding the right balance of focus, and the reason I say that is because I've had a lot of leadership positions over the years in various ways, but never one this complicated. And so there are a thousand things that need focus on a college campus, and on any given day at least 12 of them are priorities," he said.
Regarding what Kelly expects from the JSC community, he said, "From you I'm going to need a little patience on that [with finding the right balance of focus]. Any new president comes in with great expectations, and I hope you will have great expectations of me, but I also need a little patience."
About the Contributors
Kayla Friedrich, Editor in Chief
Kayla served as a general assignment reporter and photographer for the spring 2013 semester.  She returned for the Fall 2013 and spring 2014 semesters...