New teaching method takes the fear out of learning to ski and ride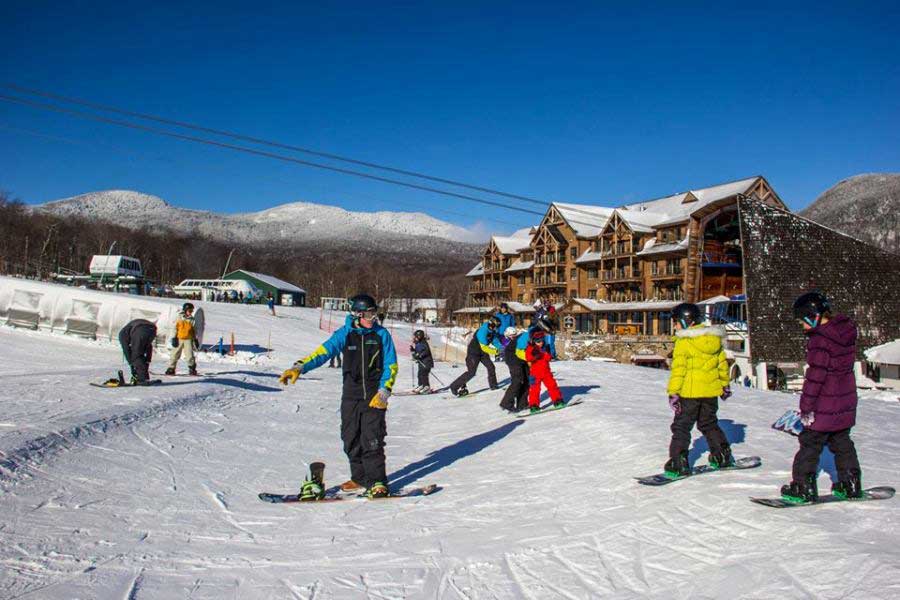 It's no longer a matter of "Bend the knees, watch the trees, $20 please." Ski and ride schools across the country are looking into a new way of teaching these two sports. It is simply known as Terrain-Based Learning (TBL).
Jay Peak Resort Ski and Ride School director Craig Cimmons has been working with TBL since its introduction to ski and ride schools across the country in the last few years. "Before the introduction to the TBL teaching method only about 15-17 percent of students would return to the sport after trying it for the first time," says Cimmons. "With the numbers we are seeing now industry wide with TBL, the return rate has just about doubled itself to about 30 percent in the last few years."
Jay Peak Resort Ski and Ride School Trainer and American Association of Snowboard Instructors (AASI) Easter Division coordinator Ted Fleischer has also been working with TBL since its introduction to ski and ride schools. "Terrain Based Learning is a methodology that works to replicate the high-level sensations of upper end skiers and riders in the early stages of a beginner's experience," says Fleischer. "Prior to TBL, lessons had to focus much more time on low-level exercises before we were able to get the student to feel the sensations that came at a higher skill blend."
Terrain-based learning at ski resorts usually consists of several key terrain installations (features) that are created and maintained with a groomer and manual rake work.  The snow used is both natural and man-made. These features are a mini-pipe, rollers, a return wall, banked turns, and a perfect slope location. Throughout the ski and ride lesson these features are used in a specific order.
The lesson starts in the flat part of the mini pipe, where you will learn how to put on your equipment and the four key movements to skiing and snowboarding: flexion-extension, rotation, foot-to-foot, and toe-to-heel. No matter what you do while skiing, you and your equipment will be doing a number of combinations of the four movements. You can be doing anything from skiing a groomer or doing 1080's in the terrain park; you will still be using these movements. Once you have mastered the four movements on flat ground, you move to the deck of the mini-pipe and learn how to do basic straight glide moves, right and left turns and even traverses across the mini-pipe to control your speed.
Once you have been taught these movements, you then move onto the rollers that have the return wall as run out. You will work on a number of movements in these features, especially flexion extension as you roll up and down on the rollers. From the rollers, you then move on to the banked turns, where you will learn the basic ski and snowboard turn shape. In addition to this, you will learn how to position your body while linking your first turns down the mountain.
Lastly, once you have mastered these turns, you then move onto the perfect slope. This feature is the last step before heading up higher on the mountain. While using the perfect slope you will learn how to really use the edges of your equipment and how to use your feet independently to maneuver your equipment to make nice fluent and in control turns down the trail.
Lessons used to start on flat ground; you would practice ski movements or skate around and learn to turn with one foot on a snowboard on a little hill with a long run out. You would also learn the wedge and wedge turns for skiing. You would then go up the carpet and learn how to do traverses on a snowboard, and parallel turns on skis. Once you mastered traversing on a snowboard you then worked on speed control movements. Once you had these steps done for skiing and snowboarding you then learned how to link turns before your first trip up up the chairlift. This method was a lot more technical and some terminology used would often confuse the students.
Rob Riedl has been teaching snowboarding for 16 years and is teaching at Jay Peak this season. "We have seen a huge increase of converting people into skiers and riders since the introduction of TBL," he said. "It's a lot easier for the instructors and a lot easier for the students as well. It's a great tool and in the next 10 to 15 years you're going to see it being used at every ski resort in the country if not the world.".
For Fleischer, the magic of TBL is that it enables skiers to experience the thrills of more advanced terrain much earlier. "The hope is that by providing these sensations early in the development of a skier or rider they are more apt to continue participating in the sport," he said. The terrain features are designed to replace fear in the people learning the sports for the first time. "Just as we develop new methodology as years go by, manufacturers develop new equipment. These two areas fuel each other and are forever locked in a helpful cycle that helps drive the progression of instruction.
Cimmons could notice a difference with the TBL teaching style right away. "It was immediately revolutionary and I could see the positive right away. People have more fun," he said.
As far as the future for the ski and ride industry goes, Cimmons is feeling strong about it. "I think there is a revolution happening now where the experience of new skiers and riders is being paid attention to," he said. "This has happened since the industry started to decline. It is great for ski schools because they have a new energy and focus."