Spring author series offers wide selection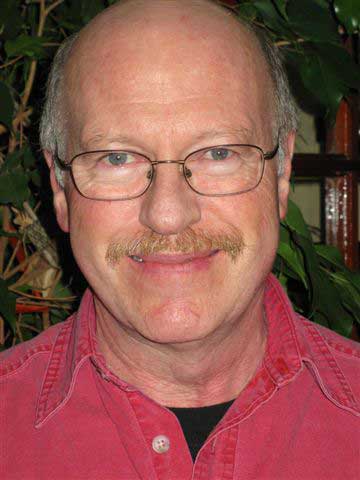 This spring's Author Series will bring a wide range of acclaimed writers to the JSC Campus, including Adam Robinson, Aaron Burch, Edward Hirsh, Steve Langan, Erin Belieu, Karen Shoemaker and David Cavanagh.
They will be visiting the creative writing and editing and publishing classes, and giving public readings in Stearns Cinema. The Author Series has been occurring at the college since 2010.
According to Assistant Professor of Writing and Literature Liz Powell, the series provides another dimension to the literary works the students study. "We have the authors come to Johnson who we are reading so that students can see a living literature," said Powell. "They can talk with the author, they can ask the author questions. …. It becomes a large circle of learning. It gives our students access to living literature. To see what it's like to see a successful writer."
Adam Robinson visited the college on Thursday, Jan. 27 speaking to Assistant Professor of Writing and Literature Jensen Beach's Editing and Publishing class and reading from his work in Stearns Cinema.
Robinson, who runs Publishing Genius, a small press, and Real Pants, a website focusing on literature and new writers, is a publishing consultant. He has also taught in the MFA program at University of Baltimore.  His first book, "Adam Robinson and Other Poems," was nominated for the Goodreads Poetry Award, and he self-published his second book, "Say Poem," in 2010.​
Aaron Burch will visit March 5 to give a reading at five o'clock in Stearns Cinema. Burch is the founding and managing editor of Hobart and Short Flight/Long Drive Books. He is the author of several books, most recently "BACKSWING," a collection of short stories. According to Powell, Burch will discuss editing and publishing and the small press world with BFA students. He will also be discussing an ongoing collaboration with JSC students and future Hobart book projects. On March 6 he will visit the Editing and Publishing class.
Erin Beliue will be visiting on March 10 reading from her latest book of poetry "Slant Six" (2014). Belieu is the author of three other books of poetry: "Infanta"(1995), selected by Hayden Carruth for the National Poetry Series; "One Above, One Below"(2000); and "Black Box"(2006), a finalist for the Los Angeles Times Book Prize. New York Times writer Dwight Garner wrote glowingly of "Slant Six": "Her gifts — for clarity, consolidation, humor and moments of hard-earned feeling — are old-fashioned ones. She's a comedian of the human spirit, in league with poets from Frank O'Hara through Deborah Garrison and Tony Hoagland."
Returning to JSC, Edward Hirsh will be at the college on March 19 giving a reading and talking with students. He's the fourth president of the Guggenheim Foundation, which offers fellowships to artists and scholars researching artistic fields. He received a Ph.D. in folklore from the University of Pennsylvania. Among his many awards are the Rome Prize from the American Academy in Rome, a Pablo Neruda Presidential Medal of Honor, an Ingram Merrill Foundation Award, a National Endowment for the Arts Fellowship and the American Academy of Arts and Letters Award for Literature. Hirsch's body of work spans 35 years. He's the author of seven poetry collections and four non-fiction books on poetry. In an earlier Basement Medicine article, Powell, who studied with Hirsch, noted that he "is an important contemporary voice in poetry, as well as a much-loved mentor and teacher to many poets."
Poet Steve Langan will give a reading and visit the Intro to Creative Writing class on March 26. He teaches at the University of Nebraska and has published extensively including "Freezing"(2001), "Notes on Exile and Other Poems" (2005), "Meet Me at the Happy Bar" (2009) and "What it Looks Like, How it Flies" (2013)." Critic Graham Foust noted, "I'm consistently jealous of Steve Langan's small absurdist accuracy, not to mention his unfailing ability to dredge gorgeous song from the hum of normal. 'Meet Me at the Happy Bar' is sharp, sad, sassy, and frighteningly alive."
Canadian poet and former co-director of JSC's EDP program, David Cavanagh, author of four books of poetry, including his most recent, "Straddle," will read on March 31. A Seven Days review of Cavanagh's earlier work, "Cycling in Plato's Cave" noted, "The title may sound heavy, but Cavanagh has a light touch, as readers of his previous collections 'Falling Body' and 'The Middleman' know. Even when this Montréal native writes about facing disease and death, he alternates sober observations with brisk, buoyant humor."
Winding up the series will be novelist Karen Shoemaker, who will visit campus April 16. Her latest novel, "The Meaning of Names," (2014) is a Nebraska Reads selection and has already garnered considerable praise, including this from Timothy Schaffert, author of "The Swan Gondola": "Karen Shoemaker's rich historical novel is reminiscent of the fiction of Willa Cather and every bit as memorable. Shoemaker captures the hearts and souls of her characters in intricate, poetic detail even as she tells a story of lives rent by suspicion and wartime prejudice. Against the dramatic skies of the Great Plains, and the beauty of the landscape, unfolds a tale of faith and science, love and death."