JSC alumnus returns to his alma mater to coach basketball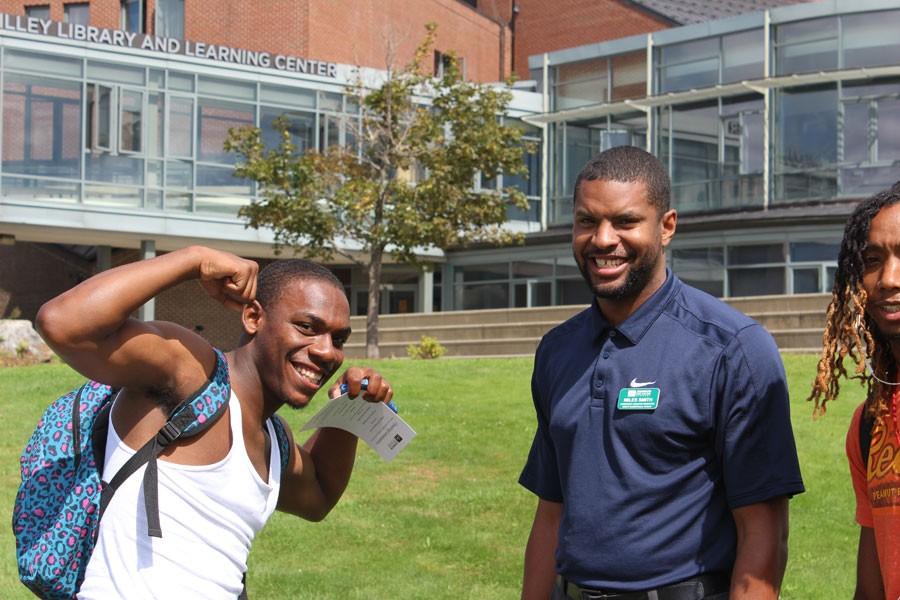 You can go home again, at least if you're Johnson State alumnus Miles Smith Jr., who is returning to the athletics department this fall as head coach of the men's basketball team.
Smith, who is replacing the former head coach Tommy Verdell, will also operate as assistant director of athletics.
"Miles cares about the student athlete," says Jamey Ventura, director of athletics and recreation. "He wants his players to have success on the court, of course, but he is someone that is going to make sure that they are successful in the classroom and understand that they are here to get a degree first."
Smith considers his players public representatives of the college, role models for freshman and prospective students. "The biggest thing is for me to bring in student athletes," says Smith. "Continue to bring in guys who want to overachieve and want to be a part of something special. What I mean by something special is not just the wins and losses. What I mean by special is being a full student athlete. That may involve community service. That may involve connecting with your professors. That may involve doing internships that revolve around networking with other people in different departments. I believe if you're a member of the men's basketball, you're a face of the institution. And a face of the institution should have a huge reputation of being positive. Outgoing. Being an example for other freshman or high school students coming in."
For Smith, the difference between being a student at Johnson State and being a coach is akin to the experience of a college freshman. "The transition from student athlete to an administrative role is sort of like transitioning from high school to your first year of college," Smith said. "It's a different responsibility. A different feeling. But I think it's actually an exciting time as well. So just like when you're a freshman you're really excited about getting things going, one of the biggest things is making sure I'm organized and prioritize the things that I need to do to be successful in this position."
Smith is familiar with responsibilities that come with being a coach. Since graduating from Johnson State in '09, Smith has coached at Wilson College, The College of New Jersey, and Mercer County Community College.
Coaching at Johnson will, at least initially, be a slightly different experience than Smith has had in his past positions. "I think the only difference that I have here is that everywhere I've been, I have recruited the class that was coming in. I already had a relationship with the players that were there," says Smith. "That might be the biggest thing: trying to have guys that have already been here buy into a different culture and a different style of play. A different philosophy."
With Smith enthusiastically building his men's basketball program in his own style, it's easy for Ventura to forget that hiring Smith wasn't an easy decision.
"We had four very good finalists here," said Ventura. "It was a tough choice, but Miles interviewed so well. He knew the campus, and it was just his passion for wanting to give back. He said the experience he got here really changed his life and he wanted to be able to give that back. That's what ultimately put him over the top."
Coming back to coach for his alma mater will have its challenges too. "Anytime you're building a program you're going to go through some tough times and at some point I'm sure he will," says Ventura, but he'll have not only his colleagues here in the department to help him through, he'll have his alumni to help him through. I think that's a good connection to have."
Certainly being an alumnus of the college carries with it some strong advantages, such as a working familiarity with the institution and its distinctive culture. However, that connection can also bring with it additional expectations and pressures. "Since I'm an alum at JSC," says Smith, "I feel like there's a weight to be successful to some degree – just because a lot of former alums are really excited about me being hired."
According to Ventura, Smith's character was a significant contribution in the decision to hire him. He noted, however, that prior to Smith's interview on campus, he had not met him. "I knew Miles a little bit just from talking on the phone, but I never met him before he came to interview here," he said. "He just gave us the sense that, [in] an administrative role, as an assistant athletic director—part of his position—he's a team player and he really gave us that sense that he wants to help us grow the department as well and that he's going to work with us and whatever we need.
"He's at a point in his career where I think he's really locked in to what he wants to do as a career. Coming back to his alma mater and that opportunity to give back—he's determined to make that work," said Ventura. "
Smith makes it clear that returning to JSC is a very significant and welcome step for him. In many ways, he says, attending this college was a deeply transformative experience, one upon which he has built during the past six years.
"I'm excited to be back," says Smith. "This place actually helped me start my networking and ability to actually become a successful. I would call it a successful male. As of right now, the biggest thing for me is to continue to teach. A lot of people give you the 'head coaching' title. I don't consider myself a coach. I'm definitely that, but I'm more of a, I would say I'm a teacher. Everything I do is teaching. My practices are teaching. My games are teaching. Any way that I can implement life lessons into basketball, that's what I do. And that not only came from the people that I've connected to through coaching, but most of all the people that I connected with at Johnson State."
Ventura noted that Smith is goal-oriented, focused and willing to learn from others in whatever venue, qualities that bode well for the new coach and the college. "I think Miles is going to do some really good things," says Ventura. "I know it's early for me to be saying that, but just the passion that he brings—he's willing to learn and you don't always see that. Someone comes in and thinks they know everything and knows how to do things. Miles definitely has his goals set, but he's willing to learn from others around him. I think he's going to do some special things here at Johnson in the years to come, which we're pretty excited to see. He's just a good guy. Just sitting down and talking with Miles, he's someone you want to be around. I'm excited to have him."
High hopes and great expectations: not a bad way to begin a new chapter in life, a chapter that for Smith seems especially sweet. "I'm excited to be back," says Smith, "but I'm more grateful for the opportunity that the faculty and staff gave me while I was here, because if I didn't appreciate that, I think it would be difficult for me to come back into a situation like this where not only am I excited, but other people in the community are excited as well."