Collaborative envisions Vermont as hub: says, "Yes we cannabis!"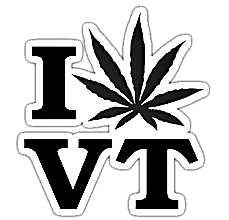 Hang on for a minute...we're trying to find some more stories you might like.
The Vermont Cannabis Collaborative doesn't just want to legalize weed, they want to do it safely.
Then they want to make it profitable for Vermonters.
Their vision is profitable in the Vermont, farm–to–table, (possibly organic), high-end sense. They are currently working on a recommendation they will present to Vt. Gov. Peter Shumlin and the legislature. They see themselves as the key group working on plans for marijuana–based economic success.
Members of the Collaborative visited JSC on Sept. 16. Rescheduled from 6:00 to 7:00 p.m., they spoke to a few dozen students in Bentley 207. They were part of Politics Week, coordinated by JSC student Benjamin Simone.
There was former Vermont state senator/entrepreneur Hinda Miller. Her first point was "jobs for the youth." She was firm that Vermont. already has the tools in place to make marijuana profitable. "It's about an agricultural product that's been grown for over 40 years in our state," said Miller. "We know how to do quality, we know how to do organic, we know how to do co–op, we know how to do niche, we know how to do this." She's seen it done with other products, so why not weed?
Bill Lofy, former chief of staff to Shumlin, guestimates over 2,000 direct jobs will be created if the selling of marijuana is made legal. The Collaborative uses Colorado jobs as their marker, whose population is about 10 times that of Vermont. Colorado's industry directly employs 22,000; these direct employees are those who go through background checks and have a badge that says they are aloud to touch the product.
The Collaborative envisions 4,000-5,000 Vermont. jobs could be available when including those surrounding the direct.
So how will it all work? Well, they aren't quite sure yet. It's a bit unknowable at this point; this economic opportunity is a blank whiteboard as they often stated, a once-in-a-decade opportunity. They have idea, vision and principle to seize the opportunity if and when it's made available.
They are still working on possible industry guidelines and regulation/taxation that will have to be a part of responsible legislation.
Lofy is optimistic about marijuana legislation passing. In response to questions about "how soon" he used the words "growing momentum." He noted that Shumlin has set marijuana legalization as a priority for his time left in office. "Let me preface my answer with nothing is certain and it will depend on the action here of all of us," said Lofy. "I think the chances are very high that some form of legislation will pass. That both encourages me and scares me," he said.
He's scared because the time to advocate for a desirable system is now. He doesn't want to see legislation passed that doesn't include safeguards or structure.
Collaborative member Eli Harrington has a background in non-profit management and he's worked for the Chamber of Commerce in Burlington. The 27-year-old was skeptical about the Collaborative at first, thinking it was the "rich getting richer." Soon, he was on board. "I got to know them and thought, this is a group that's actually investing some time and investing some money to do this thoughtfully," said Harrington. "What I propose is that we need as many people engaged in the discussion as possible."
Harrington is convinced social media will play a role in this engagement, and a way to lift 'legalize weed' from taboo to mainstream conversation. The Collaborative took student questions, some of which they answered directly, some of which they had no answer for. In response to "How can students help the cause?" they answered, "Talk to local politicians, talk to your parents, organize events" and pointedly, "You tell us what you can do."
The Collaborative said other pieces of the puzzle will be solved by tech savvy and entrepreneurial minds who can tackle the unknowns: DUI testing devices, proper, safe labeling, large-scale plant upkeep, and how to not undermine the "underground" low-scale seller.
One point of interest was what will happen to the friend you get weed from. They will have to get certified to sell, and will have to get their product tested to see what's in it. The Collaborative envisions many small sellers and many agricultural wizards working together to make a better Vermont.
Cannabis Collaborative calls on the help of their medical marijuana "teammates." They pointed out that funding for research is something that needs to happen. Knowing the strains and seeds are key to safety and success, especially if Vermont is going to be the hub for the highest-quality marijuana products.
Harrington noted that "the people in this group are some of the most impressive business minds in the Chittenden county."
Other key members of the Collaborative include founder of Magic Hat Brewing Company Alan Newman, Gardener's Supply Company/Intervale Center founder Will Raap, Judy Robertson, founder of Highland Sugarworks, Inc., and more.
To learn more about the Cannabis Collaborative, visit vtcannabiscollaborative.org.