Struggling with debt is the reality for many students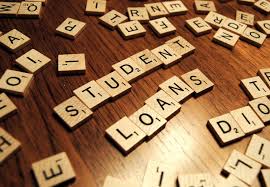 Alijah Gauthier is a graduate of Johnson State College. After her December graduation in 2015, she moved across the country. She brought with her $70,000 in student loan debt.

Trevor Shatney, another recent JSC graduate, was enrolled for five years and left with $60,000 in student loan debt. He received no federal aid for one of those years, because the government lost his paperwork. He also moved across the country, but for a different reason.

"I literally joined the Army to get away from the debt," says Shatney.

New student loan borrowing has increased "more than fourfold over the last 20 years," according to the Pew Research Center. During the 2012-2013 school year, students borrowed $110 billion in loans nationwide. In the 1990-1991 school year, students borrowed $24 billion.

Federal Reserve Bank of New York Consumer Credit Panel says that the United States has a national student debt of $1.41 trillion. This number includes debt from private student loans as well as federal loans. Seventy percent of college students share this debt.

According to the Institute for College Access and Success, the national average amount of individual student debt in 2015 was $30,100. Vermont's average is $28,000. The average for JSC graduates is about $26,000.

According to The Institute for College Access and Success (TICAS), JSC is only a couple thousand lower than Bennington College's average debt of over $28,000. The significance is that their cost of attendance is over $64,000, while JSC's is $22,500.

"I attended school for nine semesters and walked away with about $70,000 in debt," said JSC graduate Alijah Gauthier. "About $32,000 of that is in federal loans, the rest in private loans from VSAC."

Gauthier and her family were not able to contribute towards tuition until her final semester; she was taking 19.5 credits and her aid wouldn't cover the extra $2,500. Gauthier worked extra hours, and her mother helped her pay installments on the balance.

While federal loans are eligible for income-based repayment, private loan payments are relatively inflexible. Gauthier pays $120 a month on her federal loans based on her income. She pays $600 a month to VSAC.

"I pay more in student loans on a monthly basis than I pay in rent, living in one of the most populated cities in the country," said Gauthier. "This is money I could otherwise be putting aside to save for a house, a new car, or similar large purchases, never mind if I want to have kids of my own attend college someday."

According to TICAS, 20 percent of student loan debt in 2012 was from private loans. During this year, 1.4 million undergraduates borrowed private loans.

TICAS also asserts that private loans are "on the rise." In the 2011-2012 school year, $5.5 billion in private loans were borrowed nationally. The following year, $6.2 billion was borrowed.

Gauthier has taken steps to ease her financial burden, including consolidating her federal loans, monthly budgeting, setting up automatic loan payments from her bank account and looking into refinancing options for her VSAC loans.

"Calling your loan provider and understanding payment options is the first step to figuring out how you're going to deal with that huge number you've been saddled with," said Gauthier. "The worst thing you can do is just let your loans sit and accumulate. The problem won't go away by not dealing with it."

Shatney is currently participating in the U.S. Army's College Loan Repayment Program. If you have a degree and enter a qualified specialty, they will pay off part of your debt. Only certain federal loans are eligible to be paid off through this program.

There is a similar federal loan repayment program known as Public Service Loan Forgiveness. Qualifying for this program means being employed full-time under a government or non-profit public service organization. If a borrower makes 120 on-time monthly payments while in this program, the rest of that borrower's debt is forgiven. However, only direct federal loans qualify for forgiveness.

According to the National Student Loan Data System, 2.6 million student loan borrowers, and $96.2 billion of the total national student debt, are currently in forbearance, which means that loan repayments are stopped or reduced for a certain period of time. Forbearance is used for those who are unable to make their monthly loan payments.

Gauthier's VSAC loans are in forbearance. In her case, her VSAC loans can remain in forbearance for up to 36 months. She is paying the monthly interest on these loans and occasionally makes a regular monthly payment.

"Student debt has left me with a lot of anxiety, uncertainness about my future, and the constant feeling of something hanging over my head I know I won't ever be really rid of," said Gauthier. "The knowledge that a simple education could keep me in poverty is harrowing."

Shatney mirrors this sentiment, stating that "debt has really hurt me. Apart from being a huge stressor, it's my second greatest expenditure after rent."

Gauthier believes that she got lucked out by getting a job that pays well enough to afford her loan payments. This is especially important for non-income-based private loan repayments. According to MeasureOne, private loans account for $90 billion of the national student loan debt.

"They are not giving enough to the VSC," said Shatney. "The best way to take care of this would be to apportion the funds in a better way, especially for institutes of higher learning."

In addition to reducing the amount of private loans students will have to borrow, increased state funding of the VSC would ultimately reduce overall student debt by reducing the percentage of operating costs that are covered by tuition and fees.

"Increasing funding for the state schools would allow more people to attend college, which would improve Vermont's education levels to better meet its goals," said Gauthier. "Not to mention would relieve students of some of the financial burden by providing more aid. This would also let more Vermonters stay in-state for their education, improving circulation, profits, and job opportunities."