Student research in the sciences flourishes at JSC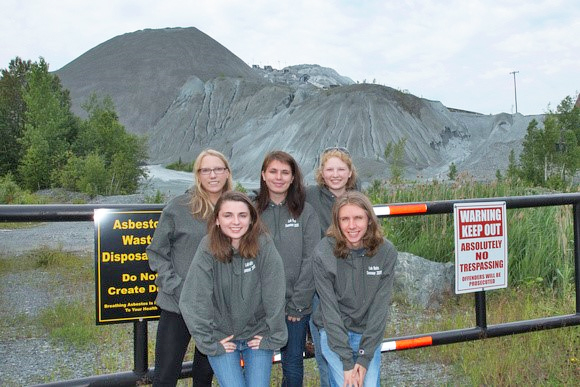 As the college intensifies its emphasis on high-impact learning, the Department of Environmental and Health Sciences offers plenty of opportunities for hands on research and fieldwork. Currently, the disciplines of physiology, microbiology, toxicology, climatology, and geology are active areas of research.
Dr. Hans Haverkamp is an associate professor of health sciences and is also the director of the exercise physiology lab. Haverkamp currently has three undergraduate students who are working with him. Kasie Craig, a junior and a biology pre-med major, is one of those students. According to Craig, she was mostly unfamiliar with research when she entered college. "I did not know a lot about research…[However,] when I told my advisor that one of my goals was to get involved in research, he introduced me to professor Haverkamp, and I became very interested in the work that he was doing," said Craig.
Haverkamp's students work to research factors that cause airway narrowing in people with asthma. "There are several different causes of this airway narrowing, and one of the causes is exercise, and it's called exercise-induced asthma," said Haverkamp. In his exercise physiology lab, Haverkamp and his students test asthmatic patients using a breathing protocol that causes bronchial constriction, similar to the way exercise causes it in people with asthma. "What we're trying to determine is [whether] lung volume might moderate the extent of bronchial constriction…if we follow [the] six-minute breathing challenge with elevated breathing rates and elevated breath size, the hypothesis is that it will minimize the airway narrowing," said Haverkamp.
Similar to Haverkamp, Dr. Amy Welch, an associate professor of health sciences, also works with human subjects while conducting her research. Welch and several of her students have finished their data collection and are currently working on analyzing the data. Their research focuses on heart rate variability biofeedback. "It's a type of biofeedback that involves monitoring heart rhythm and breathing in sync with the heart rhythm, [so] it's a slow, diaphragmatic breathing intervention," said Welch. "The biofeedback piece is all about using technology to give you feedback about what's going on in your body so you can then learn to control it, particularly under conditions of stress," said Welch.
On the environmental side, Dr. Elizabeth Dolci, who is a professor of biology and chair of the EHS department, is involved in ongoing research of microbial communities in aquatic environments at the Vermont Asbestos Group (VAG) Mine. "It's considered a stressed environment, so we would expect bacteria that are considered extremophiles, or bacteria that can live in extreme environments, to possibly be there," said Dolci.
According to Dolci, the main aim of her team's research is to characterize the microbial communities' structure and to look for compounds that could benefit humanity. "[We are looking for] genes that would confer resistance to antibiotics and heavy metals, and for organisms that might be producing antibiotics that [could] be…useful from a medical, agricultural, or environmental standpoint," said Dolci.
Related to Dolci's research are the projects of Dr. Robert Genter, a professor of biology who works with students in his classes by taking them out to sample lakes and rivers. According to Genter, his area of research focuses on environmental quality as it relates to pollution. "I look at the effects of toxic metals and see what concentrations of them are harmful to microorganisms," said Genter. In order to do this, Genter and his students design field experiments and collect data. Students in his Environmental Toxicology class get to take a trip to the Elizabeth Mine in Strafford,Vermont. Students in his Fundamentals of Ecology class take a trip to Maine every fall, while students in his Limnology class go to Ritterbush Pond. According to Genter, he enjoys working with students on research projects, and he is fond of the outdoor component of his research.
Brie Carleton, a junior and a general biology major, is planning on working with Genter on her senior thesis. The research that she will be conducting with Genter involves looking at how nitrogen, phosphorus, and certain trace elements affect algae growth when they are added or taken away. "Algae is a simple enough organism where the process of growing it won't be the main struggle of the study…so the experiments should go smoothly," said Carleton. "I enjoy most types of research, so joining Dr. Genter for this project wasn't a hard choice for me."
Another type of research involving climatology is handled by Dr. Tania Bacchus, a professor of environmental science. Bacchus works with Vermont EPSCoR to look at developing resiliency in Vermont to climate change. Over the years, she has had a combination of Johnson State College and Lyndon State College students work with her, and she is expecting a student from the University of Puerto Rico this year, to come and join her in her research. The research is done in the Plumes lab in Bentley where Bacchus and her students analyze weather statistics for climate trends. "We use data that the government collects…and it comes from our major weather collecting stations and our own weather station," said Bacchus. "So, we [gather] data from Burlington, Morrisville, St. Johnsbury, and Johnson, and we look at that data and we run analyses of current trends, monthly trends, annual trends, and seasonal trends, and then we do comparisons across our station and [the] weather station…that [JSC] owns," said Bacchus.
After analyzing the data, Bacchus and her students give presentations at colleges and universities, and also at national conferences such as the American Meteorological Society Conference in New Orleans, the American Geophysical Union Conference in San Francisco, and the Northeast Regional Storm Conference, in Saratoga Springs.
Dr. Les Kanat, a professor of geology, has hosted a number of research projects over the years. One project deals with bees. According to Kanat, a student named Zachary Cota-Weaver became interested in working on cataloging the bee collection at JSC after attending Kanat's Current Topics in Science class.
Cota-Weaver works under Dr. Leif Richardson, a Current Topics in Science speaker, who presented about bees, blueberries, and fungi. "[Zach's] set up in the rock lab where he's photographing and cataloging all the bees, and incorporating them into the state database," said Kanat.
Another project involves landslides. Kanat and his students have a variety of devices out in the field, which they use to monitor and characterize failure on the slope. "Cambridge Elementary School is just below the slope, and there's some houses up on top of the slope, and we've lost houses before, so it's a local project where we can collect data for long periods of time…[which] might allow us to warn people of the next [landslide] event," said Kanat.
According to Kanat, a student who is interested in conducting research should start getting involved by contacting faculty members to ask about the kind of research they are doing. "Talk to the faculty members, see what they're doing, see if you can connect with them, and see if you can work with them," said Kanat. Additionally, many research projects stem from Current Topics in Science. Students are always encouraged to connect with the speakers and to get involved in their research. "Seize the opportunity to create something new by doing research while you're an undergraduate," said Kanat.