JSC seeks funding options for a turf field
Every year, JSC's spring sports face the same issue: poor playing conditions due to the hostile Vermont weather. That may change with the upcoming project of putting in turf facilities for all sport and club programs. Coordinating work with the athletic department and alumni relations, the college hopes to raise close to $2 million for this project.
A turf field is different from a grass field because turf is a surface made of synthetic fibers made to look like natural grass. It has great perks with how Vermont snowy winters and rainy springs tear up the grass fields and make it almost unplayable. Turf surfaces stay the same, despite snowy and rainy conditions. It's also an easier surface to clear of snow, which allows athletes to practice and compete in their respective sport in the late winter/early springtime.
Playing home games has always been a challenge due to the weather. Jamey Ventura, director of athletics and recreation here at JSC, knows of those issues first hand.
"With the way our conference schedule works, our conference schedule ends in the end of April and the first week of May is usually the conference tournament in all of the sports," he said. "The second week of April is when we usually get onto our fields, if we are lucky enough. So we have seen it in lacrosse and softball where we would only get one home game the whole time. Our schedule has more home games, but because our field isn't playable, we end up renting someone else's field space. We have gone to UVM to rent out a turf field, we have gone to Norwich and rented out their turf field, and now all of sudden, your home games aren't really home games."
Not being able to compete at home games has caused problems with the NCAA. One of their rules is that in order to meet sponsorship by the NCAA, softball teams must schedule and play in 24 games, made up of in and out of conference teams. They scheduled 34 games and were only able to complete 21 of those games due to the weather, leaving them three short of the NCAA standard. Due to the softball team not being able to meet the standard, they had to fill out a waiver that showed that the team tried their hardest to complete those games, which the NCAA accepted.
Even when the snow is cleared and teams are able to compete on the athletic fields, they aren't usually up to par with other neighboring schools. The lacrosse field will usually end up looking like a mud pit, making it tough for the players to keep their footing and increase the risk of injury.
Kaitlynn Woodward, JSC softball pitcher for three years, sees a whole bunch of issues with the softball field.
"A lot of our field is washed out, so we have a lot of uneven patches in the field, some of our bases are crooked, and the baselines are just not up to par," she said. "Compared to Castleton, their field is much better than ours. They have actual dugouts, a permanent fence, a bullpen so that their pitchers can go and warm up, and their field is really well taken care of."
The process with improving field conditions starts with the turf facility project. So far, the project has been through a three year phase one project, where Ventura and others have done background research to look at potential donors.
"The building of the campaign plan went pretty quick," Ventura said. "What we realized a few years back is that we did not have a lot of relationships with a lot of business owners and people in the community that could maybe help out. We really spent the last few years trying to build more connections."
Lauren Philie, the director of alumni relations, says the project is entering into the stage of phase two with a very uncertain future.
"Phase two is what they would call the silent phase of the campaign," she said. "It's a very lofty campaign goal of two million dollars. In an ideal world, you would have some of that money already to make sure you can make your goal. It has taken us a couple of years because Jamey and I have been working with some specific donors to hope that they would give enough toward that goal that we could go out to the rest of our alumni base and raise the rest of that money. We have met with those donors and secured a commitment, and at this point we are trying to figure out whether or not we are going to be able to meet the goal and continue on with the campaign or it's not looking realistic. We finally know how much now and in an ideal world, it's not enough. Right now, Jamey and I are talking and trying to figure out if we have any backup plans to see if we can get to our goal, and we are not sure that we can. They are very generous gifts that they are willing to make, but it's not quite enough."
Given the magnitude of the fundraising goal, reaching it at this point is far from certain.
"We haven't gone out to our alumnus yet and we haven't started asking businesses yet because we aren't sure we can get there even with all that," Philie said. "We are trying to do background work now to [evaluate our options]. Within the next month, we are either going to move forward or not."
With all the work still to go on this project, Philie also isn't sure that it will be completed.
"I wish I could say I was hopeful that it would work out, but it's a very large goal for our particular donor base — it would take a lot of involvement," she said. "I know our alumnus are very loyal and generous, but I am not sure . . . We will try to work very hard to try to make that happen, but I'm not sure."
About the Contributors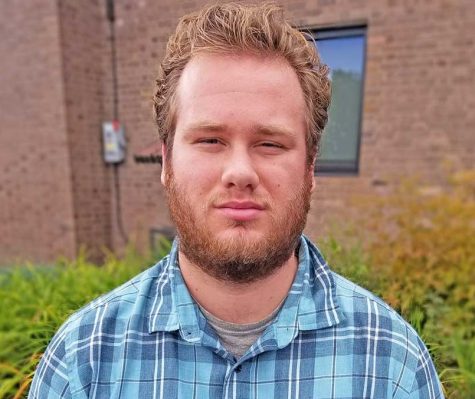 Patrick Bell, Sports Editor

Senior, Journalism
Grew up in Charlestown, RI
Fall 2017 - Present