College's new drone will be able to map topography digitally
If you take a walk across campus, you might well hear a loud buzzing coming from Bentley. No, it isn't some giant killer bee; it's the new drone that the Environmental and Health Sciences department purchased at the beginning of the semester.
Over the last year, the department considered purchasing a drone to help with projects and make it fun to do research with science. It was bought along with a four-color 3D printer, called the Prusa i3 MK2 Multi-material printer, adding 3D software and a program called Agisoft PhotoScan to work with these state-of-the-art uses of technology.
The drone is white with four propellers and a camera at the bottom to guide direction and to take videos and pictures.
The remote control has two sticks to guide the drone, and a screen that shows the height and the miles-per-hour, and to activate picture taking and video making. It can fly for 30 minutes at a time, and if it is near battery depletion, it will automatically fly back to where it took off and land in the exact location, down to the inch.
Les Kanat, professor of geology, has explored two possible projects for the drone.
"One is that I have been working on landslides at [Smugglers' Notch] for a while and one of the problems that we have been having is quantifying where the rock chutes are, where rocks are moving, due to the fact that they block roads, problems with climbers," he said. "What we are hoping to do is to take pictures with the drone and build three-dimensional elevation models. These 3D models are digital, so they can be manipulated. If we could fly the drone near the landslide area and make a 3D model of the topography, it gives us a starting point for where the rocks are and what the topography looks like. If we go back a few months later and do the same thing, we should get a slightly different model if rocks are moving. We can digitally subtract one model from the other and see where things have moved. That would be really good information to know where the rocks are sliding."
Environmental Sciences major Robert Ferullo is helping out with the beginning stages of the project, learning how to use the drone and 3D printer properly to get the results that they will be looking for.
"What I'm doing is flying the drone around certain objects, in this case it happens to be the rock on the quad, and then I take the images to a lab in Bentley and use a program and try to build 3D models of it," Ferullo said. "We are doing the rock as some sort of practice and then go out to Smugglers' Notch. Neither Les nor I really know how to work the photo scan. Once we learn, we will go out to the Notch and we'll monitor the landslide cover."
Kanat has also been thinking about working with farmers with detecting erosion due to heavy rainfall. The drone, he feels, could be a valuable asset.
"Recently, through the Current Topics in Science Speaker Series, one of the presenters who works with the National Resource Conservation Service said that one of the biggest problems that they have been having is after a rainfall, the water erodes the fields, and we can see these gullies forming and see soil being lost, but they can't quantify how much and how fast the gullies are forming," Kanat said. "If we could figure out how to build 3D digital elevation models by taking pictures, we could fly a field, measure the small gully at first, wait till after a few months, try it again, and determine volume loss from the pictures we took from the drone."
Ferullo sees this possibly as a career option. "It would help me decide on a career path, because I am an Environmental Sciences major. I know I want to do something with that, but I don't know what specifically I want to do with that," Ferullo said. "I've been really enjoying this project and it's something I wouldn't mind doing as a career."
Kanat would like others on campus, faculty and students, to be able to use the drone, the 3D software, or the 3D printer, whether it has to do with science, arts, or even athletics. He encourages anyone who is interested in using the drone for a project to see him in his office in Bentley or contact him at Leslie.Kanat@jsc.edu.
About the Contributor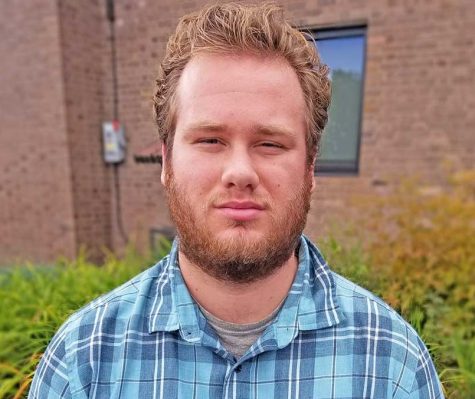 Patrick Bell, Sports Editor

Senior, Journalism
Grew up in Charlestown, RI
Fall 2017 - Present