Creative Audience programming offers a wide range of options
Emily Neilson, director of Creative Audience, and Margo Warden, director of the first-year experience office, have prepared a new line-up of Creative Audience events, providing what they both hope will be explorative and inspirational experiences. These events will include presentations, dance and stage performances, and live music.
When asked about the importance of each event, Warden says, "I think each student is going to experience it in their own way. My hope is, with each of these events, that the students really do choose the events that they want to attend."
She explained there are three concepts she hopes students bring back from their Creative Audience experience: attendance, engagement and reflection. "Regardless of the event, they are able to really bring themselves to that place, free themselves from the distractions of outside of the space, and then to really reflect on it," she says.
There have already been a few Creative Audience events so far. On the first day of classes, there was the Welcome Back Celebration with speaker Hal Colson; the following Thursday was the Hal Mayforth Gallery Show entitled "Avenues," and the Orientation Reboot with Outdoor Ed professor Brad Moscowitz.
On Tuesday, Feb. 6, Dr. David Khan presented "The Science of Sleep and Dreams," a presentation explaining some recent studies about college aged students and their relationship to sleep.
Monday, Feb. 12 will feature the film "Althea," a documentary about successful tennis player Althea Gibson and her rise to stardom. Growing up as a sharecropper's daughter, and alongside the influence of Sugar Ray Robinson and others, Gibson was plunged into the limelight while the Civil Rights Movement was underway.
Next, Red Baraat will be coming to Dibden Wednesday, Feb. 21. This eight-piece band originating in Brooklyn, New York is described as high energy Asian fusion with twinges of jazz and funk.
Roy Tuscany, a world-class professional skier, suffered a career-ending injury to his spinal cord in 2006, rendering his lower body temporarily immobile. Along Tuscany's road to recovery, he founded "High Fives," a foundation that provides information about sports injuries and their prevention, as well as a candle in the dark for those who've suffered as Tuscany has. He will present Wednesday, March 7.
The following Monday, March 12, the biographical movie "Gloria: In Her Own Words" will be playing. This depicts Gloria Steinem, a major advocate in the feminist movement. Not only does the documentary cover her life, but particularly her time as a journalist, her emergence as a feminist, and the birth of Ms Magazine.
On March 19, participants in the February Badger Alternative Breaks will share their experiences about their travels across America to help those in need. Warden says the presentation will touch upon their impact socially, politically, and overall for the communities they helped.
Dance performer and well-known artist Lida Winfield will be in Dibden Center for the Arts on March 27 to present "In Search of Air." Her inspiration was pulled from her experiences as a young Vermonter with a learning disability. Having not learned to read until she was in her 20s, she expresses the struggle and difficulties that ensue, difficulties she ultimately overcomes.
New Breed Brass Band will perform April 4. Deeply rooted in New Orleans, this band provides an authentic jazz experience. The Levitt Pavilion in Denver notes, "New Breed Brass Band lives and breathes the culture of New Orleans, infusing funk, rock, jazz, and hip-hop into a custom-made enhancement of second-line brass band tradition."
April 19, in observation of Earth Day, the college will host a series of ecology-related events, including a film followed by a panel of environmentalists rooted in Vermont.
Winding down to the last few Creative Audiences events, Student Symposium presentations will occur on April 25. This event features exhibits of student work and research across the disciplines.
The following day, the theatrical production "Nine" will come to the Dibden stage. This play is based on the story of Italian filmmaker Guido Contini, caught in a personal crisis after the realization his greatest successes have been products of his own abuse of women in a series of failed relationships. This musical retelling features a talented cast of both singers and actors.
The spring series ends May 2 with a concert by the student-led Jazz and Funk Fusion Ensemble.
Warden offers advice to those more hesitant about participating in Creative Audience. "It's not about liking it or not liking it; it's about really thinking about your own experience of it," she says.
Neilson also urges students to explore areas outside their immediate interest, pulling from her experiences with uncomfortable topics. "I just think about my education, and how so much of it came from all the books I read," she says. "They weren't necessarily books I agreed with fully, or that I loved to read. They were the ones that challenged me or brought up critical questions."
About the Contributor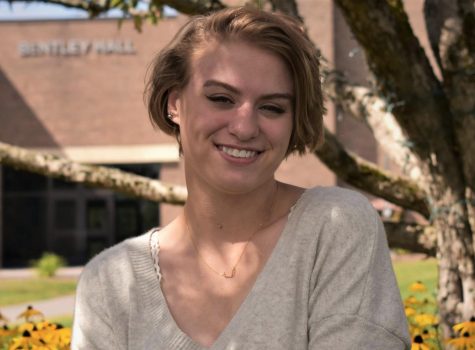 Adriana Eldred, Photo & Web Editor
Senior, Journalism & Studio Art
Grew up in Craftsbury, VT
Spring 2018 - Present

I got a black eye and mild concussion in Las Vegas during a rugby...