Be-longing for Justice Initiative still here after a year
Johnson's demonstrators have become a familiar sight, at least for anyone passing through Main Street on Tuesday afternoons between 4:30 and 5:30 p.m. Feb. 6 was a crisp evening with friendly snowflakes falling like cotton balls from the dimming sky, only highlighted in the soft light pooling from the lamp posts in which the seven or so protesters stood beneath. Downtown was anything but peaceful and quiet, however.
The afternoon rush rumbled by, emitting not only gas fumes and the sound of snow churning from beneath their tires, but a frequent honk or disappearing holler of approval as drivers passed the group. Each demonstrator wielded various signs, along with ones stuck in the snow-banks, each referring to a political view that President Trump has disagreed with. Among them were signs that read, "Refugees and immigrants welcome here," "Women's rights are human rights" and "Liberty, justice and health care for all."
Who are they, and what are they doing?
They have been demonstrating for a consecutive 65 weeks since the election of now-President Donald J. Trump. "We began the week after the election," said Jackie Stanton, one of the organizers. "So, for 65 consecutive Tuesdays, a group of people have shown up. The largest group of people we had was 35 in one night."
She and Calvin Stanton, her husband, began the demonstration last election year. "After the last election, we were horrified," Jackie says. "We didn't want any of these behaviors to become normalized."
The Stantons felt they needed to do something about it, and thus the Be-Longing for Justice Initiative was born. They say they've gained a lot of support in the community since they began. "We raise awareness," Stanton said, noting a recent profile on VPR.
On a recent Tuesday night, this reporter observed that not a minute went by without a car or two honking in support. In the past, community members and neighbors have helped them during the colder days by bringing them hot drinks. "Overwhelmingly, it's been positive," Stanton said. "We've had a few people look right at us and flip us off, and yell at us . . . but you're gonna get that. But it's been much more positive than negative."
However, holding signs isn't the only thing they've been doing to support their cause. This coming town meeting, Stanton and others will sponsor a non-binding resolution. "It's for a vote of no confidence for Donald J. Trump and his administration," said Stanton.
They've had to add the subject to the town meeting agenda by going to the select board. After an initial rejection, Stanton and others were not deterred. Stanton was told by the select board that it would add the resolution to the agenda provided the group presented a petition requesting it signed by five percent of the voters. "We'd like to go down on the right side of history," Stanton says.
VPR interviewed Johnson Select Board Chairman Eric Osgood regarding his reluctance to add the vote to the agenda. He told VPR, "It's going to be very divisive . . . It's going to divide the town. And, in my mind, it's for what? At the end of the day, we cannot affect anything. There's not people in Washington waiting to see how Johnson votes on this resolution. I guarantee you that."
However, with the successful collection of signatures, Chairman Osgood reconsidered, and the petition will now be on the agenda.
Stanton is undeterred by the board's pessimism. "I was beginning to get disheartened today. Things were getting to me about all that's happening," Stanton said. "Then I come here, and I'm with my friends and neighbors, and I see the support as people drive by. It changes me . . . It's like, okay, I can keep going."
Rick Aupperlee has gone to every protest since it began. "I'm 61 years old, and I've never seen anything like this in my lifetime," he says. He feels that this protest is the by-product of the political climate. "This is an experiment," he said. "It's democracy. And democracy is supposed to be a vibrant thing, it's supposed to evolve over time."
However, Aupperlee feels that these recent political events were not a result of evolution, but rather of a kind of dismantling: "In Trump's words, its unprecedented [that the Republican Party] is not holding him accountable. As long as he'll sign the laws they send him, they'll hold their nose and put up with whatever."
Both Stanton and Aupperlee agree that they could always use more participants in their demonstrations, especially younger people. Aupperlee estimated that while they've gained exposure, there is still apathy.
Despite the support of drivers and community members on the street, the number of protesters wielding signs on Tuesday evenings has declined. "I would love to see more college students join us," says Stanton. She notes that they've had people of all ages join. This includes some Johnson State faculty and staff, such as Director of First-Year Experience Margo Warden.
One reason many college students may not be down supporting the protesters is that they don't know much about what they are doing. "Well, I know there's been people down there for a while protesting with their signs, but I'm not really sure what their goals are . . . It just doesn't seem like they're accomplishing very much," said Ian Oatway, a junior at JSC. While he didn't know much about the demonstration, he was still positive about their commitment. "It's interesting to see people who are really devoted to a cause and that they will come out each week and protest."
He also points out that while having more protesters, specifically in recruiting students, would be nice, there is already a large consensus amongst Vermonters that Trump is unfit to be president.
Stanton had one piece of advice for the younger generation who may want to help in other ways than demonstrating: "Register to vote . . . It's such a right and such a responsibility that we all have to exercise."
About the Contributor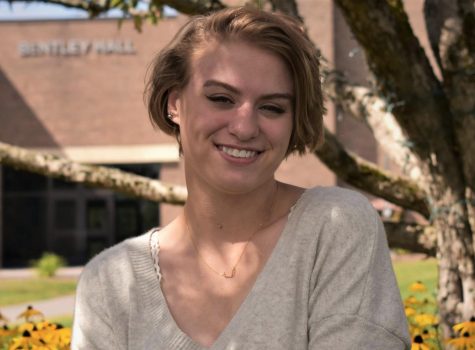 Adriana Eldred, Photo & Web Editor
Senior, Journalism & Studio Art
Grew up in Craftsbury, VT
Spring 2018 - Present

I got a black eye and mild concussion in Las Vegas during a rugby...