First-generation graduates tell their stories
As a first generation student, I can attest that the challenges I face being first in my family are also the biggest reasons why I feel I am succeeding beyond what is expected of me today.
It's important to understand that being first-gen doesn't mean an individual can't be successful; it simply means they must take a different, sometimes longer, road to become successful.
"Where we're coming from, we have a motivation to succeed that is different than other folks," says Elaine Collins, president of Johnson State College. "Sometimes, there is a stigma to being a first-gen, and a lot of people don't want to identify as first-gen. But I think that, in reality, sometimes what people find is that the first-gen students are the ones who are excelling in the classes and others are not as motivated to succeed."
Collins is, in fact, a first-generation college student herself.
"I came from an immigrant household," Collins says. "We didn't have a lot, but we made do." Collins also explains that, like many first-gens, her household was low income, with the added element of language and cultural barriers, since her father originated from Alexandria, Egypt, while her mother was a second-generation Greek immigrant. They often traveled back and forth to Greece as well, making it difficult for her mother to get educated.
"They didn't have a lot of schooling — my mother, particularly — and because she was always traveling back and forth in that kind of environment. I don't believe she even finished elementary school," says Collins.
Coming from this bilingual, low-income household, Collins had to learn from scratch how to be a student. "It was really a shock," she said. Given her circumstances, she would have to forge her own way through school.
"I felt tremendous pressure that I had to honor the family by going to school," Collins says. "My father, in particular, saw education as a way to succeed in society, or to have social mobility. I was raised with that idea."
While many first-gen students feel alone in the matter, there's also another aspect: they feel the pressure to become successful not only for themselves, but for their families.
Another person who is first-gen is Margo Warden, director of First Year Experience. Warden grew up amongst six other siblings in her hometown of Nimmonsburg, New York, just outside of Binghamton. Her mother a homemaker and her father the district director of motor vehicles, she came from a one-income dependent household.
"My dad and my mom put together a really happy, successful life without a college degree," says Warden. "My experience growing up was great. I always kind of liked school. For me, it seemed like college was something I really wanted."
Warden noted her home life was positive and her family supportive, but their funds were limited: "They really supported my dreams, what I wanted to do. And they said, 'We support you with our heart' . . . but there would be no support financially."
Like many first-gen students, Warden had to work to pay for her education. "A lot of my roommates and floormates worked to a certain extent," she says. "I worked during school. I didn't get work-study, so that was another challenge."
Persisting still, she soon took up a job in her college's dining hall kitchen staff. During breaks and vacations, she would also work for much of her time. During her third year, she even became an RA.
One of the bigger challenges in her educational journey was that her parents couldn't relate to or understand the successes she experienced throughout college, a disconnect many first-gens face today as well. "My parents, while they were interested, didn't have the experience or the language to meet me when I'm talking about things like GPA . . . which was great, because one semester, mine wasn't so good," says Warden, laughing.
While Warden couldn't connect with her family on an experiential level, she did build a support system in college amongst close friends and professors. "My closest girlfriends — they were not first-generation. So my choice of friends in high school heavily influenced my decision to say, 'Of course I'm going to college,'" she says.
Warden, after raising her own children, found she had a much different expectation of her children than her parents had for herself. "It was always in my head, the expectation, that of course they're going to go to college," says Warden.
Warden carries this passion and expectation with her to the students she works with. "We just know your stories," she says. "When I see the students walk across the stage in commencement, I think of them coming in as first-year students, but then also the struggle . . . I could afford college. It's not affordable now, for so many, so it's such a bigger sacrifice . . . and everything is so much more expensive."
One student who may understand this bigger sacrifice is Samantha Gorton, who graduated from JSC two years ago. Her experiences have been extremely difficult, by any measure. She grew up in Vermont, although even that can be difficult to explain.
"I'm often asked what my home town is," Gorton says. "and coming to Johnson State College, I was always asked that. And often I wouldn't know the answer." Gorton had attended a total of 14 grade schools, five of which were high schools, around Vermont. She lived with her mother and younger sister, her mother being a large factor in their constant uprooting. "She struggled with a lot of mental illnesses such as depression and anxiety, [and] also some physical limitations," Gorton says. They had lived in shelters, campers, tents and even a junkyard.
"Sometimes we had apartments," says Gorton. "One time we had a house. It didn't have any running water, and it was really old. It wasn't safe to live in, but that was actually my sister's and my favorite place to live because we had our own bedrooms."
She says she often had to step in as caretaker because of these issues, as well as keep a stable environment and household. "We would end up being evicted, or she'd be searching around for where she felt like she belonged," says Gorton. She had not realized until later that it wasn't normal to move around so much.
"I was parentified," she says. Her mother even asked her to stay home from school sometimes because she wanted her to play cards and take care of Gorton's sister. Because of her living conditions and the family dynamics, education was not always priority.
Without the help from VSAC and guidance counseling in the high school she graduated from, Gorton may not have found the tools to get into college.
Gorton had a lot of catching up to do. "It was tough because there were vocabulary words used to explain the question on this exam that I didn't understand," says Gorton. She remembers seeing the word "consensus" on an exam question and didn't know what it meant. Because of her constant moving around, Gorton had received an education riddled with gaps, as she would re-learn a unit in one school and completely miss one in the next.
Furthermore, without the anchor she found in TRiO mentoring, she may not have found as much success in college either. Gorton has now earned a bachelor's degree in psychology and is currently working with runaway and homeless youth in Laraway Family Services.
The first-gen demographic is so diverse and broad that at times it can be difficult to pinpoint exactly what they need to become successful. Throughout these interviews, I've learned that it is vital for first-gen students to cultivate a family amongst their peers, mentors, professors, and the community. Whether they have a healthy dynamic at home or have been independent since 17, it is essential for these students to seek out help and make connections early on so that they don't miss opportunities for growth and knowledge.
College is not for every person, or every first-gen, but those who seek success in higher education will not only pass, but thrive if they are shown how to use the tools they already possess.
"When you educate a first-generation student, when they get their college degree, that affects every generation to come after that student," says Warden.
About the Contributors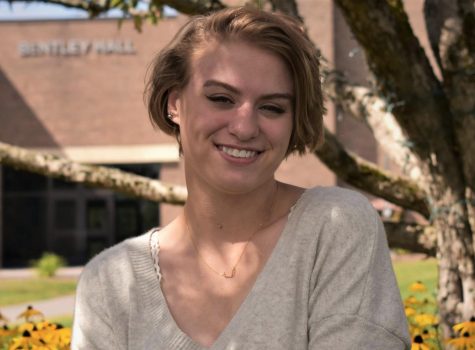 Adriana Eldred, Photo & Web Editor
Senior, Journalism & Studio Art
Grew up in Craftsbury, VT
Spring 2018 - Present

I got a black eye and mild concussion in Las Vegas during a rugby...