Gov. Scott to speak at commencement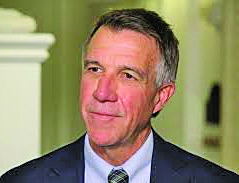 Hang on for a minute...we're trying to find some more stories you might like.
Vermont Gov. Phil Scott will speak at the 151st Johnson State College commencement.
Scott is in his first term as governor and previously served three terms as lieutenant governor.
Before that he was a senator for Washington County.
Scott grew up in Barre, graduating from Spaulding High School.
While Scott is known for his political career, he lives a double life as stock car driver at Barre's Thunder Road Speedbowl.
A Republican, Scott has recently been under fire and in the news for changing his stance on gun control—signing three bills into law that all pertain to gun control and gun safety.
He also signed bill H.511, legalizing recreational marijuana use in Vermont.
The bill will take effect in July of this year.
The commencement ceremony will be held Saturday, May 19, at 11 a.m. on the Johnson campus.
With the official launch of Northern Vermont University on July 1, 2018, this commencement marks the last for Johnson State College.
Next year's commencement will be the first for Northern Vermont University – Johnson.