Public Safety officer receives Freda Hebb award
Freda Hebb is a JSC alum from the class of 1925 who worked at the college for almost 40 years as the president's secretary, as well as a one-person registrar, bookkeeper, personal and business manager, taking on more than fit in her job description. Her legacy lives on today, in the Freda Hebb Room in Martinetti Hall, a scholarship in her name and the Freda Hebb Award. The staff member who receives this award must exude the same passion, dedication and friendliness that Hebb did in her years here.
This year, Michael Laflin, public safety officer, received this award. Laflin has been working in the public safety department for just under 27 years and has proved his merit along the way.
Laflin says the reason he's been here for so long is the people. "Some people may not agree with that . . . I can be blunt and to the point," says Laflin, "but you get to help a lot of people, and you get to meet a lot of people. I've got some very good friends that have graduated from here."
Michael Palagonia, director of public safety, recognizes his dedication. "From my perspective, it was a really excellent way to show appreciation for someone who's been here for a really long time, who very frequently goes above and beyond. Not just this year, not just this decade, but the last 27 years," says Palagonia, who's worked with Laflin since beginning his role as director 14 years ago. "[Nominating him] was a small way to show him — embarrass him," jokes Palagonia, "in front of the whole community, and show him just how much he's appreciated."
Palagonia explains that Laflin has never turned down a new task or challenge, from learning a new coding system for keycards to helping design permits, online forums and campus floorplans. Laflin manages all keys and parking appeals on top of what he already does.
"He was very eager to take on more," says Palagonia, reflecting on Laflin's work ethic.
Despite how Laflin may appear, Michele Whitmore, associate dean of students, can confirm his compassion. "He is an empathetic, caring individual who will do what it takes to help others," says Whitmore, who also aided in his nomination. "A highly dependable and dedicated employee. Level-headed in crisis or emergency situations, and a team player who is always looking for ways to improve department processes."
Laflin takes great pride in his work, which is instrumental in his dedication to his job. "I take pride in everything I do," says Laflin. "Whether it's here or elsewhere. I always do. Everything I do, I try to do as best as possible."
About the Writer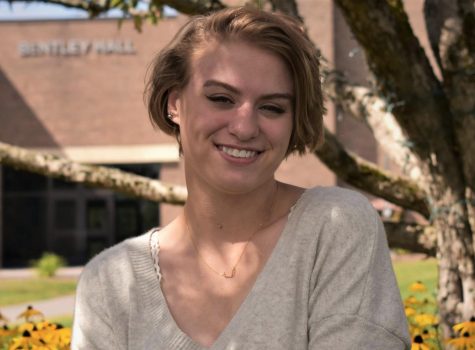 Adriana Eldred, Photo & Web Editor
Senior, Journalism & Studio Art
Grew up in Craftsbury, VT
Spring 2018 - Present

I got a black eye and mild concussion in Las Vegas during a rugby...