SERVE increasing community service events
Another year is in the books for SERVE as they continue to work with groups in the Johnson area to better life here in this small community.
Andie Flavel, graduate assistant for leadership and service, took over SERVE at the beginning of the school year and hasn't looked back, organizing and planning events so that students can help out in any way they can.
Starting out, she had no idea what to expect from the job she has now with SERVE.
"I haven't done anything like this before," she said. "I knew I would be helping to coordinate volunteering events and keeping track of people's volunteering hours. Basically what the job description said, but I still didn't have too much of an idea until I actually starting doing it. It ended up being a lot more than what I pictured."
One of her big goals this semester was to make community service events more consistent so that students could go and volunteer.
Two big community service opportunities like NCAL and ReSource have opportunities twice a month to go down to their place of service to help out.
Knowing the schedule of those opportunities helps students plan time to help out.
Flavel notes that it seems like with the consistent schedule, the size of the groups has gone down a bit, but in total hours, the number of hours is well over 2,000 for the year.
The biggest community service project on campus is Badger Alternative Breaks.
Mikayla Turner, one of the people who went on the trip this year and years prior, notes that it isn't just a week long event, but something that takes place throughout the entire year on campus.
"For me, that was always a success to see it from start to finish. We had three trips go out with 32 people total in different parts of the country," she said. "We also had them doing local service here to connect to their certain issue they were working with. Over the course of the year, they were doing 40 hours of community service to fundraise and also inform the community on what BAB is when doing community service so that we get more people interested."
For Flavel, the amount of people who want to volunteer for community service is a good thing for this campus.
"Student involvement here is good because what I've seen here is a lot of people coming to volunteer for the sake of volunteering," she said. "People like volunteering. People like going to NCAL and petting animals. People like going to ReSource to help organize things. People like going to the Johnson Food Shelf, and the people there like us. It's been really cool to see that many people come and volunteer, not because they have to, but because they want to."
Looking toward next year, Flavel would like to see certain events come back, such as Hike for Hunger, and work to make Pridefest in Burlington bigger with JSC involvement.
For Turner, she would like to see clubs work more with SERVE to create more opportunities to better the community.
Anyone interested in working with SERVE or have any questions, stop by their office in Stearns, or contact Andie Flavel at: [email protected].
About the Writer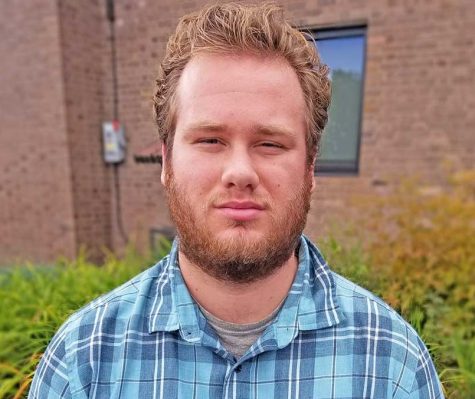 Patrick Bell, Sports Editor

Senior, Journalism
Grew up in Charlestown, RI
Fall 2017 - Present