New telepresence classrooms added at both campuses
Hang on for a minute...we're trying to find some more stories you might like.
Following a $389,000 grant awarded by the United States Department of Agriculture to Bobbi Jo Carter, the associate dean of distance education programs, NVU has added three telepresence classrooms to its campuses. This grant, awarded in January by the Rural Utilities Service office, was given through the Distance Learning and Telemedicine Grant Program, which, according to their website "supports broadband to help communities access education and health care."
According to the Rural Utilities Services section of the USDA website, "The Distance Learning and Telemedicine program helps rural communities use the unique capabilities of telecommunications to connect to each other and to the world, overcoming the effects of remoteness and low population density."
LPD is defined as fewer than 20,000 people in a given area. Since Lyndon and Johnson are so rural, both campuses can profit from telepresence, both locally and globally. Lyndon's census in 2016 showed a population total of 5,830, while Johnson's was 3,297. "The grant allows us to serve that section of the population that really needs the live aspect but is geographically located so they can't easily get to the places where they can take the course," said Carter. "Specifically, it allows us to expand our offerings throughout Vermont and the country."
One new classroom is being installed at Lyndon, while two are in progress at Johnson. These classrooms are equipped with high-tech televisions, computers, microphones, and cameras to help make distance learning possible. "Of the $389,000, approximately $257,650 will pay for equipment on the Johnson and Lyndon campuses and $34,755 for equipment at three partner institutions," said Carter, "and the remainder will buy equipment to go into high schools throughout Vermont."
The two new classrooms that will be available for use at Johnson will both be in the library. WLLC 217, a former computer lab, is currently being changed over to a telepresence classroom, while WLLC 215 is already set up for use. The existing telepresence room on the Johnson campus is in Bentley and is used to deliver 4-5 classes per day.
Through a partnership on the grant, Vermont Technical College's nursing program is also using the telepresence classrooms. "The partnership was formed to satisfy the need for nursing instruction in Lamoille county," said Carter. "NVU is working with Vermont Tech to help their communities address the shortage of nurses."
Nursing students who otherwise cannot commute to VTC in Randolph, Williston, or Brattleboro can instead come to Johnson or Lyndon, where they can access a professor by means of video and audio technology. A few years ago, there was an option for telecommunications by way of Vermont Interactive Television, however the state-supported program was discontinued when funding for VIT stopped. "A number of healthcare providers contacted Johnson State College in early 2017 expressing a desire to bring back access to nursing instruction," said Carter.
At Lyndon, the VTC nursing program already completely consumes a classroom all week, leaving the campus with two classrooms to conduct other classes. "Lyndon has had this same arrangement for several years," says Carter. While the VTC program at Johnson currently only uses Wednesdays, the program is expected to also grow to schedule the whole week of telepresence in WLLC 215. This will leave two classrooms for other telepresence needs: one in WLLC and one in Bentley.
"This telepresence project is currently in the implementation stage," said Carter. "Classes will be scheduled in the rooms starting in the spring 2018 semester." While some professors are using the rooms without the technology as regular class time, these rooms will soon transition to just telepresence.
The partnership also extends further than VTC. Institutions including Vermont Tech and Sinte Gleska University, located on the Rosebud Sioux Reservation in South Dakota, as well as 28 different high schools in Vermont can access the technology. The classrooms on campus will also support dual-enrollment students from Vermont high schools, who are completing their last years of high school while simultaneously taking college courses for credit. According to a post on the Lyndon website announcing the grant's reception, first responders also can use the classrooms for long-distance training.
Distance learning gives geographically disadvantaged students the opportunities to learn in unconventional ways. Since Lyndon and Johnson have different professors and programs, students at each campus can have access to both.
These rooms aren't specifically for academic purposes. "Students can use the classrooms for connecting student clubs across Johnson and Lyndon," says Michael Dente, chief technology officer for both campuses. "It's not hard to learn." Carter adds, "The telepresence rooms at the Johnson campus can be reserved through Conference and Event Services."
As the telepresence classrooms on campus get finished and booked, many departments will start to utilize them. Between NVU-J. NVU-L, VTC, other institutional partners, and the surrounding high schools, the telepresence classrooms will be a busy place these coming semesters.
About the Writer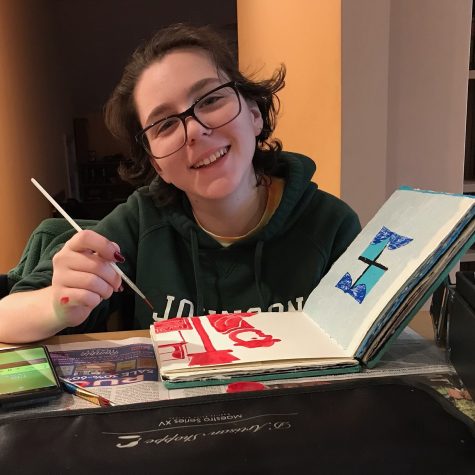 Rebecca Flieder, Editor-in-Chief
Junior, Journalism & Creative Writing
Grew up in Atkinson, NH
Fall 2018 - Present
Rebecca (dot) Flieder (at) NorthernVermont (dot) edu
Along with...