Campus gets mixed reviews for accessibility
However angelic and heavenly Northern Vermont University-Johnson's scenic campus is, its facilities are not completely friendly to all. The initial quality of universal accessibility on campus is not immediately apparent, but it is not entirely complete either.
Michele Feiner, the coordinator of disability services, comments that while campus accessibility is reasonable, it's far from perfect. "I think in some areas we do really well, and in other areas we have some work to do," says Feiner.
In general, the WLLC, Stearns, and SHAPE are accessible. Other buildings, like Dibden, Martinetti, and McClelland, are more complicated. "Dibden is not terribly handicapped accessible. It's surprising because it's a newer building," says Feiner. Typically, older buildings are not built with accessibility in mind, while newer ones must comply with ADA standards. Resident Halls are minimally accessible, although only on the first floors as there are no working elevators. College apartments are not very accessible either.
As a result, accommodations for those with physical disabilities are at times hard to coordinate. "It's very case by case," says Feiner. "Some of the things that are typical are, for example, moving classrooms." If a student with a physical disability is taking a class that is usually held in a non-accessible building like McClelland hall, the class will be moved to a friendlier building such as Bentley Hall. Other accommodations include larger desks for alternate assistive equipment, or the allowance for quick breaks during class times to cope with mental health issues. During the winter, if the maintenance staff is notified, snow will be cleared for students to get to and from class.
Sometimes, it's little things that can make navigation just a little bit tougher. "Sometimes its little things like the elevator breaking down," says Feiner. "I will say that campus [maintenance] gets to it very quickly, like an elevator break down, within a few hours." What may seem like a minor inconvenience to an average person, however, can make getting to the dining hall to eat a huge challenge to someone on crutches.
Angelina Beckett, a junior, was on crutches for a couple of weeks, and comments on how accessibility met the minimum bar, but made her normal academic and social endeavors difficult. "A lot of the elevators don't work in the resident halls," says Beckett. "All of my friends live on the second or third floor of Arthurs, and while I could get there, it was not a fun experience. I would end up just staying in my apartment alone a lot of the time."
Beckett also works in Dibden, one of the least accessible buildings on campus, where the automatic door didn't work. "Especially with crutches, you don't have any free hands, so you either abandon the crutches and just make your way through the doors or you leave," says Beckett. Any location with stairs was challenging to navigate, and leaves something to be said about fairness in opportunity to socialize or roam the entirety of campus.
"There's always room where we can improve our facilities; we'll never be 100 percent accessible to all," says Michael Stevens, director of facilities on both Northern Vermont University campuses.
Stevens was hired last spring semester and is still getting acquainted with the nature of Johnson's level of accessibility. "There is some sort of code that governs this, that all spaces and all buildings don't need to be accessible. You need to be able to offer the same services to the people that need them," says Stevens,. noting that every floor of every building doesn't need to be accessible, and that it is relatively common that most public buildings aren't totally accessible on every floor.
That's not to say that there haven't been improvements made throughout campus. The ramp leading to the SHAPE center needed major repairs because it was built over a storm drain structure, making it prone to cracks. "At least twice last year we had a student in a wheelchair actually get hung up because it didn't comply [to ADA standards,]" says Stevens.
Over the summer, maintenance was able to make the necessary fixes to seal the cracks. Other repairs made over the summer are outdoor stairs, and another set is scheduled to be repaired over October break.
Long term changes or bigger projects are not currently in the works, but that doesn't mean Stevens hasn't acknowledged the need for fixes. "We will look to interface any future card readers with more ADA operators for buildings," says Stevens.
Sara Mornis, a residential student who is blind, has been navigating campus and utilizing its resources since coming here. "In the winter it's a lot more challenging because sometimes the walkways – especially if it's snowing – it's hard for the plows to keep up," says Mornis. "I'd say the other big thing with accessibility in terms of, for me at least, being blind, is that a lot of the campus signs and posters that people put up – I can't access. So, sometimes I don't know what's going on." Additionally, since Mornis is an English and psychology major, she must go down to McClelland for certain classes. "I'll probably have to get somebody to drive me in the winter," she says.
Mornis has access to a mobility specialist that assists her generally every week, particularly during the schedule changes of beginning a new semester, to become familiar with her campus route.
About the Writer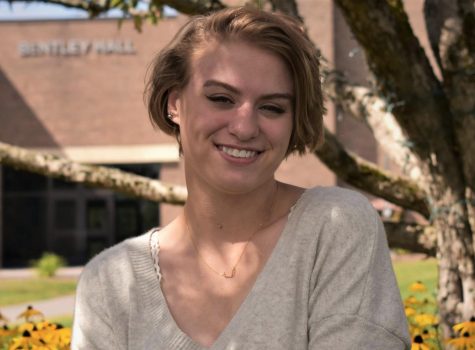 Adriana Eldred, Photo & Web Editor
Senior, Journalism & Studio Art
Grew up in Craftsbury, VT
Spring 2018 - Present

I got a black eye and mild concussion in Las Vegas during a rugby...