Public Safety releases campus crime and fire stats
Every year, Johnson's Public Safety department releases a Campus Fire and Safety report, which alerts students, faculty, staff and other interested parties about the happenings on campus. This report outlines not only the fires that have occurred in the last three years, but also campus crime. "Though our rural setting and small community keep campus crime rates low," says the Public Safety website, "NVU is not crime free."
These statistics are made available due to the Clery Act, "a consumer protection law that aims to provide transparency around campus crime policy and statistics," according to clerycenter.org. This law was signed into being in 1990 and requires universities and colleges that receive federal funding to inform the public of the preceding three years' crime and fires on campus.
The Clery Act outlines diifferent kinds of crime that must be outlined in these reports. Criminal offences is the largest group, including manslaughter, rape, fondling, incest, robbery, assault, burglary, auto theft, and arson. VAWA (violence against women act) offences include domestic violence, dating violence and stalking. The arrests category includes liquor law violations, drug abuse violations and weapons: carrying, possessing, etc. The last category are disciplinary referrals, for liquor, drug abuse and weapons. This means students were not arrested for their violations and instead worked with a team of staff to make restitution.
In the last three years, Public Safety has had no reports of murder, incest, statutory rape, robbery or arson on Johnson campus. The report also shows no arrests or referrals pertaining to weapons.
Rape and burglary were the most common criminal offences on campus last year, with five incidences each. One incident of motor vehicle theft occurred, as well as one of aggravated assault.
Disciplinary referrals are what occur most on Johnson campus, with 26 liquor law violation referrals in 2017. This is down dramatically from 2016, when there were 56, and 83 in 2015. Though RAs and other authorities close to student living on campus are proactive about keeping crime low in the residence halls, this decrease does not necessarily mean there have been lower rates here.
"One thing that I would say is that unfortunately our enrollment numbers were not what they once were," says Jonathan Davis, the dean of students for both campuses. "You literally have fewer students in our residence halls on campus where a lot of those stats are coming from."
Drug abuse violation referrals are also down from 18 in 2016 to three in 2017. It is important to note that Johnson has not had a fire in on-campus housing in the past three calendar years.
It's also important to have some kind of context for these numbers. UVM had 511 drug abuse violation referrals, and 493 liquor law violation referrals. They also had three times the amount of reported rape.
According to the Justice Department, only about 20 percent of college campus sexual assault gets reported. RAINN, the Rape, Abuse & Incest National Network, says that 11.2 percent of all college students experience rape or sexual assault in their college career. These statistics paint a murky picture of the actual rate of assault or rape on college campuses. Sexual violence, especially on campus, is notoriously difficult to measure, and there is no single data source from which to analyze campus assault statistics.
Davis oversees the Public Safety office, where Johnson and Lyndon are combining their policies and unifying the campuses further. "One thing that I do especially want to emphasize is that I've been really impressed with the programming here at Johnson," says Davis. "I've been accustomed to doing things a certain way at Lyndon over the years, and then I come over here. In the areas of sexual assault programming, drug and alcohol awareness, I think that Johnson does an outstanding job."
Unification hasn't changed much about the Public Safety department on campus; however some surprises can occur. Siobhan Anderson-Judkins, an public safety officer on campus, says she encountered one student who accidentally phoned the wrong campus' department. "I had a student call me and he was very quiet on the phone. He was a little freaked out, and I thought he mentioned one of the dorms on campus, so I said, 'Okay, I'll be right over.' It's the middle of the night, I rush over, and there's no one in the dorm building. I was able to get ahold of him, and it turns out Lyndon has a dorm building with a similar name to ours. But he called the first number he found on the website and it turned out to be ours, not Lyndon's."
Next year, Lyndon and Johnson will release a joint report for NVU. Since some of the statistics will be from previous years where the two campuses were not unified, Anderson-Judkins also says they will release their own independent statistics.
About the Contributor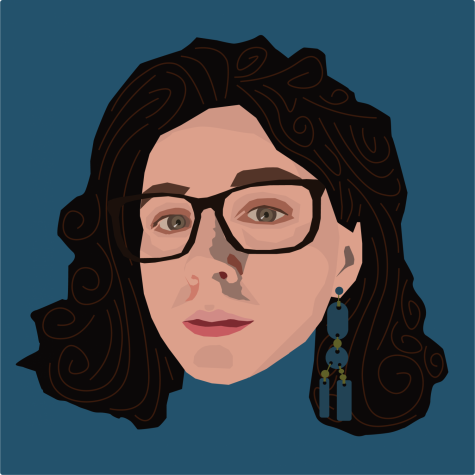 Rebecca Flieder, Editor-in-Chief
Senior, Journalism & Creative Writing
Grew up in Atkinson, NH
Fall 2018 - Present
Along with traditional journalism, I enjoy writing satire and...