Collins delivers an upbeat address
With a message of optimism and hope, Northern Vermont University President Elaine Collins gave the annual state of the university address to a packed Stearns Performance Space on Tuesday, Nov. 6.
Her presentation comes at a time when the university is just beginning to see results after its rebranding during its first year following the merger of Johnson and Lyndon state colleges on July 1.
"I think one thing I can say with absolute certainty is that our two campuses are filled with amazing educators who are really working hard to transform the lives of our students," said Collins.
During the address Collins addressed enrollment and retention, athletics, capital improvements, marketing and rebranding, strategic planning, and the future of the university.
Collins noted the extensive list of state-funded capital projects that were completed within the last year. Specifically pertaining to Johnson, $430,000 was spent on walkway improvements, Dewey window replacements, and renovating the restrooms in Martinetti Hall. She then went on to describe self-funded capital projects, including $270,000 spent on college apartment renovations and the Senator's Hall sprinkler system.
"Let's take a moment to share how grateful we are for our maintenance, housekeeping, and custodian teams, for working very hard every day to keep our campuses running safely and efficiently," said Collins, followed by a beat of appreciative applause.
Also implemented this year are the four "strategic" principles that will guide the university's evolution: one, to create two thriving campuses; two, to provide students with a transformative experience; three, to elevate teaching and learning at NVU through unique learning opportunities; and four, to provide exceptional leadership to our communities.
Aside from physical changes, Collins noted the university has undergone extensive revision of its educational structure.
Among the most noteworthy changes thus far are a new core curriculum, a new strategic plan, the newly implemented common hour, a joint academic calendar, shared community values, and two new curricular programs.
Next on the agenda is a thorough overhaul of academic department structures and alignment of academic policies between the two campuses. Collins was gratified to see a $985,000 surplus to end the fiscal year, but she also stressed that there is still a deficit, which she attributed partially to the university's increase in financial aid offerings.
Enrollment was prominent in the address with Collins citing significant improvement.
"This year's entering class is the largest class in many years," said Collins. "We are 12.1 percent ahead of last year's numbers…. We are currently 99 students ahead of where we were last year."
Collins cited higher numbers of new students at the Lyndon campus and the addition of approximately 121 new students with the new mental health counseling program inherited from Southern New Hampshire University. That program, Collins noted, was in effect "coming home to Vermont," as it originated at the now defunct Trinity College in Burlington.
Gains in enrollment may be a result of the successful marketing and rebranding initiative taking place.
"Michael Fox has already shared with me that inquiries are already way up over last year," said Collins, referring to the Dean of Enrollment and Marketing. Continuing the marketing strategies initiated last year, the university is seeing new students from the Early College program, dual enrollment, and online programing.
"I will say that marketing is the envy – I hear that everywhere I go – of every single college in Vermont," said Collins. Improvements in campus inclusion are in the works, resulting in a record 14 percent of the student population categorized as belonging to under-represented groups.
Other initiatives of inclusion employed by the "strategic plan" are the welcome back celebration of diversity, LGBTQ initiatives, gender identity and ally training, and bystander and race trainings.
Collins spoke at length about the successes and accomplishments of student athletes, like the growth of the average GPA and the many awards and opportunities earned throughout the year.
Along the lines of campus and community participation, Collins said fundraising is at an all time high, the university having raised a quarter of a million dollars.
Looking ahead, Collins described two principles she believes will help lead to the university's success: "The greater the financial challenge, the greater the need for innovation and creativity. The greater the financial challenge, the greater the need to identify unique characteristics of the university," she said.
The university will continue to drive those values, with the implementation of the strategic plan. This plan is designed to continue the growth of NVU in recruitment, enrollment, retention, and in many other ways.
The university is also going to target what until now have been largely untapped resources for recruitment. Traditionally, admission efforts has focused on New England and the Mid-Atlantic states, but new initiatives will focus elsewhere as well: on states experiencing growth in higher education like California and Texas; on states in the Midwest that will be targeted for athletics; and on northern tier states for the familiarity of climate and environment.
Other efforts will target philanthropic resources, grants, and the anticipated launch of new online programs next fall.
"We will need to optimize the cost of our online programs, as of right now we are not competitive in this area," said Collins, noting that Champlain College has slashed its online tuition.
Additionally, Collins commented on "enhancing" the culture of the campuses by creating more combined events and clubs, like the combining of the rugby club on both campuses, and the joint effort to participate in the Burlington Pride Parade earlier in the fall. Joint programing will include study abroad and travel opportunities.
Lastly, Collins painted a clear picture of the new community values she hopes will define the university going forward: "I see a community where freedom of expression is protected, differences in others' ideas, values, and experiences are respected, where civility is positively affirmed. A community where curiosity, critical thinking, and thoughtful questions are celebrated as meaningful contributions to the learning environment. A community that demonstrates compassion and responsibility, through service and involvement within our campuses and our surrounding communities. And lastly, a community where individuals accept their obligation to the group and respect the rights and property of others."
About the Contributor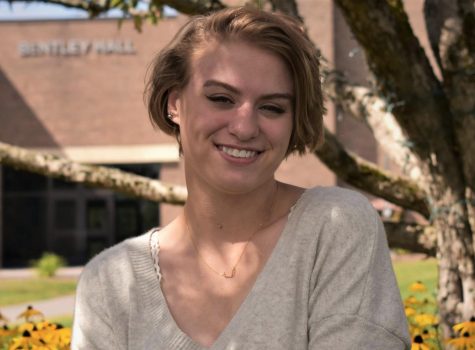 Adriana Eldred, Photo & Web Editor
Senior, Journalism & Studio Art
Grew up in Craftsbury, VT
Spring 2018 - Present

I got a black eye and mild concussion in Las Vegas during a rugby...