NVU enrollment up 12 percent
In the first year of the Johnson and Lyndon merger, the university has seen a 12 percent increase in enrollment as Northern Vermont University, after several years of a decline.
Dean of Enrollment and Marketing at both NVU campuses, Michael J.Fox is new to NVU this year as he was hired over the summer. He has had over 12 years of experience in enrollment across the United States, starting in his native state of Pennsylvania, then moving to the Midwest, before finally arriving to NVU.
Fox attributes several factors to this spike in enrollment. One is that Lyndon's undergraduate program exceeded budgetary goals, which he credits to the hires they have made in the recent years.
"We have a number of new individuals over there as well as a number of counselors that are in their third and fourth years, they are just coming into their own and performing very well," he said. "We have hired two new positions over there to fill the visit coordinator position and also added a new admissions counselor there as well. So all of those things have accumulated that surplus over there on that campus."
The other major factor he credits is the new Master's in Mental Health Counseling. Appearing as a Johnson online program, it has added a boost in the graduate program, adding to the overall 12 percent increase.
Being all over the U.S. has allowed Fox to understand the demographics in each region of the country. One of his focuses is to be able to get Vermonters to stay in-state and go to NVU.
"We want to get some of that Vermont market share back," he said. "That has been declining, just because of the high school graduating class has shrunk significantly, and will continue to shrink over the next several years. But for those who are here in Vermont locally, we want to service them as much as possible. I think now that we have the unification completed and the marketplace can understand what we have done and what the benefits are, I think that will help."
Fox also wants to make sure that he can reach potential students from across the country as well.
"My main focus in now looking at both the Northeast and some other key areas where we know where like-minded students are going to come from," he said. "An example that I've given to Elaine Collins and the board of trustees is that California is booming with college-aged students who are looking to go to college. We know parts of the south, such as Texas and Florida are all areas that are seeing population growths. So those are areas of focus as we start to go out and look to find students. Now to be perfectly honest, I'm not expecting hundreds of students to be coming. But at the same time, we need to start dabbling in those areas that make sense, where we can find students that are willing to travel to us, that can afford the out-of-state tuition, and are looking for programs like ours."
One of the keys to this that he said is to find students who understand the Vermont culture, specifically looking at the northern tier of the United States like Montana and Washington. In those states, they understand the cold, snow-filled winters that Vermont has, as well as the activities that follow along with that type of weather.
Another recruiting tool he has in mind is to work hand-in-hand with the athletic department at NVU.
"Looking at some of our athletic programs and identifying where the coaches are comfortable going and pulling students because it is the low-hanging fruit that we need to focus on," he said. "Not necessarily increasing enrollment in the athletic program although I think there is some growth that could certainly happen there, but if we are going to a high school where a coach is already recruiting a student, they already have the name recognition of Northern Vermont University, so it will be easier to get into that high school and gain a little traction. That's going to be very important for us, especially in some of that Middle Atlantic region.
Fox has his admissions team from Johnson and Lyndon campuses working together to be responsible for different regions of the country. His goal is for his team is to give those potential students all the information about both locations and allow the students to choose the campus they would like to attend.
About the Contributor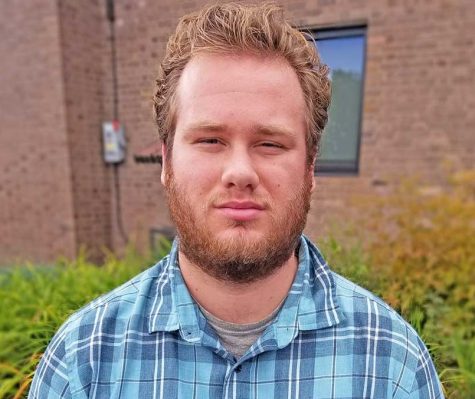 Patrick Bell, Sports Editor

Senior, Journalism
Grew up in Charlestown, RI
Fall 2017 - Present