Catamount Arts coming to Dibden with new tech director
After some tumultuous months, Dibden Center for the Arts will finally have a permanent Tech Director. With this development comes the potential to significantly transform performing arts at NVU-Johnson and the surrounding communities.
"This is a very exciting opportunity for Dibden," says Isaac Eddy, assistant professor of Performing Arts in Dibden. "As you know we've had an interim TD. Joe [Sanguinetti] and Mckenna [Bovey] were former students who stepped into that position and they have done a great job to the best of their abilities, but as you know "interim" is nothing like a full-time professional in this position. I've always known it was an important position but I really realized that this semester, not having that head of facility and of technical management of the building. It's been very tough for us as a department and for the Center for the Arts."
Dibden's new Tech Director, Tim Mikovitz, comes with a great deal of experience, and Eddy hopes that this will make a large impact on the students in the technical theater program and ones who participate in stagecraft in Dibden, both onstage and off.
"He [Tim] will continue to work with this show called 'Wanderlust' which is a yoga and music festival that he's in charge of. He's the production manager for this tour. It's giant in terms of its scope of tech needs, budget and management. The fact that he's done so well with that is a great sign for us, partly because of his expertise in the technical elements of performance used right now. The fact that he's tapped into contemporary tours is a very good thing for what he could bring in terms of knowledge to our center for the arts."
Mikovitz isn't new to NVU, as he has been teaching live sound engineering at Lyndon for over five years. "He has a history," says Eddy. "He's already hooked up tech students at Lyndon and here with full-time jobs with his connections in Vermont and with 'Wanderlust.'"
Eddy is hopeful that this change in staff will enhance opportunities all across campus. "He heading Dibden will be an amazing hookup for tech students as well as for faculty and folks that are involved here," says Eddy. "Not just the A.A. in tech theater."
Mikovitz could not be reached for comment.
Eddy is also excited about the other part of the change in Dibden: a partnership with Catamount Arts, a programming company based out of the Northeast Kingdom. "They have three main stages where they bring primarily music," says Eddy, "but also dance, circus acts, and theater."
Two stages are in St. Johnsbury and at NVU-Lyndon, but Catamount Arts also has many other pop-up performances in other towns across Vermont and New Hampshire.
"They [Catamount Arts] have been interested in breaking out of the Northeast Kingdom and setting up a home in another part of northern Vermont in order to get a wider clientele, a wider audience for their shows," says Eddy. "This is an obvious growth of the company that helps their show but also if they have more stages they are able to get larger clients."
Often, big acts will refuse venues under 900 seats. "Dibden is 500," says Eddy. "Typically these acts are like, 'No, sorry, we need a bigger stage.' But you can say, 'Instead of a bigger stage, we can add on an extra night in your tour,' and that can sometimes help that the house isn't as big. Catamount Arts has the potential for booking different types of acts and we have the potential for getting these amazing acts at out theater."
In the coming weeks, Catamount Arts is hosting the Boston Children's Chorus at the United Community Church in St. Johnsbury, as well as offering several screenings of Shakespeare shows including "Antony and Cleopatra" and "The Tragedy of Richard the Second" from National Theatre Live, an initiative started by the Royal National Theatre in London that broadcasts their shows around the world. With Dibden as a new venue, NVU-Johnson has the potential to enjoy these kinds of acts right on campus.
Eddy wants to make it clear that while this partnership will benefit Dibden financially, the focus is on the educational and enrichment opportunities for Johnson students."This is a win-win," he says. "You can see why it's positive for them. But for us, we have this beautiful theater that we as a performing arts department want to bring more people into. I want to engage more people from the surrounding communities to see our beautiful theater and amazing works, ones that we put on but also ones we bring in. Catamount Arts also has a more robust marketing system and a state of the art ticketing system. They own their own audio equipment."
Students in the Technical Theater Associate's degree program will get a chance to work hands-on with newer technology and larger acts, which will better prepare them for a career in technical theater.
And while the details haven't been entirely finalized, Eddy has ideas about how Dibden will profit from the extra shows. "We'll have state-of-the-art audio to present but we'll also have this system of marketing that could make us akin to Spruce Peak Performing Arts center or others around the state. We just aren't right now, and the only reason is that we don't have the marketing power and the human bodies to help us pull in these acts," says Eddy.
Eddy also wants to emphasize that the integrity of Dibden will stay exactly the same. "This isn't suddenly going to change the name of Dibden," he says. "It's going to be ten acts in the year. It's not all of a sudden space will be taken over by Catamount Arts. We'll be working in tandem."
About the Contributor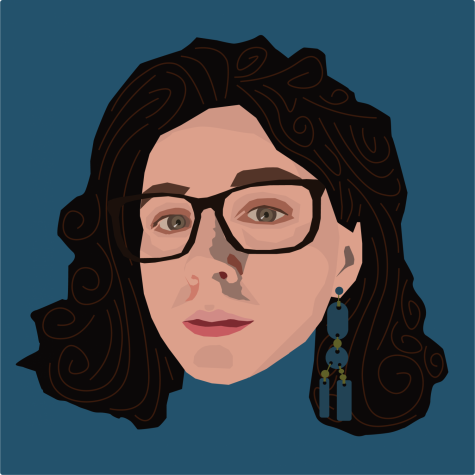 Rebecca Flieder, Editor-in-Chief
Senior, Journalism & Creative Writing
Grew up in Atkinson, NH
Fall 2018 - Present
Along with traditional journalism, I enjoy writing satire and...