NVU offers resources for understanding and reporting sexual assault
Five rapes were reported on campus last school year. In the last 10 months, there have been 11 reported cases of sexual misconduct, as reported by the campus crime log. These numbers are low as compared to other schools in the nation, but they are troubling nonetheless.
23 percent of undergraduate females and 5.4 percent of undergraduate males experience rape or sexual assault through physical force, violence, or incapacitation during their time at college, according to the Rape, Abuse and Incest National Network.
If these numbers hold true for the Johnson campus, then unreported numbers of rape and sexual assault may be much higher.
In any case, the goal for administrators such as Title IX Coordinator and Associate Dean of Students Michele Whitmore is to talk about sexual assault from the very minute students arrive here in Johnson.
"We talk about it during Orientation," says Whitmore, "when the director of the Wellness Center talks about sexual assault and consent. We talk a little bit about being an active bystander."
While the concept of being a bystander suggests inaction, this program addresses being active and advocating for friends who could end up victimized.
In the first week of September, the campus offers activities, film showings and training that help students learn what it means to give enthusiastic consent.
"We've offered that and will continue to offer that annually," says Whitmore, "so that students have an opportunity to learn more about the process and procedures that the university has in place."
In conjunction with the programs on campus, online resources are also available. The Resources, Education, Support, Objectivity, Learning, and Equity (RESOLVE) website run by the VSCS was designed to explain and simplify the process of understanding and reporting sexual assault on any VSCS campus.
Other college campuses base their sexual assault policies on Title IX, a section of the Education Amendments Act of 1972, which states, "No person in the United States shall, on the basis of sex, be excluded from participation in, be denied the benefits of, or be subjected to discrimination under any education program or activity receiving Federal financial assistance."
VSCS has chosen to adopt more specific policies known as 311 and 311-A, which explain in depth the protections that exist for students who choose to report sexual assault.
These policies refer to the parties involved in a complaint as the "complainant" and the "respondent."
These policies, along with explanations, helpful diagrams and other important information about these policies can be found at www.resolve.vsc.edu.
VSCS's official manual of policies and procedures defines sexual misconduct as, "Any non-consensual act of a sexual nature, which may or may not involve physical contact. Sexual misconduct may vary in severity and includes a range of behaviors and
attempted behaviors, including, but not limited to sexual harassment as defined in Policy 311."
This "also includes unwelcome sexual conduct that does not constitute sexual assault but is sexually violating in nature, such as nonconsensual physical contact of a sexual nature," according to the manual.
When sexual assault does occur on campus, there's a complex system of staff, faculty, policies, and rules in place to protect everyone involved under Policy 311.
This system starts even before a complaint is filed.
Susan Law, Title IX investigator for the VSCS Office of the Chancellor, hosts training for staff who then become certified to help as investigators themselves in the process.
Currently, 11 members of the faculty and staff on the Johnson campus are certified investigators for Policy 311 complaints.
When a student decides to report a sexual assault, there are many avenues for the report. They can head to www.resolve.vsc.edu and use the option "File a Report" on the landing page or speak to an RA or trusted staff or faculty member. They can also speak to a hall advisor, or directly to the dean of students office in Dewey, where Whitmore's office resides.
After Whitmore, as the Title IX coordinator, is informed about the incident or allegations, she determines whether or not the report would "constitute a Policy 311 or 311-A violation," according to the RESOLVE website.
The investigation moves to the next step of the process, in which the complainant and respondent are identified and then notified of the violations.
The respondent, otherwise known as the "accused", is notified in writing, and the complainant, otherwise known as the "accuser," receives a copy.
Two impartial investigators trained by Susan Law are appointed by Whitmore to investigate the complaint, and protections are put in place to keep direct confrontation of the complainant and the respondent to a minimum.
"It's always two investigators," says Jonathan Davis, Dean of Students. "But the Lamoille County Sheriff's Department may conduct their own investigation. Part of the intake of a complaint of a sexual misconduct investigation is to let the student know that we can help them make contact with the police. We can help them with contact with the hospital, with the Clarina Howard Center in Morrisville, for a variety of mental health services. Heaven forbid there's a need for a Sexual Assault Nurse Examiner who is specially trained to preserve evidence and things like that."
"In nearly two-thirds of complaints, complainants know the respondent, but if they don't, a different system comes into play," says Davis.
"When we have sexual assaults where there's an unknown assailant, we have a duty to provide the campus with what's called a timely warning," says Davis. "We haven't seen one of those in a while. Most of the reports that we get, as far as sexual misconduct, is someone they're acquainted with. And so we know who the potential respondent is."
In the case of an unknown assailant, Public Safety will send the timely warning to students, staff and faculty on campus to let them know of a potential danger.
With a known assailant, however, the process continues within the system. The two investigators contact each party to set up "separate interviews of the complainant, the respondent, and any witnesses," says the RESOLVE website. Any student may have an advisor of their choosing present at any meeting with investigators, so students do not have to be alone while they're being interviewed.
Any evidence presented, including statements, doctor's notes, social media, and police reports will also be taken into consideration. Police reports follow a Memorandum of Understanding which, according to Davis, "is an understanding of how we as university and police will cooperate together in an investigation. The LCSD has the latitude to investigate whatever they want. If a student wants to go to the police and not involve the campus at all, it's not entirely up to them in that case because we may have a fear that whatever happened to them may happen to other students. We may have to do our own investigation but it has happened where students choose to use the police and not us. They will let us know if there's something we should know about or if there's something they need our help in investigating. Then, of course, we will cooperate."
The investigators prepare a report of the incident within 45 calendar days.
This report is based on what is known as the "Preponderance of Evidence," defined by the VSCS as "whether it is more likely or not that events occurred and Policy 311 or 311-A was violated."
Once the report is prepared, both parties have seven days to respond in writing to the report.
After seven days, the report plus any extra attachments including the written responses are sent to the Responsible College Administrator. This person is, says RESOLVE, "typically from the College where the violation allegedly occurred."
The parties can ask to meet again with the administrator before a final decision is made. They can still bring an advisor into this meeting like before, and a determination, or final decision, is issued after 14 days.
This isn't the end of the investigation, though.
Either party can appeal to the president of the university within seven days of the determination on four categories: procedural error, a discovery of new evidence, determination is arbitrary or capricious or the sanction is substantially disproportionate to the findings.
The party that does not appeal is notified and has seven days to respond in writing.
While this system may seem overly thought-out, it exists to protect both the complainant and the respondent. And the main focus exists before the sexual assault even occurs, in prevention and education. It's not just the university that supports the students, either. "Peer voice," says Whitmore, "peer support is so invaluable."
About the Writer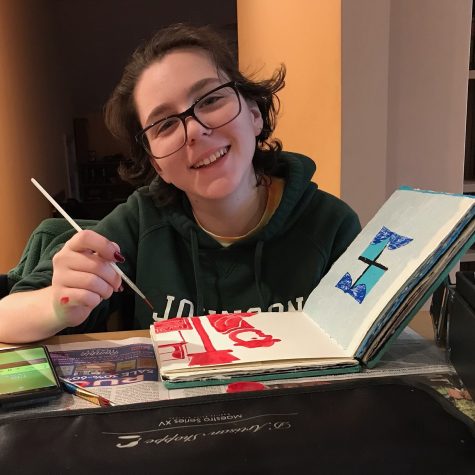 Rebecca Flieder, Editor-in-Chief
Junior, Journalism & Creative Writing
Grew up in Atkinson, NH
Fall 2018 - Present
Along with traditional journalism, I enjoy writing satire and...