Do the Martinetti Shuffle!
If offices could dance, they'd be doing the Martinetti Shuffle. Students will notice that in order to switch or drop classes, they now have to go to Martinetti. Signage has started to change from "Student Financial Services" to "Student Administrative Services".
Why has this all happened, and where has everyone been moved to? Assistant Registrar Laurie Laggner said, "That's the question of the month, really. I think they're trying to restructure a lot of the offices here to match those at Lyndon. I think that's where this stems from."
Her office, along with Tammy Carter's and NVU Registrar Miranda Fox's has been moved up by the Business Department, where the Admissions Processing and Operations office was.
Fox has assumed the role of Registrar on both campuses and will be traveling back and forth.
Carter, Associate Registrar, said, "I think the move was to keep the business processes centrally located. We were not really given any definitive reason as to why we were packing and moving."
According to NVU Dean of Administration Sharron Scott, the relocation of offices from Dewey to Martinetti reflects an ongoing effort to align student services on both campuses. "For many years both NVU-Lyndon and NVU-Johnson have had a form of student services one-stop shop. On the NVU-Johnson campus the services included financial aid and billing support and on the NVU-Lyndon campus it included those functions as well as support of the registration activities. With the creation of a single Registrar's Office it made sense to consolidate both functions into a single unit under the direction of a single person so that students could be assured they would receive consistent service regardless of the office they walked into or the number they called. Therefore effective this semester we've combined the teams into a new unit named Student Administrative Services to accurately reflect the full range of services offered by the department."
Student Administrative Services is staying right where Student Financial Services was, so staff including Andrea Wadlington and Financial Aid Officer Dottie Dearborn will stay in the same place. Ashley Cormier, who has moved over from Dewey, will serve as a Student Administrative Services Consultant along with Wadlington.
Dearborn said, "We've added a component of the registrar in this office. It's the one place where students can come talk about financial aid, ask questions about their bill and register, add or drop classes. My role is that I talk to students about their financial aid packages and their bill. I also do all of the verification of the FAFSA."
With registration and financial aid all in one place, SAS is hoping to bring it all together for ease of access. Wadlington added, "Kind of a one-stop shop. That's what we're hoping for."
Dearborn will still be available to speak about billing and financial aid, but Cormier and Wadlington can also access former-registrar duties like adding or dropping classes.
With more complicated aspects of registration, though, like major and minor changes, students will still go to Carter. "Though," said Carter, "if a student is looking to change their major the best place to start that process would still be in Advising." Carter's new role will also include schedule building for both campuses.
This change will also happen at Lyndon. Their former Student Services department will also be known as Student Administrative Services.
Overseeing both campus' SAS offices is Shane Mason, who has worked at Lyndon since 2012. He will be at Johnson one day a week.
Along with the push to align with Lyndon, a Title III grant awarded to NVU-Johnson in the fall semester of 2018 made the decision to move clear. Scott said, "The Title III grant includes the hiring of several new positions [that] need to be co-located with other related services, such as Advising, First Year Experience and Academic Support Services. There was not enough room in Dewey to house all of the positions so the Registrar's office was selected to move."
She added, "The Registrar's Office was a good choice in that it is an administrative support function, not a direct student services function. Its work includes administrative support of students through things like scheduling classes, transcripting, transfer credit evaluation, and degree auditing. These functions are administrative in nature, meaning they do not require direct student interaction. Conversely, functions like advising, academic supports such as tutoring, and first year experience activities require direct student interaction, frequently one on one and sometimes in small groups."
According to Scott, "The President and her cabinet evaluated spaces across campus and reviewed several options for moves. These options were reviewed with the appropriate department heads before a decision was made."
With the registrar gone from Dewey Hall, no one seems to know specifically what will be moving in to join Advising. Michele Whitmore, Associate Dean of Students, said that a decision hadn't been made. Scott said NVU will be "hiring several new individuals who have direct involvement with student persistence, access and support," but didn't specify the roles of these individuals.
Scott also said, "Nothing changes on a student level. For the eighteen months prior to Doug Eastman's departure as NVU-Johnson Registrar, both Registrars [from Lyndon and Johnson] were working to combine and consolidate functions under the NVU brand. This work was largely complete last spring and the team continues to execute the vision. What you will likely see in the coming months are more self-service options that will allow you to use online forms for many activities instead of visiting an office."
The bottom line here is clear. "We wanted to make it easier for students," said Dearborn. "We really want students to be able to get the most out of one stop."
For both Lyndon and Johnson, Scott says, "As the Student Administrative Services staff comes up to speed in the coming months you should expect to see improved efficiency, faster service and a much more consistent experience."
About the Writer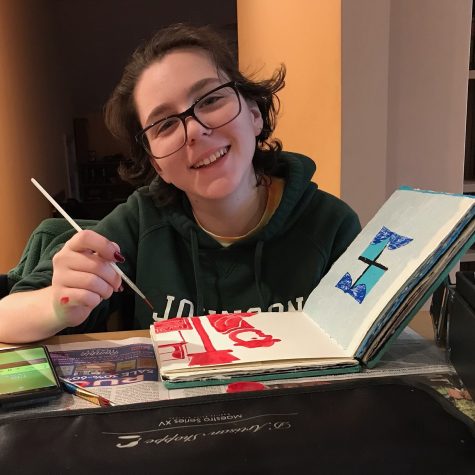 Rebecca Flieder, Editor-in-Chief
Junior, Journalism & Creative Writing
Grew up in Atkinson, NH
Fall 2018 - Present
Along with traditional journalism, I enjoy writing satire and...