Professor Bob Genter retires after 32 years
After 32 years, Northern Vermont University's environmental science professor and resident diatom devotee, Dr. Robert Genter, retired following the fall semester. And although he will no longer be teaching, he doesn't plan on resting on his proverbial laurels when it comes to science.
"I want to get back to the reason I went to graduate school– to be a scientist and do the actual work," said Genter. "I want to focus on research. on heavy metal toxicity to microorganisms in particular. There are abandoned copper mines in Vermont, and at least two of them are Superfund sites on the national priorities list. One of them has been remediated or cleaned up a little bit and the other one hasn't. So, I'm looking at the kinds of organisms that live in the contaminated rivers compared to those in the natural uncontaminated rivers."
If Genter has his way, he will continue much of his research on campus in the artificial stream lab he built on the third floor of Bentley inside the greenhouse. It is there that he conducts controlled experiments, which he wants to apply to the situation with the state's copper mine water contamination and then publish his research.
A consummate man of science, his obsession with his field even permeates his hobbies. "I love to brew beer, so I'm really looking forward to that. I brew enough for myself now, but I always had to squeeze it into very small windows. So, now I'll be able to have more time for it."
NVU student Lindsey Levoy has worked in the artificial stream lab alongside Genter during his final semester. "He is always excited to make progress with the streams and is good at explaining everything, so I can understand," she said. "He is awesome to work with and is always willing to answer my millions of questions. There have been times where I'm in the lab on a weekend and something goes wrong, as soon as I call Bob he comes in to save the day."
"When I first came here, everyone was talking about Johnson as a community and describing it that way," said Genter, when asked what he will miss the most about his now-former institution. "I came from big universities where you would put your social security number on the test to identify yourself. Johnson is so much smaller, everybody knows everybody. It's a community that is more accepting of people so that when they're in a new environment they can flourish. I'll miss that casualness. I think that big universities have their own advantages, but what they miss is that warm interaction. They tend to be more competitive than community-oriented. Smaller schools have a totally different atmosphere and I really appreciate the community here."
While the Johnson community has certainly made an impact on Genter, he has had an equal, if not greater influence on generations of students since he was first hired by the institution in 1986. "Dr. Genter's teaching and mentoring of student research has truly exemplified the 'learning by doing' motto of Johnson State College," said Professor of Health Sciences Dr. Amy Welch. "Throughout his career he has provided high-impact, hands-on learning experiences for our students, whether it's been on the coast of Maine, in Yellowstone National Park, at Babcock Nature Preserve or in the Greenhouse and Streams Lab on campus. His dedication to, and passion for, student-centered education will be sorely missed by faculty and students throughout the department and the Biology program."
Another NVU student, Morna Flaum, participated in his most recent immersive week-long course in which they traveled to Yellowstone National Park. "I count myself so very fortunate to have studied with Bob Genter," she said. "He transformed my experience of the landscape and my understanding of the transformations wrought by geologic time. My love for nature has only been magnified by the way that Bob infused detailed geological, ecological and biological learning into so many moments of our Yellowstone journey. It was the best adventure of my life."
Anais Dutton also partook in the class and had equally glowing remarks about the experience. "I can confidently say that I speak for my entire class when I say that Bob provided the trip of a lifetime," she said. "It was a privilege to travel with him and the class, whether we were driving through Jackson Hole, singing Simon and Garfunkel as loud as we could or loudly telling stories deep in the backcountry to keep away grizzlies. Not only were we fully immersed in the unique ecosystem of Yellowstone, but we had our own personal scientist with us."
For students majoring within his department, Genter's effect has been even more profound. "He is one of the greatest professors I have ever had," said Jessica Malskis. "As a student in his Bio-1211 course, he sparked an interest and passion of mine for making changes to save the environment and seeing how what we do to our planet has a lasting impact. Dr. Genter has been a wealth of wisdom for me as I begin wrapping up my senior year. When I began to feel unconfident in my coursework or my ability to pursue my career path, he would share a story of his time in college, research or a work setting, reminding me that everyone starts somewhere."
Over the years, the prospect of being taught by Genter has specifically attracted students to the college. "Before I even applied to NVU, I had contacted him for help deciding what school to go to and what degree to get," said Kara Howell. "It was because of Bob that I came here, and I made sure to take his class before he left. He has been so incredibly helpful [in] helping me find my path. He has meant a lot, both as a professor and as more of a mentor/advisor. I have enormous respect for him and am sad to see him go, but happy he can focus on his true passions now!"
As his final semester has wound down, Genter has contemplated what his legacy would be. "A friend introduced me to this concept—his mom would always ask him, 'Did you do your best?'" And then my wife always says that we're all just doing our best. So, I think that's all that we can ever ask people as a legacy, that we just give it our best," he said.
About the Contributor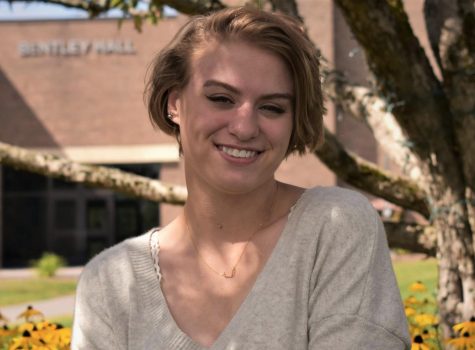 Adriana Eldred, Photo & Web Editor
Senior, Journalism & Studio Art
Grew up in Craftsbury, VT
Spring 2018 - Present

I got a black eye and mild concussion in Las Vegas during a rugby...