Spaulding proposes a 30 percent solution to the chronic legislative underfunding of the Vermont State Colleges System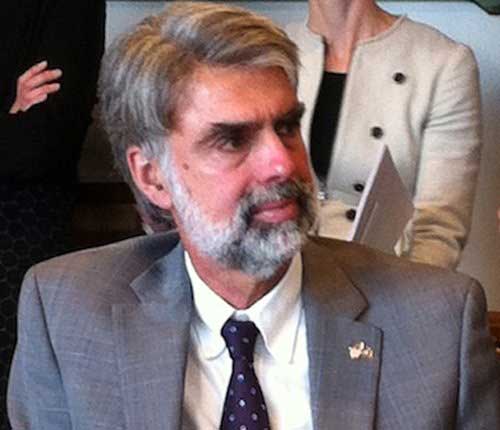 Competing proposals to inject much-needed funds into the cash-strapped Vermont State Colleges System are now on the table following Vermont Governor Phil Scott's budget address on Jan. 24. Scott proposed an additional $3.2 million for the system, intended to forestall a 3 percent tuition hike for next year.
A little more than a month before on Dec. 19, Jeb Spaulding, chancellor of the Vermont State Colleges System (VSCS), proposed at a press conference a plan to increase state funding for the state college system by $25 million over a period of five years. Should that plan be approved by the Legislature, which appears unlikely at this time, tuition would be frozen at the state colleges and universities for at least two years.
"The reason why states support their colleges and universities is they're trying to make them affordable. The result of having such low state support is having high tuition," Spaulding said in a Basement Medicine interview.
Vermont has been reducing its support for the VSCS for decades. In 1980, 51 percent of the system's revenues came from Legislature. Now, only 17% of VSCS funding comes from state support, despite the statute that founded the VSCS mandating the state to provide "in whole or substantially" funding for the state colleges. According to State Higher Education Executive Officers' yearly report, Vermont's public colleges had the highest tuition against one of the lowest state support allocations across the nation.
If Spaulding's proposal were embraced, at the end of five years, state support for the system would stand at 30 percent, which would be essentially on par with comparable institutions in the rest of New England and New York.
"People said, well isn't there some way to have a benchmark other than just asking for more," said Spaulding. "So, we got statistics from the New England Board of Higher Education that tells what share for the 75 public universities in New England they get from their state and we took the average and it was just over 30 percent … If we were at the benchmark this year, it would be an additional 25 million dollars. I think it's kind of sad that we aspire to be average, not better than average but it's from a funding perspective."
One possible source of funding for the 30 percent increase was suggested to be money collected from internet sales taxes. However, in his annual budget address Scott proposed putting those tax revenues into child care.
The VSCS wasn't ignored during the address. Governor Scott proposed that the system receive an increase of $3 million to aid a tuition freeze.
"It's an 11 percent increase in the state appropriations, so it's not an insignificant proposal that the governor made," said Spaulding. "Governor Scott has been very understanding and supportive in general for the Vermont State Colleges system since he was elected governor. So I guess what we'd say is, we very much appreciate his budget proposal. It's a great start, we're going to keep on advocating to keep that three million in and add two more to that in this legislative session."
College degrees are in more demand than ever. Businesses are looking for more educated people to fill their workforces. According to Georgetown University's "Recovery: Job Growth and Education Requirements through 2020," 65 percent of jobs will require some college education by 2020.But for many Vermont students, the rising prices for college tuition is proving to be an insurmountable challenge. Students wind up facing high amounts of debt upon graduation or are forced to drop out.
"While I have been able to stay above water, I have seen many of my fellow students drop out because their financial aid bill couldn't cover all of their tuition expenses," said NVU-Johnson student Adriana Eldred, who also spoke at the Dec. 19 press conference. "I've seen people create go-fund-me campaigns on social media to try and cover expenses. I've seen students fail because they couldn't buy the textbook or the supplies needed for their class. I've had friends, full of potential and promise, with the drive to continue their education, drop out because they simply couldn't afford college any longer."
The proposal has generated support from business owners, students and VSCS faculty, including NVU-Johnson's Tyrone Shaw."After years of declining support, the Legislature in the past few years has stepped forward to offer very modest increases of funding, but it's nowhere near enough to bring us up to a level of parity as the chancellor suggests," said Shaw. "We are in this position because we have endured what I consider to be toxic neglect by the legislature for decades now. And I think the statistics would bear that out on how much ground we've lost regarding state funding for the Vermont State Colleges. It is unsustainable, we're losing out to our surrounding states, and I think this status quo contributes to the steady migration of our youth out of the state."
The importance of the Legislature's role in funding the VSCS was echoed again by Spaulding, who advocated for much more public engagement.
"I would like students and faculty and community members to know that this is an important year for the Vermont State College system," said Spaulding. "And if people have the ability to contact their local legislators and tell them to support the 30 percent proposal for Vermont State Colleges, we would very much appreciate that. Legislators like to know whether various proposals are important to their constituents and we believe that the Vermont State College system is one of the most important tools the state of Vermont has to provide upward mobility for Vermonters and make sure we have an educated workforce for our economy."
As tuition continues to rise and student debt soars, Vermont needs to make a critical decision on how it's going to support its college system before even more students are forced to find their education elsewhere.