Active Minds club looking to converse about mental health
A new club has been established on campus that wants to "chang[e] the conversation about mental illness:" the Active Minds Club.
"Active Minds is a part of a national organization," said club President Seana Rowell. "There are 450 chapters on college campuses across the United States and in some other countries throughout the world. We want mental health to be as easy to talk about as physical health, without all the stigma and discrimination that people currently worry about. In order for that to happen people need to be empowered and educated."
As the first fundraiser for their club, the members held a self-care auction in Stearns Hall. "We had mostly jewelry and body care products," said Rowell. "But, like, the most gorgeous jewelry and most decadent body care products! We also had a couple of massage gift certificates. We had some CBD oil – that was a popular item. It was a great fundraiser. We're definitely doing another one next year. All of the stuff we had at the auction was donated to us by Vermont artisans and small business owners. Over winter break I sent dozens of letters via Etsy to these Vermont businesses and told them who I was and about our group and asked if they'd like to donate something to support our fundraiser and, man, folks were just so generous!"
The club's goals are all about the destigmatization of mental health, and Rowell really stresses how important these goals are to her. "Working toward stigma reduction is really important to me personally," she said. "I live with bipolar 2 disorder which is one of the more misunderstood diagnoses. People are uninformed and think people living with bipolar have more than one personality, or are dangerous and violent. None of those things are true but that kind of misinformation leads to my being on the receiving end of discriminatory and stigmatizing behavior more often than some people would imagine."
"That's why I started the club," said Rowell. "Because I think that if people can become more informed about what mental illnesses really are as opposed to what they are not, and if people who have those disorders can come to understand just how much they are not alone and how supported it is possible to be, then maybe campus can be just a bit better for everyone."
Rowell cited a statistic in which one in five Americans will experience a mental health crisis at some point in their life, and 75% of mental illnesses show up by college. "So really," she said, "this is the best time to talk about this stuff, for all of us."
The officers of this new club are Rowell as President, KC Czermerys as VP, Jordan Niles as Secretary, Angelina Beckett as Event Coordinator and Renata Flanigan as Treasurer.
Rowell was thrilled about the outcome of Active Minds' silent auction. "We are all so grateful to everyone who came out and supported us in such a huge way," she said. "We made just over $600! We were really all quite shocked."
Students looking to join Active Minds should contact Rowell at [email protected] "We haven't set up an actual weekly or monthly meet time yet," she said. "We're meeting on the 20th to plan our next couple of events, which will hopefully be a fun trivia and bingo combo for late night, and then a larger scale project we're going to team up with the Wellness Center for called "Badger Secret U." Right now the plan is to just email the people on our email list when our next meeting is and hope for as many as possible to be able to show so we can brainstorm our next events and upcoming happenings."
Active Minds is hoping to bring some of the AM national events to campus if possible, things like their "Send Suicide Packing" event, and maybe a public speaker. "Of course we'll be making some noise around campus for things like Mental Health Awareness week and World Suicide Prevention Day next year," said Rowell.
"Getting involved with Student Orientation next semester, we'd like to offer a self-care week the week before finals," said Rowell. "We've got lots of ideas, but we also want to do lots of listening. That's what our meetings are going to be about. Brainstorming our ideas but listening to the student body and finding out what everyone else thinks is needed and what would just be a damn good time, too."
About the Contributor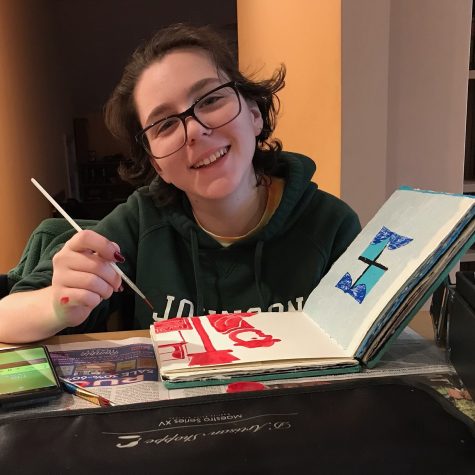 Rebecca Flieder, Editor-in-Chief
Junior, Journalism & Creative Writing
Grew up in Atkinson, NH
Fall 2018 - Present
Along with traditional journalism, I enjoy writing satire and...