Hogback Snacks is a 1980s throwback
Hogback Snacks, located at the intersection of Hogback Rd. and Route 15 in Johnson, Vermont is a family run snack bar/restaurant offering an interesting menu and a nostalgically retro vibe.
Walking in, you are transported about 30 years back in time by a wall of record covers, classic arcade games and 80's movies playing behind the bar. There are a variety of table types to choose from and the music consists of 80's and 90's classics.
Hogback opened in October of 2018, but the owners have been running the Downtown Pizzeria on Lower Main St. in Johnson for five years. They got to know the community during that time, and when Wicked Wings, another casual eatery, closed, they jumped on the opportunity to open another family friendly venue to make up for it.
Chris Ferguson, one of the owners, says it was important for the community. "There was a gap of food," says Ferguson, "There were no burgers or fries, no casual hangout place that [wasn't] our place." So they opened a new one with a slightly different vibe to accommodate the same kind of atmosphere.
Originally the location was home to the Long Trail Tavern for about 30 years, and was a popular spot for people to stop on their way to outdoor recreational activities. After it closed, it re-opened under new ownership as the Landmark Tavern, but it, too, eventually shut its doors. Both the Long Trail and the Landmark had a liquor license in addition to serving wine and beer.
Hogback is more family oriented, especially during sports seasons. "We thought the community could use a family gathering place with all the sporting events," says Ferguson, "All different seasons there's all kinds of sporting events and parents trekking back between Jeffersonville and Morrisville. This is kind of the halfway point, and they're looking for something to eat and there's not a lot of choices in Johnson."
Once the Long Trail Tavern closed, the land had the possibility of being turned into apartments, but that's not what the community wanted. "We all thought the community could use another restaurant rather than more apartments," says Ferguson, "It has always been more of a bar, but always some sort of a food and beverage establishment and we wanted to keep that continuity going."
They have diverse menu offerings as well, keeping it a casual fare menu. They offer burgers and fries, foot-long hotdogs, salads, sandwiches and mac and cheese, as well as seafood options including lobster rolls, fried shrimp, fried calamari, fried clams, and fried oysters.
Some surprises are featured as well, among them the signature Hogback Burger, which is made from a 50/50 blend local beef and pork, and house smoked and braised wild boar. They also smoke and cure all their bacon in house.
According to Ferguson the owners wanted to be able to supply the community with options that used to only be available in town or two towns over. "Having a pizzeria and Italian restaurant in town, we have a pretty good feel for the community as far as what their demand is, but we only have a limited availability of what we can put out menu-wise in that restaurant," says Ferguson.
While they already had an established vibe at Downtown, they lacked the resources to prepare certain foods, such as a deep fat fryer for things such as french fries. With two restaurants, however, they are able to provide that diversity.
Looking forward to the summer, Ferguson plans to double their capacity by providing outdoor seating at picnic tables and seating on the deck. Also planned are more outdoor activities such as corn hole or other lawn games. Other possibilities include installation of a few Frisbee golf baskets around the perimeter of the property for guests to enjoy.
Hogback also has access to the river and plans to work with the Lamoille County Paddlers Club to organize some events as well. Given their proximity to the rail trail, they will also be running some promotions with Bootlegger Bikes in Jeffersonville, collaborating to promote the rail trail.
Hours:
Saturday and Sunday: 11a.m.- 9p.m.
Monday, Tuesday: Closed
Wednesday, Thursday, Friday: 3- 9p.m.
About the Photographer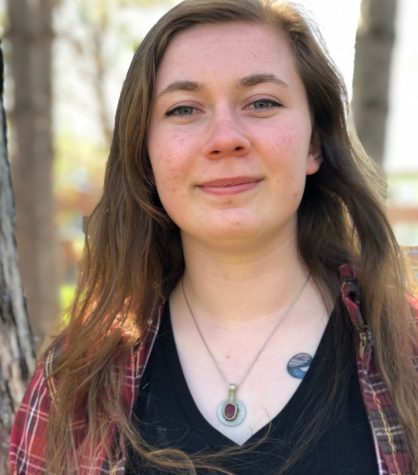 Magnificent Schmidl, Staff Reporter
Sophomore, Journalism
Grew up in Salisbury, NH
Fall 2018 - Present

The closest I have come to fame so far is once, at a Weird Al concert, he went...