The goodest boy around
Wet nose. Big brown eyes and a squishy snoot. Little chonk. A slightly rolly, plushy soft little chin. There could only be one good boy like this on NVU-J's campus.
Meet Zeke, a rescued boxer mix with big ears, big cheeks and an even bigger heart. He lives in Arthur Hall and is an Emotional Support Animal (ESA) for Becca Palmer. It's possible you've seen him walking around in his navy and red sweater, exploring and looking for new friends.
Palmer adopted him on Nov. 16, 2018, from the shelter Passion 4 Paws in Shelbourne, Vermont. She and her mom had gone to an adoption event intending to adopt another dog named Freedom. However, upon meeting Zeke (LZ was his name at the time), she fell in love.
Her mother had pointed him out and he had a group of people around him trying to say hello. "Everyone else was going to him, so he wouldn't leave his foster's side," Palmer recalls, "The moment I knelt down he came right up to me, put his head in my hands and I was gone." His story also touched Palmer's heart and she just knew she wanted to give him a second chance.
He was found in South Carolina under a resident's car with a gunshot wound to the head with entry and exit wounds, as well as acid poured all over his back. He was rushed to the emergency vet where he got all the care he needed, which ended up being quite extensive. There was a Go Fund Me page set up to help pay for his surgeries and skin grafts, and he ended up making a full recovery thanks to the kindness of strangers. "We're kind of lucky he's here," says Palmer.
One of the reasons why he is typically wearing a sweater is because he still has scars on his back from the acid where fur probably won't grow back. You can also feel the bullet wounds if you're looking for them, but with diligent care of the shelter, his foster family and Palmer, he is healthy and has made major recovery.
Remarkably, he was left with hardly any emotional scars or triggers, and is cautious but always excited to meet new people. It can become quite the excursion for Palmer to take Zeke out for walks, as he has to say hello to everyone he sees. He instantly bonds with everyone he meets.
But the bond between Zeke and Palmer is the most powerful. When duty calls, he knows exactly how to comfort Palmer, and even some of her friends that live close by that he is around all the time. He can sense when anybody might need a hug. He will focus on the person, put his paws in their lap and lean into them to support them. He goes from a playful, puppy-like state to very quiet and cautious movements at the drop of a hat when he senses something is off.
Palmer herself has bad anxiety and will sometimes have anxiety attacks. Zeke is always there to help her when she does, laying on her torso so that she feels secure, supported and warm. This helps to ease the stress and alleviate the feeling before it gets out of control.
Not only does Zeke help Palmer, but she acts as his emotional support human from time to time. Zeke has nightmares occasionally according to Palmer, and she suspects that they may be of what had happened to him. But when he wakes from the dream, she is there to comfort him and give him a hug in a similar fashion to what he does for her.
Today, he has fun hanging out in the dorms and greeting people while out for a walk. He has two favorite toys that came with him from his foster home: a braided rope and a blue ball that squeaks. "Those are the only toys he hasn't shredded within seconds of getting ahold of," says Palmer. He has only recently discovered that his ball squeaks, to Palmer's mild annoyance.
Zeke has mastered the art of the puppy-dog eyes as well, earning himself some people-food treats in the process. He loves peanut butter, eggs and popcorn, but also has some expensive tastes. "He loves fancy cheese from France," says Palmer, "It's goat cheese with cranberries. He ate a whole thing of that by himself. And he likes salami, because he ate half a pound of that on Christmas Eve!"
It's easy to tell he's food motivated while we talk about snacks, as he gets antsy and starts tilting his head and sniffing around, trying to find the goodies. As soon as Palmer mentioned carrots, his head shot up to look at her expectantly.
Someday, Palmer hopes to get Zeke's DNA tested to see just what mix of breeds he is. As of now, he is officially a boxer mix, but she suspects there may be some pit bull in the mix. People ask her about it a lot, and she unfortunately can't answer fully. She says it's important to know what breeds are mixed in, especially on a campus, because people could have aversions to specific breeds of dogs and it's important that everyone can be comfortable.
About the Contributor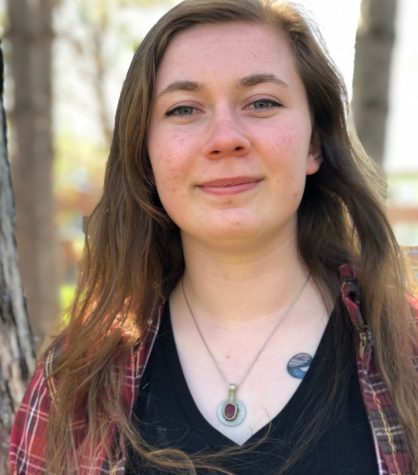 Magnificent Schmidl, Staff Reporter
Sophomore, Journalism
Grew up in Salisbury, NH
Fall 2018 - Present

The closest I have come to fame so far is once, at a Weird Al concert, he went...