I Dressed for Dinner
Hang on for a minute...we're trying to find some more stories you might like.
I Dressed for Success and had Dinner with the Boss, and I survived!
Just kidding. In case you missed them, Dressed for Success and Dinner with the Boss are two professional training events that the Career and Internship Center runs every year. These, along with the Spring Career and Internship Fair and the many workshops run by Beth Walsh, are a great way for students to jumpstart their careers by learning resume-building and professional skills.
March 27, 2019, I participated in the first of the two events, both of which were free for all NVU-Johnson students. Dressed for Success was a joint program with the Career and Internship Center and SGA. This afternoon was a chance for students, regardless of financial status, to get a professional outfit for interviews, internships or other professional activities.
Donated clothes from as far as Rutland were displayed on racks in the Stearns Performance Space. I didn't know where to start. The event's "Fashionista," Haleigh West, was there to help me out. She asked about the kind of clothes I normally wear. "I'm a weird size," I said. "It's possible we may not find anything that fits me." West was determined, so she helped me pick out two different outfits: a beige skirt and jacket combo with a blue and white striped button-up, and the same button-up with a pair of blue slacks.
On either side of the room, folding dividers marked dressing rooms where we could change into the new outfits. Though both actually fit my figure well, I decided on the beige combo with the button-up.
Along with the outfit selection, several other activities were taking place. Beth Walsh, director of Career Development at NVU-J, had a résumé triage station set up near the front of the room. Even though I didn't bring my resume, she handed me a sample one and walked me through the process of writing and polishing a résumé.
After that, it was time to take my new headshot for my LinkedIn profile. Amanda Scoville, the resident photographer, took two different pictures for my profile. I wore the outfit I had picked out so that my LinkedIn profile looked more professional.
At every station, students received a raffle ticket for completing an activity. The winners received mugs and other NVU paraphernalia.
I also had the opportunity to read a Ralph Waldo Emerson quote into the microphone on the stage. "Do not be too timid and squeamish about your actions," it said. "All life is an experiment."
Finally, I sat down with Sara Henderson, a licensed cosmetologist who gave me tips on how to style my hair for an interview. Because my hair is so short, she didn't have much to say. It was still good to know that I could roll out of bed and still have somewhat interview-worthy hair.
I grabbed some refreshments from the side table and watched as people came and went with their brand-new-to-them fancy outfits. Several students, even those who expected not to find their size, found clothing that they were excited about.
I left feeling very confident about myself and the fashion choices that I would make for any upcoming interview. So then, when it came time for Dinner with the Boss, I was ready.
Dinner with the Boss is another different event that Walsh and the Career and Internship Center put together every year. NVU-J alumni have dinner with students and give them advice about the working world. While it's marketed as a networking event, it's also a great opportunity to learn about people's experiences in the workforce and also how to master an interview over a meal.
This part of the night was dedicated to learning dining etiquette. A fun fact from the night: crudites is, in fact, pronounced "croo-dee-tay."
I chose the non-vegetarian option for the dinner course, a panko encrusted chicken breast with pistachios and apple compote. The chicken was filling, but not heavy or over-seasoned. Apple was an interesting choice to pair with the chicken. I felt like a chef had scooped apple pie filling out of a dessert and placed it on my chicken, but I was surprised to find that it was delicious.
While the food was excellent, I found the best part of the night to be the alumni advice portion. Each alumnus stood up and gave their advice to current students for the interview process and starting the first job. I started taking notes, and by the end, my page was full of 17 tips that the alumni had for us. I was fortunate enough to be sitting at a table with Karen Sherman Weeks, the principal at Peoples Academy Middle Level in Morrisville. She graduated from Johnson State College in 2000 with a master's degree in Education. During dinner, she told us all about her experience working her first couple of jobs and the way she worked her way up in the education field.
Most of these alumni work in fields nearly unrelated to what I want to do outside of NVU-J. But their advice rang true for me regardless of my major. Advice like, "curate your social media presence" and "be sure you're staying safe, respectful and responsible" are catch-all modes of advice for young college students, but they're integral for getting jobs and staying there. The most important pieces of advice I feel I received, however, was a few things: "Listen 90 percent and talk 10," "Never think that something or someone is beneath you" and "Dress for success."
While I haven't specifically been able to apply any of these in an interview, I know for certain that at least, I have the last one down.
About the Writer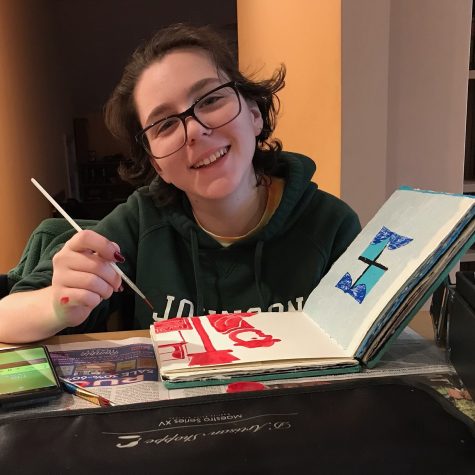 Rebecca Flieder, Editor-in-Chief
Junior, Journalism & Creative Writing
Grew up in Atkinson, NH
Fall 2018 - Present
Rebecca (dot) Flieder (at) NorthernVermont (dot) edu
Along with...