Sharon Twigg moves on
Hang on for a minute...we're trying to find some more stories you might like.
Sharon Twigg, chair of the Writing and Literature department and beloved professor, is moving on to greener pastures, much to the sadness of the department as a whole. After 10 years, Twigg is leaving NVU-J. "I'm moving to Colorado," she said, "where my husband has taken a new job as a political analyst for the Boulder County Commissioners' Office. Once I get myself, my dogs, and my horse somewhat settled in Colorado, I'll be looking for work in higher education—likely in an administrative role that also involves working with students and curriculum."
Twigg had two different favorite parts of her years at NVU. "Mentoring students in my senior seminars and leading the design of the new gen. ed. program for NVU," she said. "I know that's two things, but I have worn several different hats here."
Earlier in her time at Johnson State, Twigg also helped overhaul the gen. ed. program for Johnson State College.
Over the summer of 2017, Twigg led a committee of eight faculty members, four from Johnson and four from Lyndon, to design the new gen. ed. program. In September of that year, she said, "I don't know of a gen-ed program, certainly in our history, that's had to undergo such a quick transformation."
In comparison, the norm for developing a general education program is usually five to seven years.
"It's funny because we didn't really start out with the intention of having it look like either Lyndon or Johnson," Twigg said that year. "We were really open to any kind of possible model, but in the end, it's a little bit of a combination of the two current models. I think that's because not only did Johnson go through a recent redesign, but Lyndon did too."
Assistant Professor in the Writing & Literature Department, Jensen Beach, said, "[Twigg's] leadership has guided into this merger with Lyndon; I honestly don't know what we would have done without her."
As interim academic dean, Twigg, along with President Elaine Collins, started the push towards the total integration of Moodle.
The administration isn't the only place Twigg has left her impact here at Johnson. Her students, past and present, lauded her friendliness and dependability and lamented at her departure.
"I'm bummed she's leaving," said Jody Kifner, a senior in the Creative Writing B.F.A. "I've only ever had one class with her. I thought that she was a really tricky grader, but a really supportive professor. It was freshman year, but every now and again she'll come up to me and say, 'Hey, how are you doing? How's your writing going?' and it's nice. She is invested in students. The fact that she's leaving is a sad day for Northern Vermont University and the department."
Emily Mixon, another senior in the B.F.A, echoed Kifner's sentiments. "I'm really upset she's leaving, even though I'm graduating," said Mixon. "She's such a good professor and so thorough when she teaches. She's detailed and gives a lot of information. She's well-organized. I really like the level of discipline she has, these very clear standards. Nothing is confusing or up in the air. You know what she wants."
Associate Professor of Writing and Literature, Tyrone Shaw, said, "I was on the search committee that hired Sharon, and from the first informal dinner prior to the actual interview, I knew we had found the perfect candidate. She was funny, enthusiastic, extremely well-versed in British literature and, an added plus, was very serious about expository writing. She was, I think, the answer to our prayers. "
Twigg shared a funny memory from before her time at NVU. "For my interview on campus in 2008, I travelled from Wisconsin, and the department put me up in the Sunset Motel in Morrisville, which is a perfectly decent lodging. But I had just seen the movie 'No Country for Old Men,' where a lot of bad things happen in strip motels, so I told everybody I stayed in the Murder Motel for my interview. That's my sense of humor."
"A more recent favorite memory would be the first Student Symposium on campus, which showcased the wonderful work students do here," she said. "It's a great event for students to share their work and to get recognition for their creative and research pursuits. I'm glad that event will continue here."
"We will miss Sharon so much," said Liz Powell, associate professor in the Writing and Literature department. "I know she is going to do fabulously well in her new endeavors, and she and her family have some amazing opportunities. I am so very sad about her leaving us. Sharon is an integral part of NVU's mission and operations. She has worked tirelessly in all her administrative jobs, advocating and winning for us all. Her class are among the most popular. Her teaching style is so expert and insightful and enjoyable. Sharon is a woman and scholar deeply committed to the liberal arts and the English language and she is irreplaceable. Her work has been vital to our school and community and we all owe her a debt of gratitude. I'll miss her smart conversation and keen insights and laughter."
"Sharon has been a tireless advocate both for us in this department as chair and for the University as a whole," said Beach. "From her time as a dean to her work with the general education committee, Sharon has been a dedicated leader to this campus community. Working [with] her was a great pleasure and I'll miss her."
"Beyond her role in the department," said Shaw, "she's been a key person regarding the past two general education programs, never shying away from difficult leadership roles. I suppose that's why she was asked to serve as associate academic dean for a couple of years, which she also did with clarity and grace. I'm losing more than a cherished colleague, however. I'm also losing a dear friend, and I'll be the poorer for that."
Twigg mentioned her favorite class to teach while at NVU, Literary Theory. "It's the hardest class I teach, for both me and for students," she said, "because it requires you to think about language and literature in ideological ways. We have to band together to master the material, but by the end of the class students understand concepts that initially appeared almost incomprehensible—like Derrida's center, which holds a structure together but is outside of it at the same time."
"Teaching aside," said Shaw, "she's been an extraordinary administrator, providing steady leadership as department chair for most of her time with us. Fortunately for all of us in the department, she was supportive of all three programs, helping to advance our needs wherever she could."
"I am going to miss seeing students start off in their first year," said Twigg, "and become more confident and accomplished as they become juniors and seniors, and then seeing them graduate."
"There is nothing like the first air of spring on campus when people are milling around and enjoying the weather," she said. "After a long winter of hard work, it starts to feel like we are going to make it to the end of the year- and we always do!"
"The people at Johnson make this an amazing place, and I will miss my colleagues all across the campus," she said.
About the Writer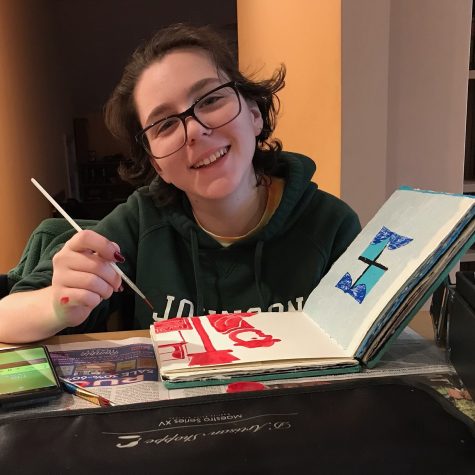 Rebecca Flieder, Editor-in-Chief
Junior, Journalism & Creative Writing
Grew up in Atkinson, NH
Fall 2018 - Present
Rebecca (dot) Flieder (at) NorthernVermont (dot) edu
Along with...