Confusion surrounds "resource deselection" process at Willey
Weeding is a long-held practice of gardeners and librarians alike. Out with the unwanted and in with the blooms. In libraries, weeding is the process of vetting books for eventual discard or disuse.
Normally, this process at Willey is like maintaining a garden. Every once in a while, a gardener will remove tiny weeds so as to avoid overcrowding. Just the same, Ray Brior, technical services librarian at NVU-Johnson, goes through the collection looking for outdated resources.
On Friday, March 8, Director of Libraries Samuel Boss shared the following with the Johnson faculty over email. "Beginning in the summer of 2019, Willey Library staff will start a two-year resource deselection project with the purpose of removing items that are outdated, underused, damaged, or significantly unrelated to the academic programs of Northern Vermont University," he said. "This project is related to ongoing collection management activities, but will be on a larger scale."
"Resource deselection," as he called it, would be a way for Willey to significantly update its collection. The first summer will be focused completely on the first floor's materials. "We don't want to do too much too fast," said Boss.
"Between now and the end of spring semester," Boss said in the email, "you have the opportunity to mark reference materials, A/V materials, print periodicals, microforms, or children's books that are essential to your program."
However, the scope of the deselection seems unclear.
"We have to run reports and make value judgements," said Brior.
This means assessing a book's publication date, how many times it's been checked out, and the usefulness of the information inside. The problem with this kind of weeding is that there is not a one-size-fits-all description to find every book that needs to go, and something useful might get caught in the crossfire. "Our fear as librarians is that we get rid of a book a patron wants tomorrow," Brior said.
The scope of the weeding, nebulously defined as it is, could not be determined. Jeff Angione, circulation coordinator, declined to comment. Lisa Kent, another librarian in Willey, said that she did not know what her role would be in the summer's intensive weeding process.
"While details regarding the weeding have not been shared with me openly or actively, as I would rather expect," said Brior, "I have also not made a specific inquiry that resulted in details being withheld from me. I would expect, though, significant projects to be regularly discussed by the staff, and there has been little of that."
Along with a total lack of understanding from the other librarians, Boss could not give an estimate as to the percentage or number of books expected to be weeded out. With a collection of over 100,000 materials, this kind of weeding process could take out any number.
A rumor that 2/7 of the collection would be weeded was unsubstantiated. "We just don't know yet," said Boss. "We can use an ILS [Integrated Library System] to give us a picture of what the weeding will look like." This ILS is the same kind of data analysis normally used in a year-to-year weeding process, but this will pick up what was left behind.
"We'd like to open up spaces for student and community use," said Boss. "Whether that means removing stacks or existing furniture, I don't know."
During the normal weekday, a walk-around on the first floor of the library showed a mixture of empty and occupied tables. Similarly, many stacks on the second and third floors have quite a bit of space. Boss clarified that the extra area after deselection might be used in a different way than it originally had been, either for teaching purposes or community meeting spaces.
Any faculty and students interested in labeling materials to exclude them from weeding can do so, provided that, "they can prove it has some meaning to relevant coursework in the curriculum," Boss explained.
See Angione or Brior in the library for instructions on saving materials.
About the Contributor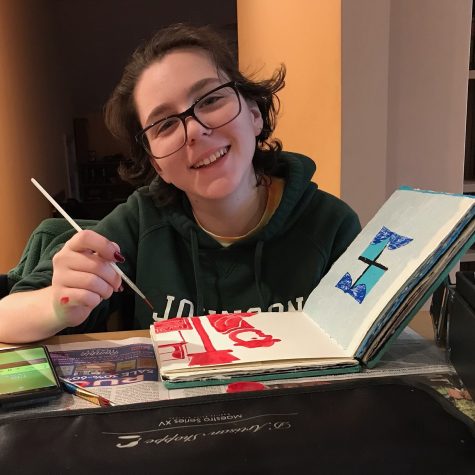 Rebecca Flieder, Editor-in-Chief
Junior, Journalism & Creative Writing
Grew up in Atkinson, NH
Fall 2018 - Present
Along with traditional journalism, I enjoy writing satire and...