Four new professors join NVU-J faculty
Two new tenure-track professors and two visiting professors have joined the NVU-J faculty ranks this fall, filling existing vacancies.
Emily Tarleton, an assistant professor in the Environmental and Health Sciences department, has been busy in her first few weeks at NVU-Johnson. She has primarily worked as a clinical dietician and done research, so she is building her curriculum from scratch.
"All my classes are in this building," says Tarleton of her office in Bentley Hall. "So I… most days don't even have to leave here. Which can be nice, and it will be nice come December. But right now, I'm feeling like I haven't even walked across campus. I've been so busy that, like, I've just walked to my car and back."
This semester she is teaching courses in contemporary health Issues and nutrition class. "I think the most challenging part has just been trying to keep the coursework interesting….nutrition, especially, can get bogged down with having just straight memorization."
She's trying to make sure assignments are meaningful, and, "make sure that it's dappled with some fun stuff and some non-straight lecture stuff."
Tarleton also hopes she can be useful to students interested in research. She worked for 13 years and got her Ph.D. at UVM. She conducted and supported long-term nutrition studies. She was also the research navigator for the College of Medicine, where she helped people design and conduct studies and get them through the necessary bureaucracy. "I can really speak to what research is like and what it entails," she says – essential in a science program centered around student/faculty research. "And, you know, bring that piece to the classes that I teach."
She has already joined the Internal Review Board, reviewing and approving research studies.
Before she was at UVM, Tarleton worked as a clinical dietician for the military at Walter Reed Army Medical Center in Washington DC. She got her master's degree at University of Maryland in healthcare administration, where she got to work with people in a broad swath of allied health professions. "I have a sense of what those jobs look like and what it takes to get into those positions. So as I talk to students in Health Sciences about what they want to do, I feel like I have a lot to offer in that area," she added.
Tarleton was looking for a change after 13 years at UVM. When there was an opening at NVU, she says, "I read the description and just sounded like where I would want to be. I think the size is perfect for me. I really like being able to interact with the students so closely and get to know everyone so quickly."
Of course, she hasn't been able to take advantage of the position yet. "I'm looking forward to things settling down a bit so that I can get to know the community better…. Being new here, I'm really moment- to -moment in getting through the day. So I'm really looking forward to getting into a groove, feeling a little more settled, being able to mosey around campus and talk to people and get to know people and get involved in some other things."
Also new to the department of Environmental and Health Sciences is Clemencia Caporale, visiting assistant professor of outdoor education.
She first became interested in wilderness teaching when she was an undergraduate at the University of New Hampshire, as they were one of the few at that time that taught outdoor education. Soon after, she experienced a different kind of graduate program not many would expect to have.
"I went to a really unique grad school," she said. "I went to the Audubon Expedition Institute, and it's a community that travels through an environmental bioregion and studies it. My first semester was in the Pacific Northwest and we traveled around as a community on a bus for ten weeks, deciding everything in consensus, and existing as a community."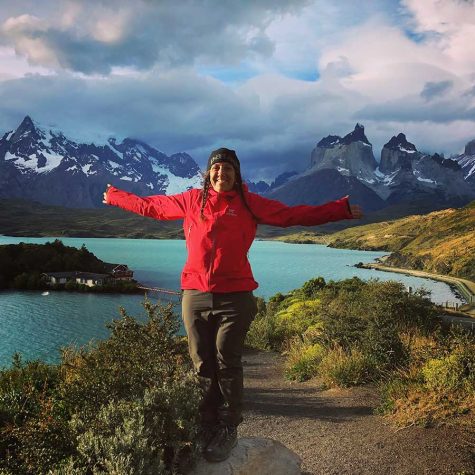 As she continued along her path, she became a National Outdoor Leadership School (NOLS) professor. She would travel all over to teach outdoor education and get students certified in wilderness first aid and wilderness first responder.
"They have two branches: the expedition side and the medical side," she said. "I was a student on the expeditionary side, so a student at this school might go for a semester abroad, like I did a semester abroad but I did it withNOLS. They teach leadership, risk management, communication skills, listening skills — everything we teach in our curriculum. I work on our medical side, so I teach     wilderness first aid and wilderness first responder classes, and in order to do that, you have to be a wilderness EMT. Those two medical trainings are nationally recognized and also the standard of our industry. So anyone that is in the outdoors needs the minimum of wilderness first aid, if not wilderness first responder. If you want to be a mountain guide, you have to have that. In order to teach something like that you have to have the medical training."
As she arrives at NVU, Caporale has been impressed with programs in place already at NVU, and the students who participate in those programs.
" When I did the Long Trail in Vermont, I met a few students from the Johnson campus that had a lot of really good things to say about the university. It's always fun to learn about a program from the students in an outdoor setting, seeing them on a river or mountain, because it's students that are getting out there and utilizing their education, doing something for the greater good and getting experience," she said.
As a professor, Caporale wants to be able to get students where they want to be in their outdoor education. "What I hope is to inspire students to be professional and get outdoors and be safe about it," she said. "Getting students to learn to be professional is a really hard skill, because it means always role modeling, always walking the talk, meaning sometimes not having fun. To me it's always inspiring to see students at the end of the semester or on break go and plan a big trip, do something on their own, and come back and share about it. Or get an internship or job at a place they have dreamed of. I have to contribute by showing them options, by showing them that there is no single path outdoor educator takes. If there is something that you want to do, let's try to figure out how to get you there and what skill sets you need."
Up the hill from Bentley Hall in the Visual Arts Center you can the Fine Arts department's newest hire. Amongst her display of quirky cactuses, wall decor and hanging metal pieces sits assistant professor Tara Thacker, who fills a vacancy in 3d art following the departure of assistant professor Michael Zebrowsky two years ago.
She was officially hired this past summer for a tenure-track position teaching 3d design and sculpture and is still settling into her office.
Her extensive background in the arts begins with her BFA at Virginia Common Wealth University in Richmond, VA, where she studied ceramics and small metals. She then earned her MFA in Seattle, WA and the University of Washington. She did a brief teaching stint before coming to Vermont in the early 2000s to do a residency at the Studio Center in downtown Johnson. "I ended up joining staff there for 16 years," says Thacker, "but a few years ago Ken Leslie had asked me to teach the jewelry and metals class because he knew I knew some of those techniques." After falling in love with teaching all over again, an opening for the 3d position at the VAC became available.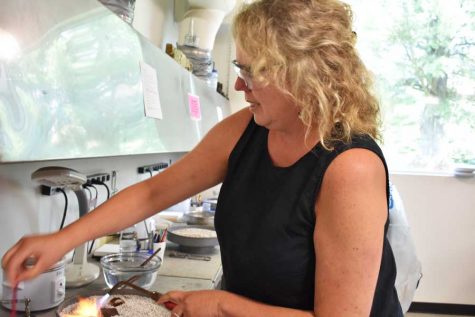 "I was fortunate enough to have worked up here with the students doing adjunct for three semesters," Thacker says, "and that gave me a taste." According to Thacker, what might have been an otherwise nerve-wracking experience was curbed by her previous involvement; she was ready for a career shift.
"I am thrilled and ecstatic to have gotten the position – it feels right," says Thacker. She goes on to say how excited she is to be working with students full-time and how it has helped to inspire her as an artist.
"My ultimate goal would be to inspire students to want to make work and take risks along the way without being over-critical of what they're making," says Thacker. She feels art allows for many connections around the world, like political commentary, environmental responses, or simply our perception of beauty.
When looking at Thacker's work, it's obvious that she's a master in her craft, whether it be metals, clay or sculpture; however, she feels she can learn other mediums in her new position. "I want to learn more carving for my own work," says Thacker, "I know the basics, but it's always good to learn. I'm always learning in my home studio, and if I can keep it going there's so much you can do." Thacker's work has a range of dimensions, materials and sizes.
From the precious, intricate jewelry she hand-made that adorn her fingers to the large, installation based work that hangs on her office walls, her passionate and inquisitive approach to teaching certainly has and will continue to encourage students to explore their own boundaries and interests.
Also here as a visiting professor in the Environmental and Health Sciences department is Lisa Zinn , who is no stranger to the campus, having taught at NVU-J in a part-time capacity for three years.
Zinn has been a part-time professor at NVU-Johnson for three years. The visiting professor position opened up after some faculty in the department retired or left.
"We've been here for about three years," she said. "My wife Hannah is a professor here in education, and so the university has found things for me to teach, but I hadn't been able to find a full-time position. I've been teaching Intro to Sustainability and Wildlife Field Methods… just a range of different courses in different departments, just the things that matched my background. So with the retirement of Bob Genter and some other people, they needed help covering some classes, but they didn't have time to do a full nationwide search. They instead did a visiting professor appointment."
Zinn has a PhD in natural resources and environmental management within an interdisciplinary study. In recent years, she has worked with more ecology and environmental education.
As a visiting professor, she has been able to teach more classes, including going outside the classroom to teach some lab classes, which she has never done here before. Zinn said this has been fun and challenging for her.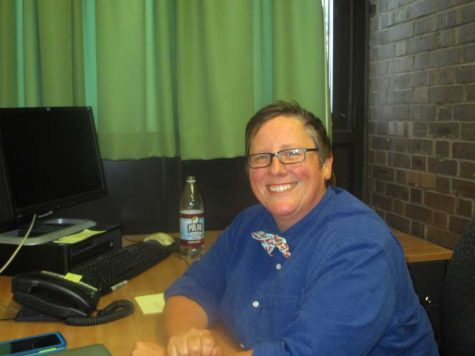 Zinn's appointment as a visiting professor only lasts until the end of the spring semester. While she is happy to be where she's at in her career, she acknowledged she is also uncertain about her future.
"I'm excited about what I am teaching, just really happy to be on campus more," she said. "I love doing the lab classes because I am able to take students outside a lot more… I do bird banding research in the summer, but I am able to do now some pieces of that with some of my classes. I don't know where it's going, honestly. I'm hoping there will be a position that opens up that I can apply for. It's interesting because with the NVU unification, there's a lot of transitioning happening, with the department in particular trying to think about new majors and reevaluating its majors…There's no guarantee that there's going to be a position that matches my expertise."
About the Contributors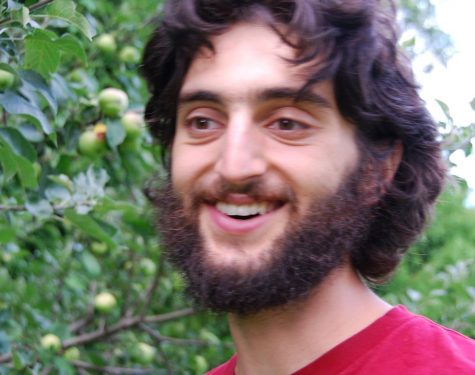 Ari Erlbaum, Staff Reporter


Senior, Professional Studies
Grew up in East Montpelier, VT
Fall 2019 - Present

In my spare time that I pretend I still have, I play saxophone...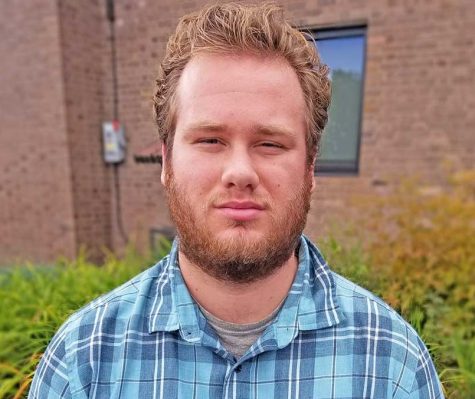 Patrick Bell, Sports Editor

Senior, Journalism
Grew up in Charlestown, RI
Fall 2017 - Present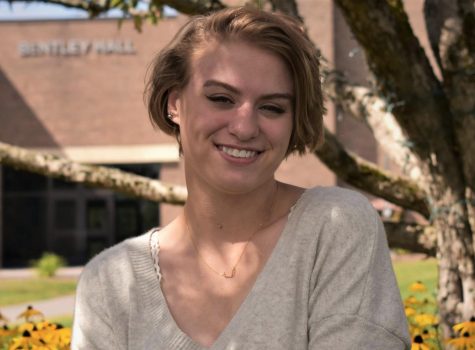 Adriana Eldred, Photo & Web Editor
Senior, Journalism & Studio Art
Grew up in Craftsbury, VT
Spring 2018 - Present

I got a black eye and mild concussion in Las Vegas during a rugby...