Hate group stickers appear on campus
The white-nationalist group, Patriot Front, has made its presence on campus known after stickers advertising the group has been seen in several locations on campus within the first week of October.
A sticker reading "Better Dead Than Red" showing a red hammer and sickle, a common symbol linked to communism, and a blue arrow through it, is one of the stickers that have been found in numerous locations throughout campus. Locations including the lamppost near the clock tower and on a few stop signs in the area.
In addition to on-campus, Public Safety Officer Siobhan Anderson-Judkins has said that these stickers have also appeared within the town of Johnson, not just on the NVU campus. "I saw them lined up on stop signs as I was walking down to Sterling," said Anderson-Judkins while discussing the matter.
For Public Safety Director, Michael Palagonia, this is the first time stickers or propaganda of this nature have been seen on campus. "I've been here for 15 years and this is the first time I've seen this happen on campus," said Palagonia. Palagonia also stated that there has been no sign of anyone putting them up, but they are not believed to be students.
Last week, NVU President Elaine Collins sent a community-wide email addressing the unwelcome posters, emphasizing there is no connection between the racist messages and the campus community. "There is no indication that these stickers were placed on our campus by anyone within our community," she wrote. "If you or anyone you know feels unsafe, please reach out to the Dean of Students at 802.635.1200 (5-1200), the Wellness Center at 802.635.1265 (5-1265), or Public Safety at 802.635.1205 (5-1205). Northern Vermont University does not tolerate acts such as this. I ask each of you to recall the NVU Community Values, 'Northern Vermont University is a thriving learning and living community dedicated to honoring the diversity of its students, faculty, and staff, and investing in their commitment to lifelong learning, personal well-being, and success.'"
The posters have also appeared in a variety of other locations in Vermont.
Patriot Front is a white-supremacist group based out of Texas and formed in August of 2017 after splitting themselves off as their own group from Vanguard America, another white supremacy group, according to the Anti-Defamation League. According to their website, which includes their manifesto describing their views and beliefs, their "mission is a hard reset on the nation we see today— a return to the traditions and virtues of our forefathers." This text comes directly from the Patriot Front manifesto.
Students are encouraged to report any more stickers or other hate-group activity or graffiti to Public Safety.
About the Contributor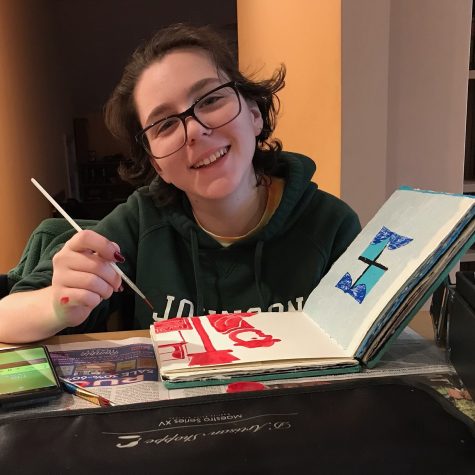 Rebecca Flieder, Editor-in-Chief
Junior, Journalism & Creative Writing
Grew up in Atkinson, NH
Fall 2018 - Present
Along with traditional journalism, I enjoy writing satire and...