New Schools of Academia
Provost Nolan Atkins has announced that the NVU faculty has "approved a new organizational structure for our academic programs." All majors will now be reorganized into groups, known as schools. These four schools will each have a school head, who will report to the Provost.
The new schools are Arts and Communication, Business and Leadership, Cultural and Human Studies, and Physical and Life Sciences. According to an email from Atkins in late September, organizing the degrees this way will "enhance the student academic experience and increase faculty collaboration across departments [and] campuses."
"I was part of that process that created these four schools and I see some advantages in doing that because there are some ways faculty can be leveraged," said Professor Jim Black, who was on the Academic Restructuring Committee that came up with the idea. "For example, when it comes to things like evaluating our programs, we can be more efficient. The idea behind evaluating the program is to see what we're doing and how can we make it better so that you as a student get a better experience. With a school head, then you get a consistent process of evaluations across the different departments so that you can look at other departments, what they're doing and how they're doing it."
The committee spent nearly 18 months working on the idea and proposed the division of schools based on how large the majors in them were.
Students interested in learning more about the new structuring can attend two meetings during the Community Hour this fall. On Tuesday, Oct 22 from 11:30 to 12:30 in the Ellsworth Room (WLLC 210) students from the Cultural and Human Studies and Physical and Life Sciences schools are invited to meet with Atkins.
The Cultural and Human Studies school includes the majors of Anthropology and Sociology, Criminal Justice, Education, History, Political Science, Psychology, Wellness and Alternative Medicine, and Explorations, Interdisciplinary and General Studies.
The Physical and Life Sciences School includes Biology, Environmental Science, Health Sciences and Math.
Students from the Business and Leadership and Arts and Communication Schools have an opportunity to meet with Atkins the following week. On Tuesday, Oct. 29 from 11:30 to 12:30 in the Ellsworth Room (WLLC 210).
The Business and Leadership School includes Business, Accounting and Outdoor Education Leadership and Tourism.
The Arts and Communication School includes Art, Studio Art, Theater, Creative Writing, English, Fine Woodworking and Furniture Design, Media Arts, Music and Music Education.
Cider and cookies will be served at these meetings.
Even though Atkins has invited students to ask questions, it seems that the restructuring will have more to do with management and internal affairs than student involvement. "In the very short, short term, as in this semester, you're probably not going to see much of an impact," said Atkins.
Black echoed his sentiments. "You shouldn't see much impact [as a student.] It's more a matter of trying to be more effective and efficient in what we're doing. The fundamental driver behind everything we do is your educational experience, right? Your classroom experience, your education experiences: those are what's most important. So, when we do things, we try to find ways to make that better. Part of the idea behind reorganization is to find ways to be more effective with the finances. Instead of the 22 departments reporting to the Provost, now it's four heads."
Atkins also mentioned that paperwork requiring department-head paperwork, like class substitution forms, will still go to department heads.
The move into reorganization is "aspirational" right now, in that many departments will do the work of unification across both campuses in the coming years. Student shouldn't expect big changes.
"We're trying to reduce the amount of administrative work that faculty do," said Atkins. "They can do more faculty work, teaching scholarship and these kinds of things. Less of sort of the busy administrative work."
"There are some logistical issues with that," he said, "ones that we need to work through this coming year, but ultimately, that would free up the faculty member to spend more time with students and their work."
About the Writer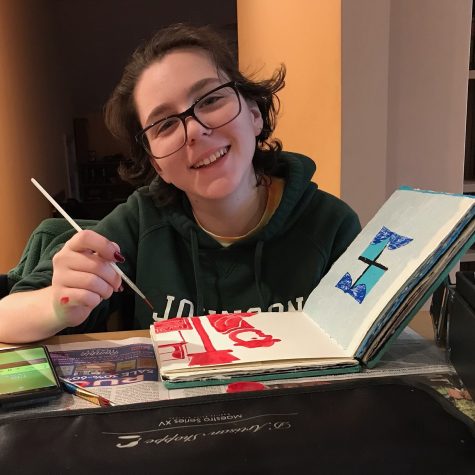 Rebecca Flieder, Editor-in-Chief
Junior, Journalism & Creative Writing
Grew up in Atkinson, NH
Fall 2018 - Present
Along with traditional journalism, I enjoy writing satire and...