Green Team seeks EcoLeague membership
On Oct. 21, members of Green Team, the campus sustainability club, met with NVU President Elaine Collins to discuss the possibility of NVU-Johnson working to become eligible to be invited into The EcoLeague, a group of six colleges that support sustainability through their curriculum and the decisions that they make concerning the infrastructure of their schools. These decisions impact the planet in a positive way while enriching the lives of the students that attend these institutions. The EcoLeague provides opportunities for students to work together with other schools in the group to complete sustainability projects and further learning.
The colleges that are currently members of the EcoLeague are as follows: Alaska Pacific University in Anchorage, Alaska; College of The Atlantic in Bar Harbor, Maine; Dickinson College in Carlisle, Pennsylvania; New College of Florida Sarasota, Florida; Northland College in Ashland, Wisconsin and Prescott College in Prescott, Arizona. An institution that meets the requirements for invitation into the EcoLeague practices sustainability through their course offerings and with the programs they engage in, such as composting or the use of energy-saving lightbulbs, one of many examples of steps that can be taken to increase campus sustainability.
The goal of EcoLeague membership is to reduce an institution's carbon footprint, and by doing so, the institution attracts the attention of perspective students interested in pursuing a career tied to sustainability, hopefully increasing enrollment for that institution. Junior Gracie Kennaugh, president of Green Team, attended the meeting with President Collins, which yielded a positive outcome. According to Kennaugh, "[President Collins] listened to us and was a very strong advocate for helping us and a strong ally for giving us what we needed; she said we could always reach out to her and she gave us a list of resources on campus and in the local community that we could reach out to for help."
Kennaugh continued, "she had done some work before in Michigan on a school that was pretty sustainable. I am not exactly sure what the mission was, but she had had some experience in the sustainability department, [and] was a very strong advocate and ally for it. So, I think that it is awesome to have her on our side…That was the outcome we were hoping for and that was the outcome we got. It was a great meeting with President Elaine Collins."
According to Kennaugh, the benefits of becoming an EcoLeague institution are numerous. "If we were selected to be in the EcoLeague, we would have made some pretty large changes to our school and how it works and the department of sustainability," she said. "We would have a smaller carbon footprint, we would save a lot of money by making these changes as well. Especially with things such as LED lightbulbs and sensor lightbulbs, we would potentially save a lot of money with electricity."
Kennaugh continued, "I know that there are some people also who choose where they want to go to school based on this consortium and list of schools that are in the club, so that would potentially increase enrollment…There would be some scholarships and some money that was given to us by the EcoLeague, so there is a lot of benefits."
Students that want to join the Green Team are asked to contact Kennaugh.
About the Contributor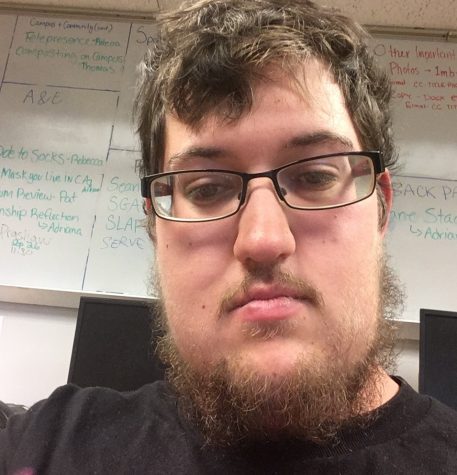 Thomas Streeter, Staff Reporter
Senior, Interdisciplinary Studies
Grew up in Johnson, VT
Fall 2019 - Present

My favorite food is cheesecake.